Utilizing the space in your living room is very important to make sure that it doesn't look messy or untidy, so having suitable storage is important.
When you are designing your modern fireplace, you want to make sure that the storage matches the modern theme, so what type of storage should you have?
Floating shelves are a very common storage to have with modern fireplaces as they provide a clean and sleek finish to the area.
They help to make the fireplace look modern and create excellent storage space that you can use without your living room looking cluttered. 
This article will explain more about modern fireplaces with floating shelves ideas that you can have in your own home to create a fresh and contemporary feature in your living room.
You can find out more about the different designs that you can have for your modern fireplace and how you should install floating shelves. 
What To Consider
Before installing floating shelves, there are a few things that you need to consider.
You must consider how they fit into the room, what material they need to be made out of, and what color they need to be.
This will make sure that the shelves fit into your living room and that they will not look out of place. 
Modern Fireplaces With Floating Shelves Ideas
There are lots of different designs to explore when you are looking for modern fireplaces with floating shelves and it is important to find the right one for you.
Find the best fireplace for your living room with some of the ideas below!
Monochrome Fireplace And Floating Shelves
If you have a monochrome theme in your living room with gray or white walls, having a black fireplace and black floating shelves will tie them together.
The accent wall should be gray to emphasize the black fireplace and the black shelves will complement the room, providing elegance and style. 
Using black wood for the shelves will create strong and sturdy features, and will also combine natural materials with a modern vision.
If you decide to use black for the fireplace and the floating shelves, you will need to add accents of white in the room to break it up, such as white vases or a white rug. 
Asymmetrical Floating Shelves
Floating shelves are usually positioned on either side of the fireplace (see also 'What To Put On Either Side Of A Fireplace') to make it look balanced, but you can also get creative with the positioning of the shelves for a unique accent wall.
Having a modern fireplace means that your shelves need to have a modern edge, and asymmetrical floating shelves can do this. 
To style the asymmetrical shelves, decrease the lengths of the shelves across the accent wall starting from the top shelf. The top shelf will be the longest and the bottom will be the shortest.
You can contrast the shelves with the modern fireplace, as if the fireplace is made from iron or dark stoneware, you can add natural wood for a modern finish that is linked with nature. 
Modern Floating Cabinets
Having a fireplace means that it should be the feature of the room, but that doesn't mean that you can't have floating cabinets on either side of your fireplace.
The floating cabinets shouldn't be oversized, but they should be modern, so simple rectangular open cabinets will complement your modern fireplace. 
Keeping the cabinets a natural wood color will create a modern look in your living room and it will allow you to add some color to the decor in the cabinet.
As the cabinets will be modern, you can add a piece of modern art over the fireplace to further complement the modern fireplace in the room. 
Glass Floating Shelves
Glass floating shelves around a fireplace are very modern as they do not draw any attention away from the fireplace, keeping it at the center of the room.
Glass shelves look very elegant when the accent wall is white, keeping the room contemporary and fresh.
They can make the fireplace look very unique as they can be arranged in a variety of different ways. 
If you want to add a pop of color to the wall, you can find colored glass shelves.
You should only use colored glass shelves if there is already color introduced in your room, otherwise, they will look out of place.
Having color already in the room will connect the fireplace, your shelves, and the rest of the room. 
Built-In Office Space
If you are unsure about what to do with the walls next to your fireplace, you can create office spaces that are complete with floating shelves.
This can create a very cozy office space as you will be near the fireplace, but you will also have a good amount of storage space to use. 
This works very well if your fireplace is not in the living room as it gives people space to go to a different room to work.
The desk and the shelves can be made from the same wood that is already present in the room, linking the features together and creating a modern design around your fireplace. 
What Should You Put On The Shelves?
When you have a fireplace with floating shelves, there are lots of different things that you can display. You can use the shelves for plants, photo frames, art, ornaments, or books, the choice is yours!
The storage space will be out of the way and will be able to further emphasize the fireplace, creating a modern and unique feature in your living room. 
Final Thoughts
To conclude, there are lots of different floating shelves ideas that will complement modern fireplaces and make them look more contemporary.
Using modern materials and colors for the floating shelves creates a modern and unique look in your living room, but having other modern features is necessary for the shelves and the fireplace to fit in. 
Having floating shelves is very beneficial as they can be used to display lots of different items.
This keeps the decor out of the way and prevents the room from looking too messy and cluttered.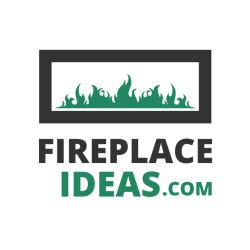 Latest posts by Stevie Morris
(see all)