Are you considering installing a faux fireplace but aren't sure which style? Maybe you want to update your living space and want to know if a faux fireplace could work for you?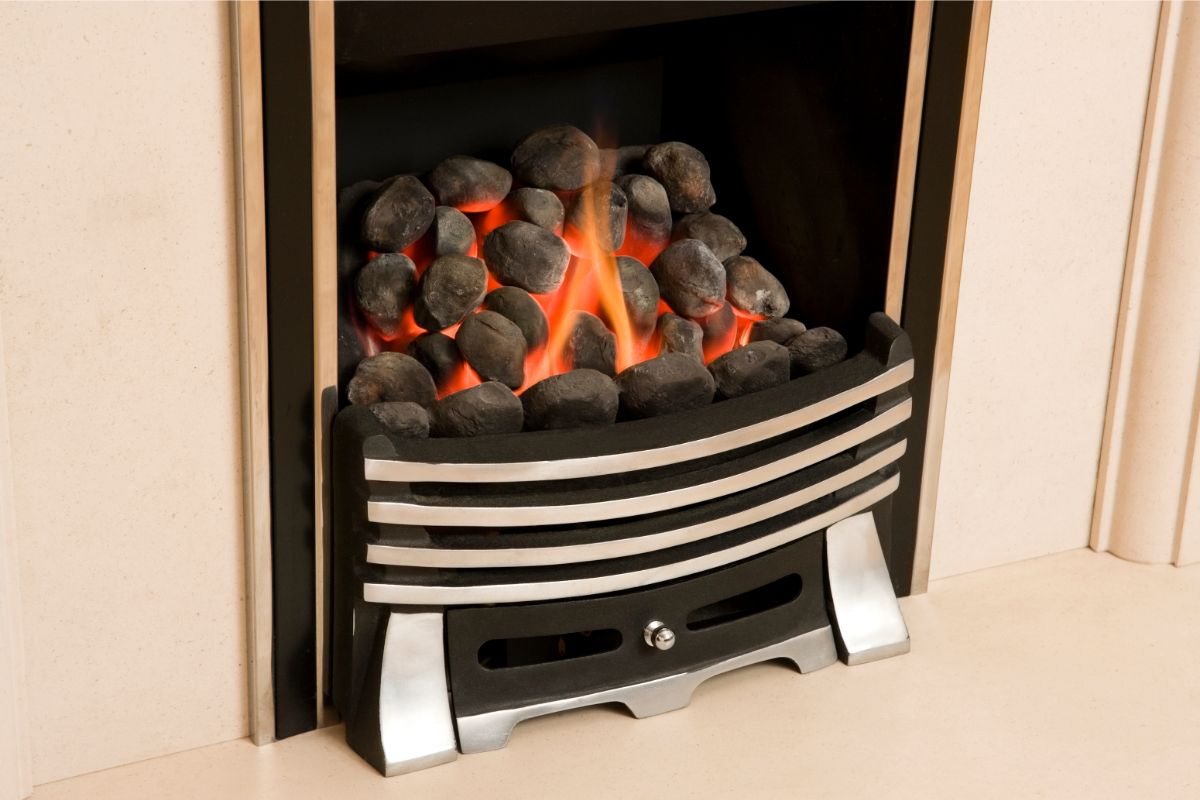 Or are you curious and want to know more? No matter what the reason is that brought you here today, we have the answers for you!
A faux fireplace is often a cheaper and easier option than installing a real fireplace. They come in a range of styles and sizes, meaning there is sure to be one out there for everyone.
But how do you choose? How do you find the perfect faux fireplace and know how to style it? You head online for some inspiration but are left feeling overwhelmed and frustrated, unsure of what to do next.
Well, no more! Today we are here with the answers you need!
Keep reading to see some fantastic faux fireplace ideas (see also 'Condo Fireplace Ideas'). Whether you are looking to update your room or completely redecorate it, we are sure to have some ideas and inspiration for you!
What Is A Faux Fireplace?
Before we dive into today's article, let's have a quick recap for those that need it! A faux fireplace is a fireplace that looks and acts like a fireplace, but it doesn't offer any heat or have any flames!
These might come as a decorative box that can be installed in your home, or they might feature an electric insert that has a flame effect, but they won't have a heating insert.
Faux fireplaces are a fantastic option for those that don't want to install, maintain, or clean a real fireplace. They can also be a cheaper option! You can transform the space, whether it is a living room, kitchen, or bedroom, on a budget!
You also don't need to worry about hooking the fireplace up to a chimney or your electrics, you can simply pop it where you want and you are good to go!
Now that we have established what a faux fireplace is, let's move on to see some fantastic ideas you can use for a faux fireplace in your home!
Faux Fireplace Ideas
Let's get straight into it! Below we have a list of faux fireplace ideas for you to try. We have included ways to spruce up your current faux fireplace and some style ideas for new faux fireplaces that you can try.
So no matter your budget, there is an idea for you! Why not try one or a mixture to see how you can overhaul your space with a faux fireplace?
Add Logs
First, we have a fantastic idea you can use with an existing faux fireplace! If you have a mantle and surround it already, why not fill it with some logs? You can stack the logs if you have a deep hole to fill.
Or you can cut the logs into thin circles and stick them to the wall. This gives the appearance of logs stacked up, without the depth you would need to store them! Plus, you still get plenty of texture and a fantastic focal point.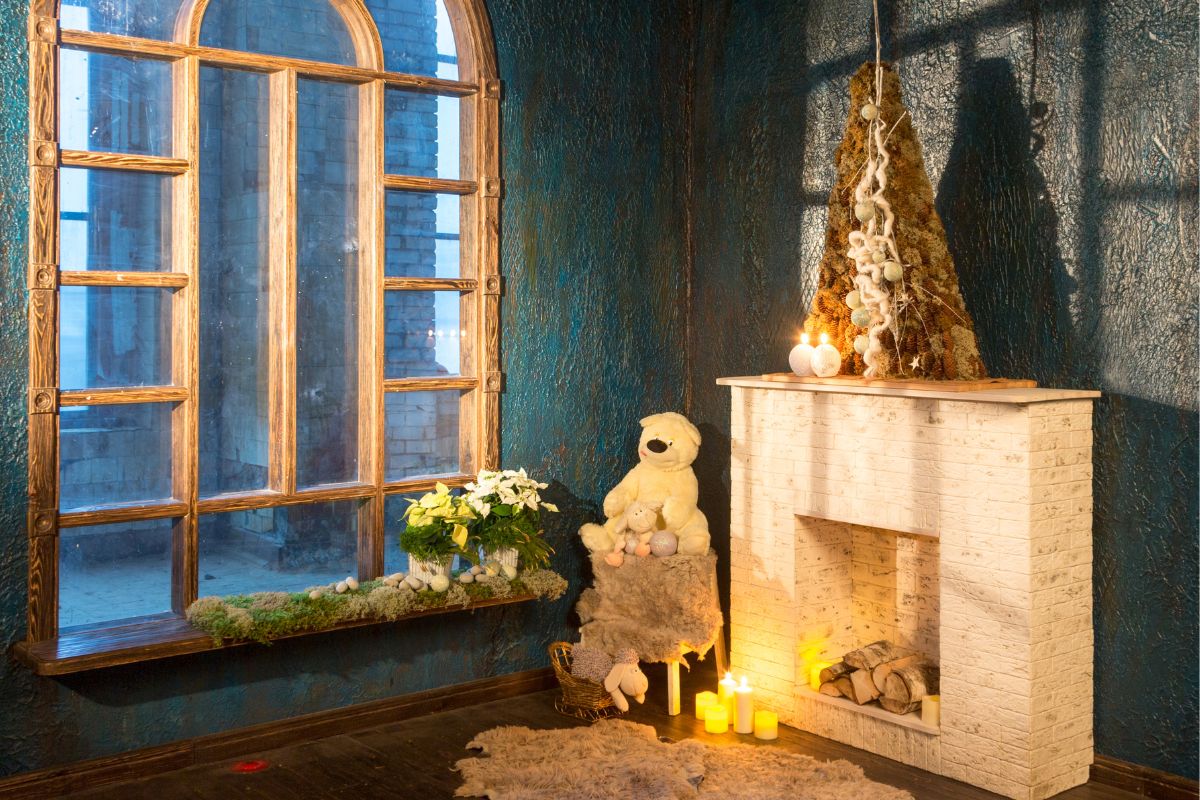 Adding logs will create a fantastic rustic feel and can be done on any budget! Why not complete the look with some dried flowers or pampas grass on the mantle of your fireplace?
Add Heat
Why not add a small electric fireplace to your faux fireplace? If you are struggling to heat the room, then a small electric fireplace would work wonders! You can purchase them without a surround or mantle too, keeping the cost down!
Look for free-standing electric fireplaces that can be slotted into any area with ease!
Just make sure you have a power source nearby, like an outlet. You can complete the look by adding tiles behind the fireplace or a mantle to the top if you want.
If you are limited on space, you can forgo these and simply enjoy a small fireplace that will provide you with plenty of heat!
Add Faux Bricks
If you don't have exposed bricks in your home or near your fireplace, a budget-friendly option is to add faux bricks! These look fantastic in your fireplace surround and will add a good deal of texture too!
Fake bricks can help to give the room a cozier feel too, making it a fantastic choice for anyone trying to create a cozy and inviting space.
You can use them to make your fireplace seem bigger than it is too, by adding them around the faux fireplace and along your wall!
If you don't want faux bricks, you could consider wallpaper with a brick pattern on it, but you won't get the same texture.
Add To Your Bedroom
Fireplaces used to be common in bedrooms, but now, few of us have a chimney we can connect a fireplace to in our bedrooms. So add a faux fireplace!
You can pop the mantle and surround it on virtually any wall, and even add a heating element if you want!
Doing so can blend the modern in your bedroom with the traditional, or give it a rustic feel! Why not place one opposite your bed or near your dresser for a chic vibe?
You can also add some decor to your faux fireplace to create a cohesive style.
We love a small faux fireplace in the bedroom. Not only does it add a sense of grandeur to the room, but it can make it feel super cozy and rustic! What a wonderful blend!
Add Light
If you just have the surround or mantle, why not add some light to your faux fireplace. You can hang twinkle lights from the mantle, or line the lights around the entire fireplace.
Doing so will add some light, replicating a fireplace. Or you can add some candles to give you the orange glow of flames!
If you don't want to use real candles, you can purchase battery-operated candles that will help you achieve a similar effect. You also won't need to worry about any melting wax or hot flames that could burn your hands!
Why not add some to the mantle and along the bottom of your fireplace to create a cozy vibe?
Play With Color
You can add some fun color to your faux fireplace too if you wish! You could paint the wall space underneath your mantle or in your surround to make the fireplace a fun feature if you want.
Why not add a bright color or use some wallpaper to add a pattern to your fireplace? This is a fantastic way to add a splash of color to an otherwise neutral room.
Or you can add color or wallpaper to the whole wall. This is worth doing if you have a large room, as you can make the entire wall a feature. Why not add a bright color or funky patterned wallpaper?
Doing so can bring attention to your fireplace and will add some color to your home. Just be sure that the color works with the current decor in your room to prevent needing to replace it!
Add Decorations
You can also add some decorations to your faux fireplace to update it! Along with light, you can add some decorations to your mantle. These could be seasonal like stockings or garlands, or you can add decorations that will be suitable all year.
You can add some picture frames, vases with dried flowers, or some nicknacks from past trips. Why not use the mantle as a great place to display your crystals or your favorite gifts from friends and family?
Make sure that the items are all evenly spaced out so you can see and appreciate them all!
Add as many or as few as you would like depending on your preferences. Don't forget to add the mantle and its decorations to your cleaning routine too! You don't want them covered in a layer of dust!
Modernize Your Fireplace
Finally, you can modernize your fireplace! You can add a modern electric fireplace, or you can change the surround and insert a more modern one. Doing so can overhaul the entire space and give the fireplace and your room a more modern and sleek style!
You can do this on virtually every budget too, you just might need to spend some time searching for the right deal for you! Don't forget to select a fireplace or surround that works with the current decor in your room to save you from needing to replace it all!
Final Thoughts
And there you have it, a list packed full of faux fireplace ideas for you to try!
Whether you are looking to spruce up your current faux fireplace with some decor, or add a new faux fireplace to your home, we hope you have found some ideas and inspiration here today!
Don't forget to check your budget before you embark on any decor projects. Ensure that you have enough money to purchase the decor, fireplace, and any additional costs you might need to consider.
These days, there is a faux fireplace to suit every budget, so you are sure to have the fireplace you want with the money you have!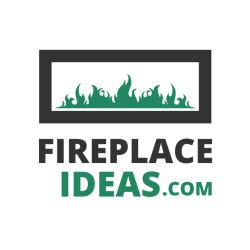 Latest posts by Stevie Morris
(see all)