Do you ever find your bedroom lacking that special warmth and coziness?
Do you yearn for a space that invites relaxation and tranquility after a long day?
Imagine the comfort of snuggling up in bed, not just next to a roaring fire, but with the ambiance of a beautifully styled fireplace enhancing your room.
Having a fireplace in your bedroom is a luxury that few are fortunate enough to enjoy. But if you're one of the lucky ones or considering installing one, it's time to unlock its full potential.
Even a non-functional fireplace can be a captivating centerpiece, a piece of art that adds charm and character to your personal sanctuary. It can be the first thing you see in the morning and the last thing you see at night, a constant reminder of your unique style and taste.
We'll share inspiring ideas to style your bedroom fireplace in the following. Whether you're looking to install a new one or seeking ways to revitalize an existing fireplace, these ideas will help you create a cozy, inviting space that truly feels like home.
So, transform your bedroom into a snug retreat you'll never want to leave.
Decorate The Mantel
The most obvious way to stylize your fireplace is by decorating the mantel, but sometimes obvious is the most effective.
Adding some photo frames or maybe a pop of color with some flowers can give a room a homey feeling.
You can even have your mantel be an extension of your vanity by using it to display your jewelry or perfume.
Pair this with a large mirror and lighting to give it that superstar feel.
If you have a TV above your fireplace, you might be inclined to keep the mantel bare, but a few smaller pieces can level up the fireplace while not obstructing your late-night viewing. 
Paint
Don't be afraid to paint your fireplace. This may seem like a crime to cover up beautiful stonework or wood, but it can be an easy way to tie the room together and can be removed in the future with sanding or paint remover if you so wish.
Either by painting it the same color as the walls, contrasting it with a bold color, or keeping it simple in a monotone shade.
You can keep the original style of the fireplace and add your own personal design to it.
Of course, if you want the fireplace to be still functional, avoid painting the inside firebox and use fire-safe paint.
Lighting
Even if your fireplace isn't functional, it can still be used as a form of light, this can be done in a number of ways, but some of the most common are with string lights and candles.
Both are inexpensive and quick ways to give your bedroom a different mood.
A few lit candles can give a room a romantic mood, perfect for the bedroom.
Or you can add string lights to highlight existing decorations and make your bedroom feel truly magical.
Tiles
Give your old fireplace a geometric flair with some tiling. You can go simple with it or give your fireplace a unique flair with different colors and shapes.
This will take more time than putting a few ornaments on the mantel or lighting some candles, but the end result will be like no other.
It will make your fireplace stand out and be one of a kind.
Tiles are also easy to clean to keep your bedroom in perfect condition.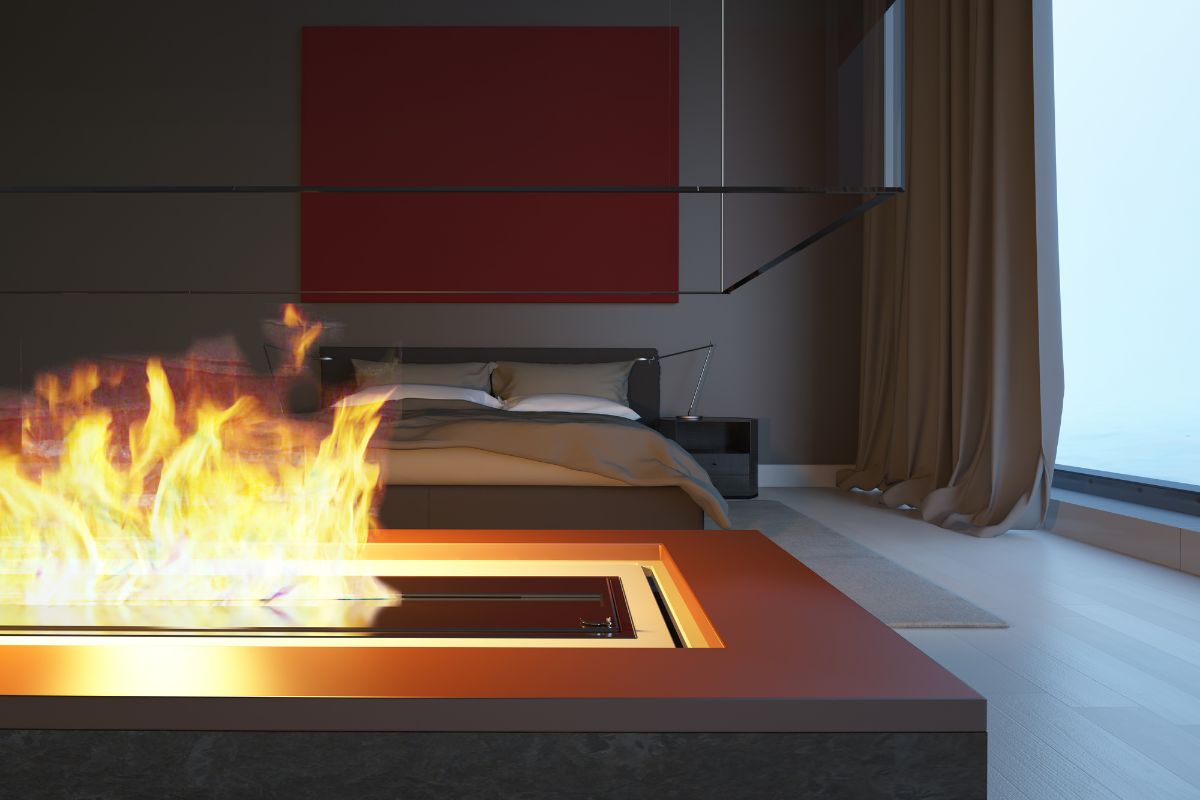 Plush Rug for Added Comfort
Introducing a plush rug is one of the simplest yet most effective ways to boost the coziness of your fireplace-centric bedroom. Lay it before your fireplace to instantly create a soft and inviting surface.
Whether it's a faux fur, wool, or shaggy rug, you want something you can sink your toes into comfortably while basking in the warm glow of the fire.
The lush texture of the rug will not only contribute to an aesthetic appeal and add an extra layer of comfort to your space, perfect for those winter nights spent by the fireside.
Storage
While it may seem like a simple solution, an empty fireplace can double as a stunning centerpiece and as storage. 
From old books to your favorite piece of artwork, you can use your fireplace as almost a display box for items you would normally have up on shelves or hidden in the attic.
You can even mimic a real fire and use the space to store logs.
You can even use your empty fireplace (see also '20 Empty Fireplace Ideas To Inspire You') to store furniture that isn't always in use, such as a footstool or extra cushions to open up space in your bedroom.
Window Treatments for Privacy and Insulation
Window treatments are often overlooked elements that create a cozy atmosphere around the fireplace. Installing thick, insulating curtains or blinds on the windows near the fireplace can work wonders.
They provide the desired privacy and play a crucial role in retaining heat during the colder months. Opt for materials like velvet or thermal-lined fabrics that will ensure maximum insulation.
This approach enhances the warmth of the fireplace, making your bedroom a snug haven where you can relax in utmost comfort and privacy.
Cozy Seating Nook for Ultimate Relaxation
To make your bedroom with a fireplace the ultimate relaxation spot, consider creating a dedicated seating nook right next to the fireplace.
This intimate area could include a comfortable armchair, a chaise lounge, or even a loveseat, depending on the size of your room.
Include a side table, a convenient spot for a warm cup of tea, a good book, or your favorite candle. Accentuate the area with soft pillows and throw blankets to invite you to snuggle up by the fire.
This cozy corner is bound to beckon you for moments of tranquility, enveloping you in a peaceful serenity that only a fireside nook can offer.
Keep It Simple
Sometimes keeping something simple is the best way to make it stand out.
This doesn't just mean having straight lines and plain colors. Stripping back the fireplace to its original beauty can be just as effective as redecorating it.
A lot can be said for a beautiful exposed brick fireplace and or a statement oak surround.
Sometimes restoring an old fireplace can be very cost-effective, especially if you can do it yourself with some elbow grease and love.
You also get the rewarding feeling of keeping some history alive in your home.
Electric Fire
If you don't have a functional fireplace a great replacement is an electric insert fireplace.
This stylish alternative is great for those who want a more modern look but the ambiance of a lit fire.
Electric fireplaces come in a variety of styles to match whatever the design of your bedroom is.
If you want one to match as closely to a real fire as possible, you can go extra and have the fire change color.
They can also be safer when you accidentally fall asleep with a fire blazing in your room.
When installing an electric fireplace, consult a professional to ensure you get the right one for your home.
Final Thoughts
Most people spend about 8 hours at least in their bedroom every day. That is a third of the day, so your bedroom must be as cozy as possible.
Especially since it is the room, you sleep in. Even if you aren't looking at the room, you need to feel comfortable enough to get the rest you need to take on life head-on.
A fireplace is able to make a whole room feel more relaxed, even without being lit.
Embrace the unique feature of your bedroom and make it the centerpiece of the room.
If you want to dress it up or keep it minimalistic, it will always be a conversation starter, so make it an extension of who you are.
Frequently Asked Questions
How Can Tiles Add a Unique and Cozy Touch to a Bedroom Fireplace?
Tiles can enhance a bedroom fireplace by adding unique colors, patterns, and textures. They can create a personalized design, from geometric to mosaic, and reflect light to boost the room's coziness.
Easy to clean, tiles maintain a neat look, making your fireplace a standout, cozy feature in your bedroom.
How Can an Empty Fireplace Be Used as a Cozy and Creative Storage Solution in a Bedroom?
An empty fireplace can serve as a unique storage solution in a bedroom, adding to its coziness. It can display items like books, artwork, or even logs, creating a visually appealing centerpiece.
Alternatively, it can store less frequently used items like extra cushions or a footstool, freeing up space in the room. This creative use of an empty fireplace enhances the room's comfort while adding a touch of charm.
How Does a Fireplace, Even When Not Lit, Add to the Overall Coziness of a Bedroom?
A fireplace, even when not lit, contributes to a bedroom's coziness through its architectural presence and potential for decoration. It is a focal point, drawing the eye and structuring the space.
The mantel offers a platform for displaying personal items, artwork, or seasonal decor, adding warmth and personality. An unused fireplace can also be creatively lit or used for storage, enhancing the room's cozy ambiance.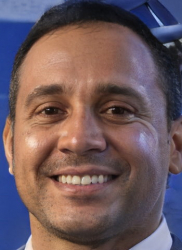 Latest posts by Stevie Morris
(see all)