No matter where you put your fireplace in your home, it's guaranteed to be the focal point – and for a good reason! Who isn't drawn to a toasty, crackling fire, after all?
But cozy doesn't mean you have to sacrifice the minimal, modern aesthetic of the rest of your home. You can incorporate it into your fireplace too!
So you can stay consistent with your current minimalist aesthetic, we have 18 of the best ideas for designing a contemporary, minimalist fireplace.
These fireplaces are sleek and functional, yet homely too.
So where you want to give the original structure a new lease of life or add a warm, cozy fire into your contemporary home, these ideas will help you open your mind to what's possible!
What To Look For In A Minimalist Fireplace
When choosing a minimalist fireplace, it's important to consider several key factors to ensure that it will meet your needs and complement your home's design.
The firebox, surround, and hearth are important details to consider, as they will all impact the overall look and functionality of the fireplace.
A clean and contemporary aesthetic is essential for a minimalist fireplace, as it should grab people's attention and provide a warm and visually appealing focal point in the room.
The furnishings around the fireplace should complement and accent it, creating a comfortable and inviting atmosphere that encourages guests to sit down, relax, and enjoy their visit.
Electric inset fires can be the easiest way to achieve a minimalist fireplace look and give you a reliable, roaring fire every time!
Their sleek, modern design allows them to blend seamlessly into the surrounding decor, providing a clean and uncluttered appearance.
Want to make a statement in your minimalist home? Then why not go for this imposing, rectangular fireplace that's sure to fill your living room with warmth.
Wide, rectangular fireplaces are a bold choice for those looking to create a statement in their minimalist home. With their clean lines and spacious design, these fireplaces offer a strong visual presence in any living room
This marble fireplace is bold and elegant and great for a light, airy, minimalist home, particularly one with a monochromatic color scheme.
The marble material itself adds a touch of luxury. At the same time, its minimalist aesthetic ensures that it doesn't detract from the room's overall look.
Minimal decor and smooth, clean lines are the cornerstones of modern decor, and this simple yet sleek fireplace is no exception! The transparent glass, delicate, dancing flames and stark white wall is a classic minimalist look.
This type of fireplace is a great choice for those seeking to create a clean, uncluttered, modern home aesthetic.
Its simplicity and elegance make it a timeless piece that will never go out of style.
If you have an old-fashioned hearth you want to inject some modernity into it, then some small, easy updates are all it takes. The polished wood provides a lovely contrast to the rugged brick in this example.
The contrast between the polished wood and rugged brick in this example creates a lovely balance, simultaneously making the hearth modern and classic.
With this makeover, the hearth becomes a versatile piece that can fit seamlessly into any minimalist decor style.
Fireplaces traditionally have a square design. This sleek, tall rectangular design is a breath of fresh air and is undeniably contemporary.
Whether used as a focal point or background feature, a tall and narrow fireplace is a versatile piece that can complement any minimalist decor style.
Works of art should be visually appealing and have some depth to them, and this artistic, striking fireplace ticks those boxes. This sculptured mantle is a fireplace as well as a contemporary art piece.
This type of fireplace is perfect for those looking to add a touch of drama and elegance to their minimalist home
A slatted wall fireplace is a beautiful and striking piece that can serve as the centerpiece of any living room. Its depth and texture make it a visually appealing focal point, drawing the eye and creating a warm and inviting atmosphere.
The depth and texture of the slats can also play with light and shadow, adding an extra layer of visual interest to the room. Furthermore, the slats can be made from various materials, including wood, stone, or metal, allowing you to customize the look of your fireplace to match your style and decor.
Whether you prefer a modern, industrial look or a more traditional aesthetic, a slatted wall fireplace is a versatile piece that can elevate any minimalist living room.
If intriguing angles and geometric shapes are right up your street, take your cues from our example above and go all out on the modern look!
A geometric, modern fireplace is a perfect choice for those who love clean lines, intriguing angles, and bold geometric shapes.
The clean lines and angles of the fireplace create a strong contrast with the organic movement of the flames, creating a dynamic and visually appealing focal point in any room.
This fireplace is easy to miss! It's carved out using negative space for a sleek, seamless fireplace.
The hidden design allows the fireplace to blend in with the surrounding decor, making it a subtle and unobtrusive feature in any living room.
However, despite its hidden design, this type of fireplace still provides a warm and inviting atmosphere, making it a functional and aesthetically pleasing piece in any minimalist home.
If you're fortunate enough to have high ceilings in your home, why not make the most of them? Don't limit the scope of your fireplace, and elongate the structure so it can meet your high ceilings.
This is a striking and imposing look and makes your room look larger and your chimney more modern.
The combination of height and minimalist design makes this type of fireplace modern and sophisticated, perfect for any minimalist home.
Chevron-pattern tiles around your minimalist fireplace inject contemporary flair into your chimney, especially in this stunning ivory color.
The minimalist design of the fireplace itself ensures that it won't detract from the room's overall look, while the chevron tiles add a touch of interest and modernity.
A concrete fireplace provides a cool and modern contrast to a cozy log fireplace. Concrete's raw and industrial look adds a touch of edge and sophistication to any minimalist home.
Concrete is also a versatile material that can be molded into any shape; it's a wonderful choice for creating a custom fireplace that fits seamlessly into any minimalist home.
Its unique look and versatility make it stand out in any living room.
The decor surrounding your fireplace is just as worth considering as your fireplace's design.
This minimalist setup, with the black and white color scheme, sleek lines, and small pops of color, makes this black mantle stand out even more and look even cooler.
The minimalist design of the mantle ensures that it won't detract from the room's overall look. At the same time, its black color provides a bold and sophisticated touch.
Most fireplaces and mantels are at eye level. Still, this modern design shrinks the average mantle height to make it more contemporary.

With all that extra space above the mantle, why not hang a large canvas?
Fireplace screens and doors can instantly date their design, so why keep your fireplace exposed and open to keep it looking contemporary?
A marble fireplace surround is a beautiful and elegant addition to any minimalist home.
Using a two-tone color scheme, with mixes of grey and white, adds depth and interest to the fireplace while maintaining a minimalist aesthetic.
It's official, burning firewood is boring; now it's all about ceramic spheres in contemporary homes. Not only are they cool and intriguing, but they're also fire-safe and eco-friendly.
The organic shape and texture of the spheres create a visually striking focal point, drawing the eye and adding a dynamic visual effect to the space.
Using ceramic spheres instead of traditional firewood provides a cool and intriguing look that is both fire-safe and eco-friendly, making it a great choice for those looking to add a modern touch to their home while also being mindful of the environment.
Designing your dream home isn't without its challenges; whether that be limitations in the layout or structure, sometimes you can't have a fireplace right in the middle of your space.
But don't worry, this off-center, angled fireplace still manages to draw the eye, despite not being in the center of the room.
The unique placement of the off-center fireplace adds a touch of interest and personality to the room.
Final Thoughts
We hope our ideas for contemporary, minimalist fireplaces have inspired you when designing your modern home!
Whether you love sharp, angular looks, or laid-back, whitewashed beachy vibes, there is a modern fireplace out there that is stylish, sleek, cozy, and toasty.
You don't have to forego warmth and coziness for minimalism; our 18 minimalist fireplace designs prove it! So no matter what your aesthetic taste, get creative and transform your home today!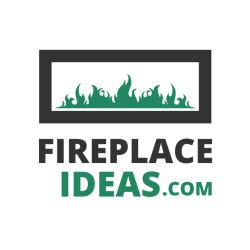 Latest posts by Stevie Morris
(see all)