Are you looking for some transitional fireplace ideas but don't know where to start? Maybe you want to change up your fireplace but aren't sure what the best way to do this is? Whatever your reason might be that brought you here, we have the answers for you!
When it comes to transitional fireplaces, we know how important it is for you to get them right. After all, the last thing you want is a mis-matched fireplace that doesn't work well in your space.
The fear of getting it wrong can set its claws deep in you, and leaves many of us unable to go forward and achieve our fireplace dreams.
Well, no more! Today we are here to help! Just keep reading to find a complete list of transitional fireplace ideas that you can use in your home. Whatever your desire is for your fireplace, we can help you make it a reality!
What Is A Transitional Fireplace?
Before we dive in, let's have a quick recap for those that need it! A transnational fireplace uses both traditional and contemporary styles to give us a classic and timeless design.
Mixing the classic with the modern can mean installing an electric fireplace on a stone wall, or surrounding a traditional fireplace with a modern surround, you have a lot of options here worth exploring!
Transitional fireplaces are diverse pieces to have in your home and usually stand the test of time too. They are usually fairly easy to update too should you need to. But don't worry, we have more on that coming up in the list below!
Transitional Fireplace Ideas
Let's get straight into it! Finding ideas for your transitional fireplace can be tricky, but we are here to lend a helping hand! Today we will be walking you through our complete list below that should provide you with the inspiration you need to update your transitional fireplace today. Keep reading to find out more.
Add A Surround
Grand and traditional fireplace surround look wonderful around all kinds of fireplaces, whether they are traditional or new ones!
A large wooden surround looks wonderful in large rooms with high ceilings, and they give us serious Austen vibes! But you can also purchase smaller surrounds that work just as well in smaller rooms or with smaller fires.
You can choose from a range of colors, and patterns on the wooden surrounds. And even if you can't find an original surround, there are many fantastic replicas that you can purchase to transform your fireplace!
Plus, these surrounds are always in style, so you never need to worry about them going out of fashion.
Utilize Exposed Brick
If you want to merge the rustic with the modern, exposed brick is a fantastic way to do it! Whether you want to showcase some bricks in your fireplace itself, as a surround, or the entire wall, we are sure it will be a style winner!
Red brick has a classic rustic cottage vibe, that can work well in the most contemporary of homes! We think it works especially well in kitchens or smaller living rooms where the bricks pack a punch!
Other exposed brick works well too, just be sure when exposing bricks in your home that you are doing it properly.
After all, the last thing you want to do is damage any of your bricks or walls! You can always contact a professional stone mason to help you with this if you are unsure.
If you are on a budget, you could use brick-style wallpaper secured to your walls for a similar effect.
Stone Surrounds
Stone surrounds can help provide a modern feel to more traditional fireplaces. These fireplace surrounds are fairly easy to construct and have a unique blend of traditional and modern.
The stone surrounds can have a modern design, or you can opt for a more traditional style around a modern electric fireplace if you prefer.
We think they work well in rooms of all sizes, but that gray or cream stone surrounds tend to have a more contemporary feel. When deciding what works well for you, consider the color and design of your room first.
This will help you opt for a seamless transition from your fireplace to the rest of your room.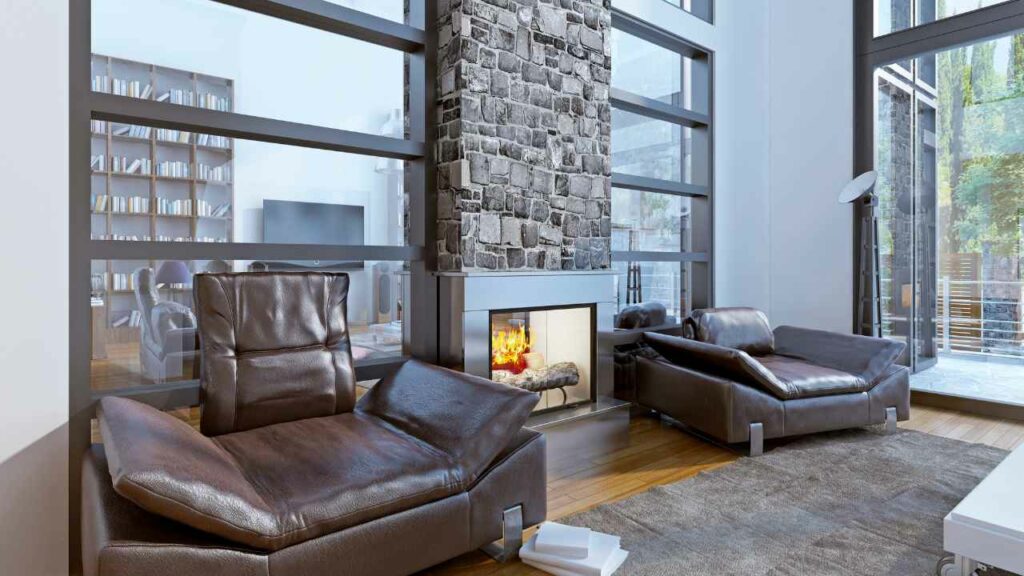 Keep The Lines Simple
To modernize a traditional fireplace, we suggest opting for a clean and simple surround.
Opt for clean lines without any intricate patterns or designs. These clean lines will provide a sleek and contemporary look that is sure to make even the most traditional of fireplaces look and feel more modern.
To keep things simple, we suggest that you keep the mantle above the fireplace clear.
This helps draw attention to the fireplace, without the need for any additional clutter. You could even mount a TV above the fireplace, or keep things simple with some small artwork above it. Again, this will depend on the size and layout of your room.
Change Your Tiles
It can seem simple, but changing the tiles in or around your fireplace can give it a classic or modern look!
Whether you are changing your old-fashioned tiles for some modern ones or vice-versa, changing the tiles can be a cheap and easy way for you to give your fireplace a more transitional feel.
We think long, rectangular tiles are a great way to change up your fireplace, without breaking the bank! You can choose a color that best suits your room, although you can never beat white for a classic and timeless look!
Add Tiles To The Floor
To give your modern fireplace a more traditional look you can add some tiles to the floor in front of it. Tiles in front of a fireplace were standard back in the day, and you can typically find them if you lift the carpet up in an older home!
So why not add a row or two in front of a modern fireplace? Opt for a neutral color that will match your decor, or a bright pattern that will make your fireplace a focal point!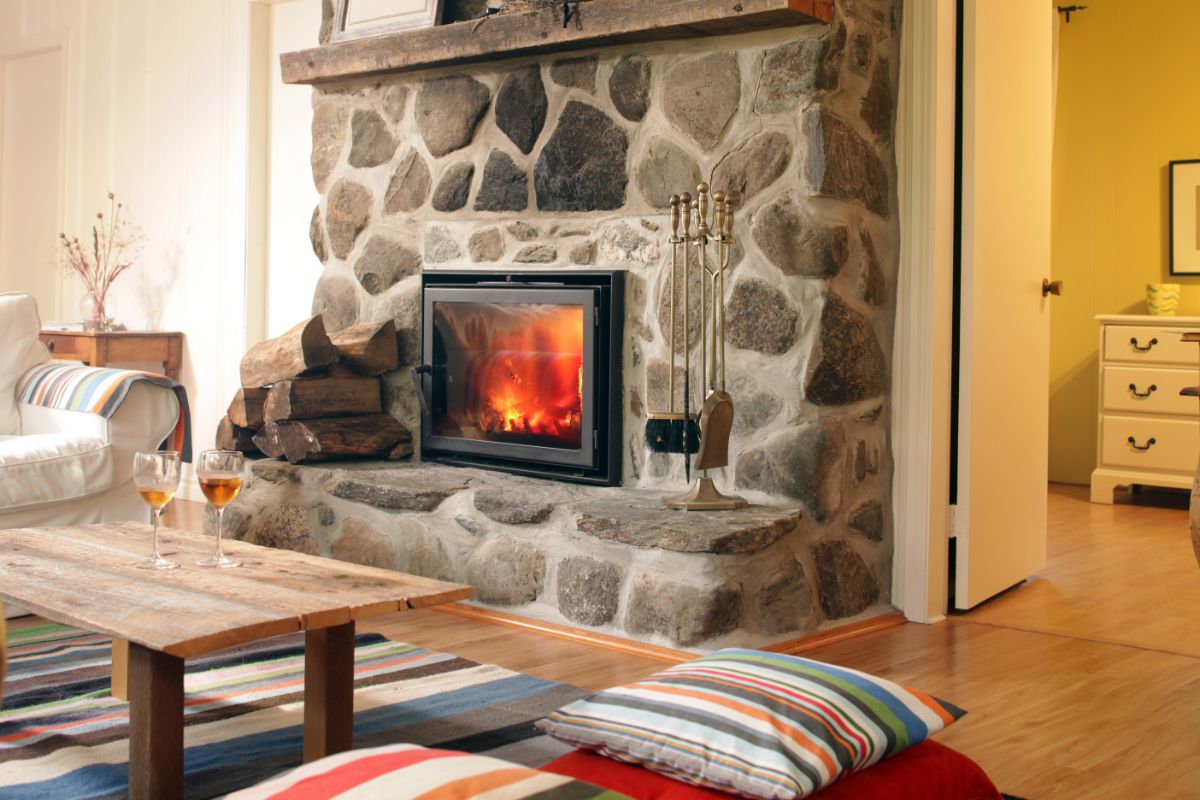 You could also raise your fireplace a few inches if you wanted and tile the wall below it. Not only does this bring the flames closer to your eyeline, but allows you to add some beautiful tiles to give your fireplace a more transitional appearance.
Incorporate Decorations
Another way to make your fireplace more transitional is to add some decorations to it. You could add some modern ornaments or artwork above the fireplace, or you could add some traditional decorations to a modern fireplace, whichever option works best for you.
Not only can you place them on the fireplace, but around them too. Adding a modern chair, bucket of logs, or large rug can help your fireplace feel more transitional.
We love how a modern fireplace looks next to a traditional wooden chair. You can blend the old and new together seamlessly for a wonderful and timeless look.
Adding decorations near or on your fireplace is usually an affordable way to make your fireplace feel more transitional.
Mount A TV Over It
If you have a traditional fireplace, then mounting a TV over it will help blend the modern for a more transitional feel. You can mount the TV easily over the fireplace, just make sure you have the correct mounting bracket to do so.
You can also change the paint behind the fireplace. If your TV is larger than the fireplace, then black paint can help the TV into the wall, or you can opt for a neutral color to help brighten your room and help it feel more modern.
Change The Flame Color
If your modern fireplace comes with color changing flames, then we suggest you change the flames to a classic amber and yellow color. This will make even the most modern of fireplaces feel more traditional.
Plus, these yellow flames will make you feel a little warmer even if the heat isn't on! You can thank your subconscious for that!
You can change the color of your flames with the remote for your fireplace, or any setting dials you have on your fireplace. If you are unsure how to do this you can check your user manual for instructions you can follow.
Final Thoughts
And there you have it! A complete list of ideas you can use to create a transitional fireplace! Whether you want to swap out your surround, upgrade your mantel, add some tiles, or simply change the decorations on your fireplace, there is an option to suit everyone!
No matter the option you choose, make sure that you measure the area to prevent purchasing a mantel, surround, or tiles that are the wrong size. You can easily carry out most of the work yourself, just be sure to have a pair of helping hands nearby just in case!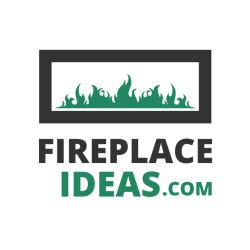 Latest posts by Stevie Morris
(see all)