A gorgeous large farmhouse style fireplace is the heart of any home it is in.
Farmhouse style is typically seen through its almost rustic look only with a fresher feel. From the white paneling, reclaimed wood, and occasional pop of color.
Farmhouse styling is a popular way to get that beautiful clean look without getting rid of that homey feel.
Whether the fireplace is in the living room or the dining room, it's always the focal point of the room. Why not decorate it to be the statement piece it deserves to be.
One of the most effective ways to do this and also modernize your fireplace is with tiles.
Below are some tiling ideas to help you break the mold and give the farmhouse style a contemporary flair in your home.
Brick Or Stone
A simple but effective way to tile your fireplace is with either bricks or stones.
While this might seem basic, if done right it can make your fireplace look slick and modern without sacrificing that rustic look.
The more clean farmhouse style favors white brick and paneling. But why not accentuate the white with a few neutral tones.
Mixing in a few light gray bricks here and there can add dimension to your fireplace. Especially if you make it part of your accent wall.
To go for a more rustic look you might favor the idea of stone tiles. These can be in a clear laid out pattern or a more natural style to look like a stone wall.
Stone tiles are a easy way to bring the outside into your living room so why not blend them into your fireplace.
While brick or stone may seem like a simple choice you can use them to bring color into the room.
There are plenty of tiles in the style of bricks or stones that also come in vibrant colors.
If you have a simple color fireplace such as white or gray, some colored bricks can help it stand out in your home.
Terracotta
Why not give your home a bit of a Spanish flair with terracotta tiles.
Terracotta is an effective way to bring color into your home without straying too far from those neutral tones the farmhouse style is known for.
Pairing terracotta in a white room can really give it that holiday abroad feel.
However if you want a more rustic approach, varying the shades of brown or red in the room can really help the terracotta stand out.
Herringbone
One way to give simple tiles a unique twist is to lay them in a herringbone style. This eye-catching style is a fantastic way to upgrade your farmhouse fireplace.
Herringbone is known for making a space look wider than it actually is with its slanted design.
This will work great for those with a smaller fireplace. Of course if you have a large fireplace this would be a great tile layout to really emphasize that size.
Mosaic
While it could be time consuming, a mosaic fashioned tile might be exactly what you need to distinguish your farmhouse fireplace.
The use of tiny tiles can create a gorgeous neutral look with a lot of dimension.
You can also add in the occasional accent color to create a stylish effect.
You are able to get tiles that give the effect of mosaic tiles if you don't want to spend hours placing tiny tiles all over your fireplace.
This however will only work if you don't have a very specific style you want and are able to find the appropriate mosaic tiles.
3D Tiles
Want the effect of actual stone work with all its layers but half the work? Then 3D tiles are the way to go.
Available in many designs, 3D tiles are an easy way to add depth to your fireplace and accentuate that farmhouse feel.
A simple white tile can become a unique statement when it has some texture to it.
You don't have to mimic stonework with your 3D tiles either, you can really lean into that modern feel with a geometric pattern.
Use the shadows created by a geometric pattern to your advantage so you can stun anyone who sees your fireplace.
Patterned Tiles
Make a bold statement by using patterned tiles. Here is where you can really let your creativity shine through.
Patterned tiles are a great way to bring some life into a room with color and make your fireplace the main focal point of a simple room.
Or you can use patterns to match your room, such as flowers for a more neutral feel or Moroccan patterns to really bring out the color in other pieces.
If you don't want to make the full commitment to patterned tile you can mix a few into some neutral color tiles to get a more toned back but still visually stunning effect.
Matte Or Glossy Tiles
Not only do you have to consider color when choosing your tiles but you also have to decide what finish you want.
A matte finish is ideal to match perfectly with the farmhouse feel.
It gives a great rustic feel to a room and can easily match any decor. Brick and stone effect tiles will typically be in matte, so if these are what you want then the finish is an easy choice as it has already been made.
Matte tiles are also a subtle way to add color into a room and still give that neutral feel.
Glossy tiles are the perfect choice if you have a functional fireplace. Because of their smooth surface it makes cleaning a breeze so you won't have to worry about soot stains.
A smooth surface tile can also make a space feel bigger since it will reflect any light, whether natural or artificial.
Of course there is a downside to glossy tiles which is that any imperfections will show on the reflective surface so upkeep is key.
Tile To The Ceiling
Create a statement wall by tiling from your fireplace all the way to your ceiling. Not only will this create an accent wall but also the illusion of a chimney (see also our guide to chimney decor) if you don't already have one.
By opening up your whole wall to tiling you can have the creative freedom to really capture that farmhouse look.
By extending the tiling to the ceiling you can draw the gaze up to allow that farmhouse fireplace to be admired in all its beauty.
Also with more tiles you have the opportunity to include larger patterns that you wouldn't be able to incorporate into the small space surrounding the fireplace.
This extended fireplace tiling will also accentuate any decorations you have hanging on the wall above the fireplace (see also 'How To Hang Stockings On A Fireplace').
Tile The Inside
Why not tile the inside of your fireplace to create an effect like no other. Usually when people tile their fireplace they only do the surrounding area and not the actual firebox.
This can be a missed opportunity as by tiling the inside of your fireplace you're able to add texture and color to a place there is usually none.
Tiling the inside is ideal for those farmhouse fireplaces which aren't actually functional as it can turn your whole fireplace into a work of art rather than just the surrounding area.
If you use your faux fireplace as decoration then by tiling your firebox you can create a beautiful backdrop for whatever you have displayed there. Or you can let the tiles be the display themself.
Final Thoughts
Tiles can bring a welcomed texture to your fireplace. They are a great way to add a unique characteristic to your fireplace or to tie it into other elements of your home.
You may be worried about not following the farmhouse style but that is the joy of interior design.
There is no set style to follow so why not make the farmhouse style your own. Why not make your house a home.
When selecting your tiles there are some things to consider.
First it will be the size of your space. Make sure you measure your space to ensure you don't run out of tiles halfway through, it's always better to have a few extra than not enough. 
If you want your fireplace to be functional but want to tile near where the fire would usually go make sure you get heat resistant tiles.
Porcelain is a popular choice for fireplace tiles but always check beforehand. Heat resistant adhesive is also needed if you want your tiles staying in place.
However, if you don't want to go through the process of tiling yourself or hiring a professional you can always buy stick on tiles. These will give you that clean finish with half the work.
There is the downside of stick on tiles that there aren't as many design choices and you won't be able to use your fireplace for actual fires.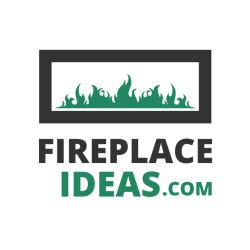 Latest posts by Stevie Morris
(see all)