There are lots of different features that are commonly found throughout homes, that have grown in popularity over the years.
When it comes to some of the most frequent features found throughout properties and homes, fireplaces are up there with some of the best and brightest – literally!
At the end of the day, there are almost too many different forms and variations to point out in one simple guide.
However, we can do our best to zero in on specific types of fireplaces. In this guide, we'll be looking at farmhouse fireplace ideas and the different forms they can take.
We understand how hard it can be to find the perfect fireplace for your home, so follow the rest of our guide to find an influx of different farmhouse fireplace ideas.
By the end of our list, you should be well on your way to finding your perfect fireplace.
Firewood Looks Great
Decorating the area around your fireplace is a must, otherwise, you might be going from modern to rustic within the space of a few feet!
By adding firewood to the aesthetic, you find yourself blending the rest of the room with your new homely feature.
Not only this, but it saves you from having to take trips out back or to the garage to get fuel for your fire.
On top of this, you can install little cubbyholes or storage units to keep this wood looking organized and safe, rather than just scattering the wood around the room.
With a bit of innovation, you can make this work!
Farmhouse Vibes Only!
At the end of the day, if you want a farmhouse feel to your fireplace, then the rest of the room needs to match the vibe.
We know this is easier said than done, but you can easily use small tricks and tips to make sure that your atmosphere is good enough for a farmhouse.
For starters, you should use wooden furniture as much as possible to match the feel of the room.
Having wooden tables, a set of antlers, and other natural features will make your farmhouse fireplace pop into the eyesight of anyone in the area, which is what you want!
On top of this, you can also make sure that there are bricks and wood showing around the surroundings of the fireplace, again, exactly what you want!
Using Darker Tones
Your farmhouse theme doesn't always have to be wooden and natural, you can always use a slick, smooth, dark tone throughout the room to ensure that the fireplace looks relatively modern.
However, you can still mix in the farmhouse themes to make sure that the fireplace still stands out from the rest of the room.
Using dark blue or black can be a great way to complement the fireplace.
Get Their Attention!
One thing that many people want their fireplace to have is a strong feature above the fireplace, where the eye can be caught by the design.
This is a perfect way to further emphasize the farmhouse themes throughout the room.
By having a brick chimney (see also 'Chimney Decor Ideas') on display, you have a farmhouse theme and an atmosphere that keeps people looking toward the area you want.
The type of bricks you use can come down to whatever your preferences are.
If you want the room to have a smokier feel, then using darker bricks will help you to create this sort of atmosphere throughout the room.
However, if you want a color that suits wood well, then having red or brown bricks will help you to keep things blended well together.
Use A Log Burner
This is a great idea if you're looking for something a bit different, with many people loving the efficiency of log burners.
However, it's important to note that it will need to be placed inside of the fireplace so that the smoke exits the building in the same way smoke would if it was coming from a fireplace.
As well as this, they add something different to the room that you wouldn't necessarily see with a traditional fireplace.
Because of how much people associate log burners with cabins (see also 'Cabin Fireplace Ideas') and similar locations, you can expect to see log burners throughout a room with a farmhouse theme.
Pieces Of Art
When it comes to adding something different to your fireplace, there is always something above the mantlepiece.
Many people might opt to go with a mirror or some plants, but we have an idea that works much better!
Why not include a piece of art like a painting or a large printed picture? These can be bordered by wooden frames to suit your farmhouse tone.
Alternatively, you can also install something like antlers or a skull to keep the farmhouse aesthetic going, with the theme of animals being seen throughout farmhouses all over the world.
Of course, you should only choose this one if it's something you want to see in your home. There are other alternatives, like art, that can be just as effective!
Stone Materials
Stone is one of the building blocks of architecture and buildings throughout the world.
Stone is easily one of the most common materials that have been used with old farms and farmhouses throughout history, so we would be remiss if we didn't highlight its benefits in our guide.
There are different types of stone that can be used, with lots of different characteristics.
Using light colors of stone will make sure that if you have white walls or light features, then they are complemented and used to your advantage.
Whereas, if you have darker tones that you want to display for your home to show off, then slate and other variations of dark stone can be a great choice.
It all comes down to what your personality is and how your home looks.
Use Old Items
We think it's a great idea to have some older items on display, giving them new life as you look for things to include with your farmhouse fireplace.
Because of how great they look with an older fireplace, you can expect to see a farmhouse aesthetic straight from the start.
After all, that's the main goal here, and using old items of furniture is a great way of cutting straight to the point.
By having a brick fireplace with beautiful aging, and having some wooden furniture, you have a winning combination that you're going to struggle to beat any time soon!
Use Bohemian Accents
We all know how great some Bohemian tones are when they're used throughout your home.
By adding some rustic wooden pillars and beams to your home, you can enhance and emphasize the farmhouse atmosphere that you're trying to create.
By pairing these features with a wooden fireplace area, you're bound to see the effect you want taking hold of anyone who enters your home.
Using a brick fireplace with this sort of vibe is also a great way to make sure your home has an authentic atmosphere that feels like you're right at home in your farmhouse room.
Display Personal Items!
This one is a great idea, considering everyone is going to be sitting around your fireplace, or at least looking in the general direction of your new homely feature.
By having your meaningful possessions and items in front of everyone, you can make sure that people get to see the physical aspects of your personality and character center stage.
At the end of the day, your home is the perfect location to have everything you love in one space.
You get the final say on what gets to feature, along with all of the different aspects you love about your life being on display for all to see. Just have a think of what you want to be around for people to see.
Don't Change Things Too Much
When it comes to talking about keeping authenticity, there is the saying that less is more.
Because of how many fireplaces have older features and some classic designs, it's good to keep a fireplace looking the same if it already has a lot of the features that people would've been looking for in the first place.
Much like with good wooden flooring, you can expect many people to want to pay a lot of money to find this classic style.
By keeping your older features and characteristics present throughout your fireplace area and the rest of the room, you create a farmhouse feel that many people would die to have in their own homes.
Conclusion
That's the end of our list! Hopefully, you'll have a few ideas to use for a farmhouse fireplace, with a lot of different options for you to explore.
At the end of the day, it all comes down to what type of environment you have in mind.
There are no right or wrong answers, but there are a lot of different ways that you can make sure that your farmhouse theme is emphasized.
Do some research into farmhouse aesthetics and you should be good to go!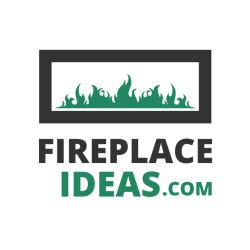 Latest posts by Stevie Morris
(see all)