Fireplaces are incredible inventions that have been around for hundreds of years. There are electric fireplaces, gas fireplaces, and even fireplaces that only require some good firewood and a spark to ignite them.
However, they also come in different shapes and can have a different amount of sides, depending on what people have a demand for.
Typically, when you think of a fireplace, you picture the fire in the wall under a mantlepiece, however, this isn't the only design that is used frequently throughout the world.
Three-sided fireplaces are a brilliant way of keeping people warm in three different directions. At the end of the day, if you want to have several people warm at once, then they are a great option.
However, because of their demand, the supply is massive and they have a lot of different forms and variations.
Follow the rest of our guide for some amazing ideas on three-sided fireplaces, and you might just find your perfect new design for your home.
Long Peninsula Fireplace
If you haven't heard of a peninsula fireplace by now, then you need to get to know them! When it comes to having a new three-sided fireplace, these can be some of the best in the world when it comes to efficiency and keeping things warm throughout your home.
These are easily one of the best in the business, so you're bound to find a lot of different sizes.
A long peninsula fireplace will take up enough room in your living room that you can keep a large space warm, whilst ensuring that it looks good at the same time!
Lots of people might have kitchen islands or some sort of cabinet in their room, so why not have a fireplace instead? It looks great and does a good job in the meantime. What's not to enjoy?
Triangular Fireplace
We all know that the majority of three-sided things in the world come in the form of a triangle or a pyramid, so why not implement one of these into your home?
They look amazing and can come in glass form or with some other materials involved, such as stainless steel or marble.
The majority of shapes seen in our homes are squares and rectangles, so having something triangular really stands out from the rest of the crowd.
At the end of the day, a fireplace is going to be one of the main talking points in the room, so make sure that it's a good one! This would look especially good in a living room or near the kitchen in an open plan.
Having a pyramid feature in your home can definitely offer you something unique and different that other fireplace variations and forms can't give you!
Three-Sided Cube Fireplace
Now, we know this sounds bizarre! A three-sided cube can't exist, right? Well, a three-sided cube can exist if you have it up against a wall of some sort.
By having one of these connected to a wall on the side of the room, you're not only keeping space free in other areas for other decorative pieces, but you keeping in style with the surroundings!
Sometimes, a small fireplace can be just as good as a large one and you should definitely keep this in mind with one of these designs.
If you're happy with the fireplace being there for more efficiency reasons than aesthetics, then this could be the route for you to go down.
They look great and they make sure that your room stays warm and cozy, whilst subtly working away on the side.
Add Some Firewood Logs!
If there's one thing that definitely adds a vibe of authenticity, it's firewood and wooden logs.
Because of the way that traditional fireplaces need wood logs to function, many people like to keep the accuracy and store some firewood close by on display.
Even if your fireplace is electric or gas (see also 'Gas Vs Electric Fire Compared'), you can still present these in your home for people to appreciate.
At the end of the day, having some sort of authenticity is a great way to make sure people like your fireplace and are happy to be in the presence of it.
By using the space underneath the fireplace, or to the side, you can create a cubby stocked full of firewood. This will make the area look great and will allow you to use the firewood for your fireplace, should you need to.
Utilize The Space On Top
A lot of people like to use the space on top of their fireplace for storing items and putting things out for people to look at.
If you have an electric fireplace, then why not store some books on top of the fireplace? In a proper shelving unit with some organization, it would look absolutely amazing. Or, why not try one of our other ideas below?
If we're talking about displaying items, then plants are a great choice. When it comes to plants, cacti are always a safe option because they don't require too much water to make sure that they survive and thrive.
On top of this, fake plants are always a good choice because they don't require any maintenance and look healthy at the same time. It's all up to you!
Implement The Fireplace With Storage Units
We all know how important it is to keep our homes tidy and organized, however, there's nothing like a good storage unit to keep your things out of the way and safe.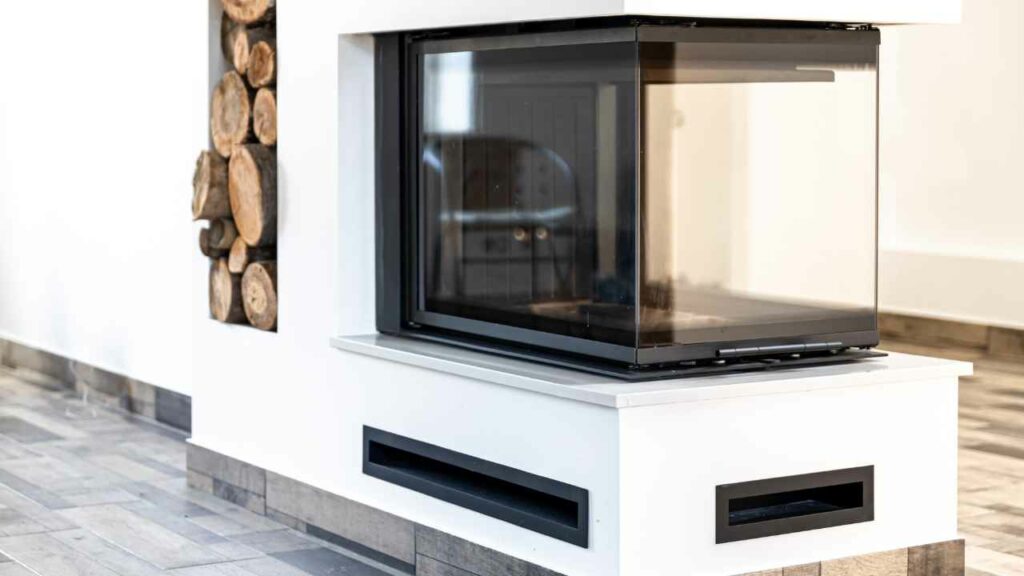 Implementing a black, three-sided fireplace under some storage units will fit the fireplace brilliantly with the rest of the room and the features inside of it. We know how efficient this is!
If you're opting for this idea, then you need to make sure that you have your colors matching or contrasting.
If you have white storage units and cupboards, then having a black fireplace can be the perfect way to complement the tone of the room.
With three-sides present and one facing the units, we can understand why anyone wants to give this idea a good chance.
Under A Living Room Island
If you love an open plan, then this idea is a great one. Lots of people love to break up their open-plan a little bit with an island, which helps to keep a bit of order between the kitchen and the living room.
However, a normal island can look bland and boring, which is why we suggest adding a three-sided fireplace to your feature in the middle of the room.
Above the fireplace, you can have pictures and paintings, which is a perfect way to brighten up any room and add some culture to the area.
We all know that fireplace owners will want people to notice their warm piece, so why not add some paintings above the fireplace to catch people's eye? If it's in an island in the middle of the room, it's going to be hard to miss!
Match The Flow Of The Room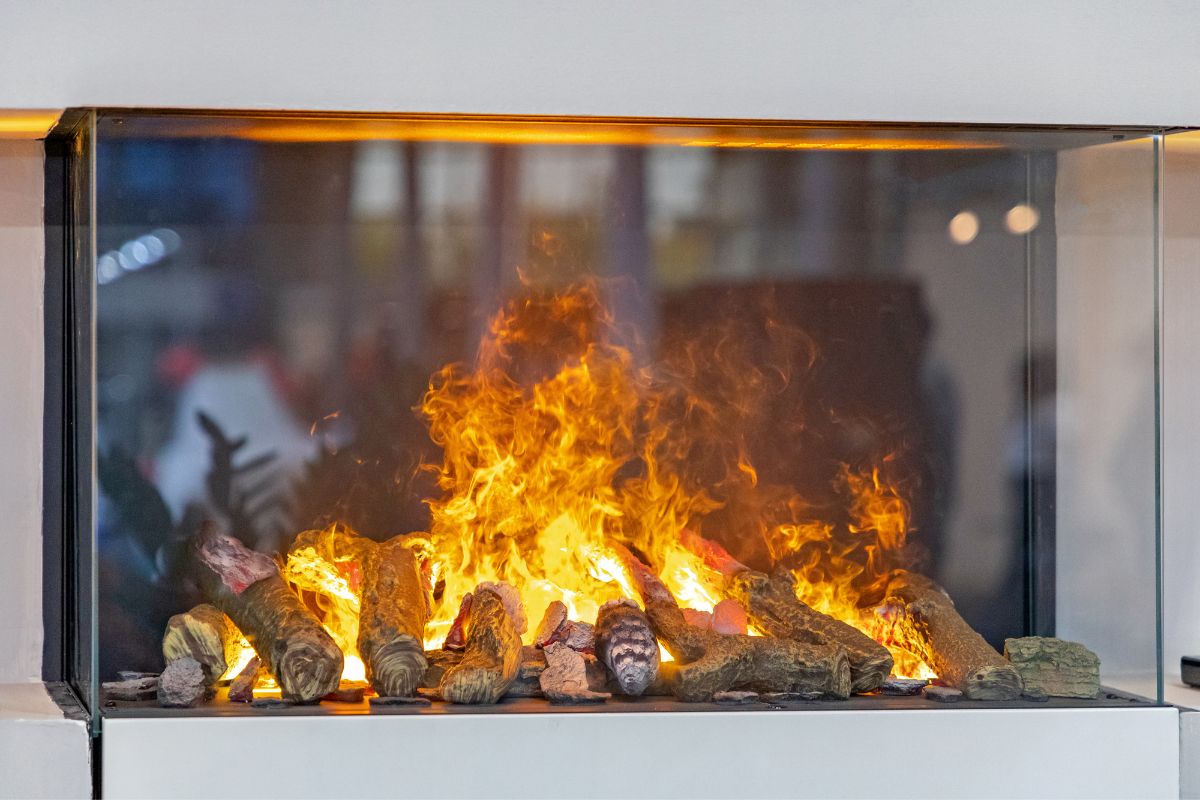 If you have a wall that sticks out a bit and you can't get rid of it, then why not place a three-sided fireplace into your plans?
Because of the shape of these inventions, you can make sure that they make the room look better, using the weaker visual points as a way to make the fireplace look even better!
By implementing different materials, you can emphasize the fireplace the best you can.
If you have some materials throughout the room like bricks or stone, then why not use them to complement the fireplace and make sure that it looks great?
We always recommend using what you've got to make your job easier. Keeping some traditional materials like brick can look great, with many people paying lots of money for these features.
Have A TV Above The Fireplace
When talking about grabbing the attention of your guests, there's no better way than having a TV above the area you want people to see.
We all know how fixated people can get over a movie or a TV show, so adding a fireplace underneath is the ideal method to keep people warm, whilst staying entertained.
You want to make sure that your guests stay comfortable and appreciate the work you've put into your home at the same time.
Having a TV above your three-sided fireplace ensures that you can enjoy your home, whilst staying immersed in the warmth of the fire and the excitement of the TV screen.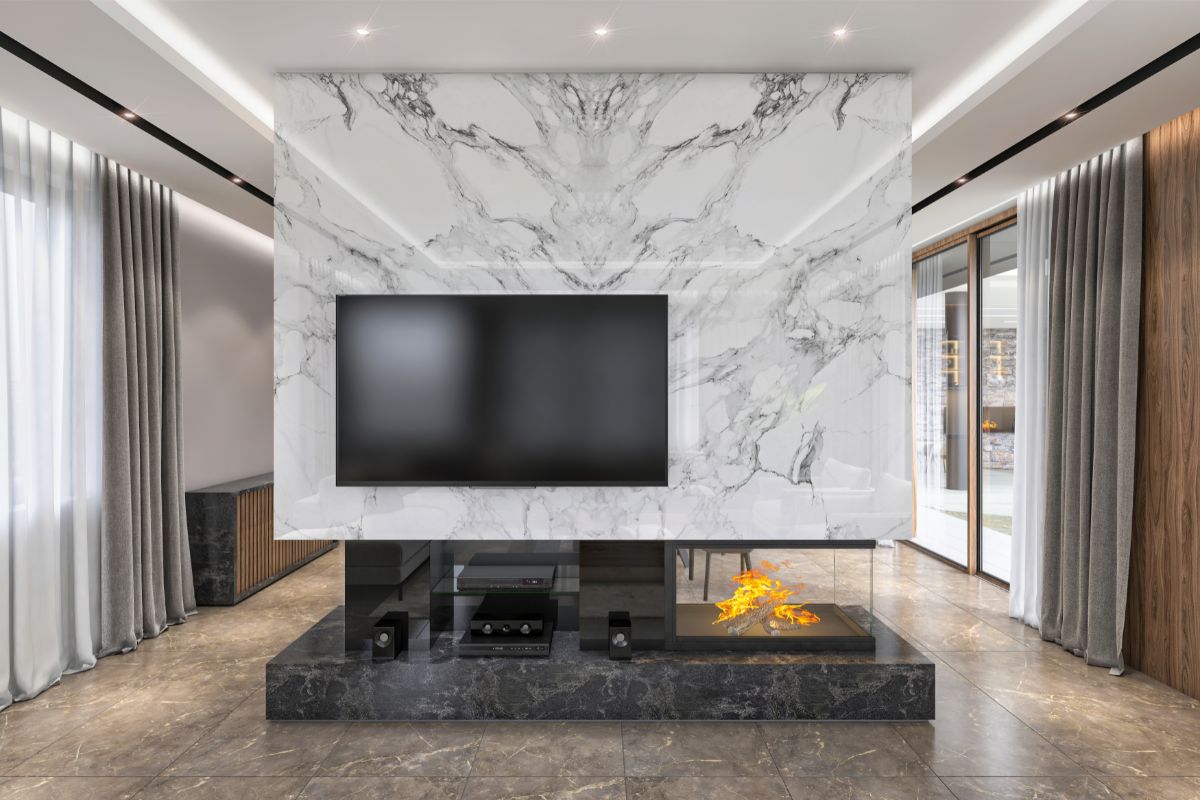 Frequently Asked Questions
What Are The Benefits Of A 3-Sided Fireplace?
Three sided fireplaces are wonderful, especially if you have a large enough space. They can be viewed from three sides; this creates an open and spacious feel to the room.
The also heat from three directions, ensuring that the heat flows evenly into the room.
They are versatile. They are suitable for bio ethanol, gas, electric or wood. All will look great and will establish the fireplace as the focal point in any room.
What Are The Different Design Options For A 3-Sided Fireplace?
Just like any other fireplace, the options are almost endless.
3-sided fireplaces tend to be more modern in design. There trend is therefore using modern materials. However, brick, stone, tile, marble are all used to build stunning looking fireplaces.
What they will all have in common is a three-sided glass front, the rear and surround is simply a matter of preference and one that will match the overall aesthetic of the room.
How Much Does A 3-Sided Fireplace Cost?
Naturally costs of fireplaces will vary depending on size and the material used. The complexity of the installation will also have a large impact on the cost. One of the largest considerations if not using electric is the venting for wood or gas 3-sided fireplaces.
A small 3-sided fireplace should cost between $3,000 to $8,000. Larger more complex installations will cost upwards from $15,000.
Conclusion
There you have it – the end of our guide! There are lots of different things you can do with a three-sided fireplace, with them being suitable in a number of different scenarios and environments.
We understand that finding a place to start can be a tough thing, but we hope that our guide has helped you to find your bearings.
At the end of the day, you just need to find a way to implement these into your home whilst keeping to the theme you have at your disposal. As long as you're happy, that's the main thing.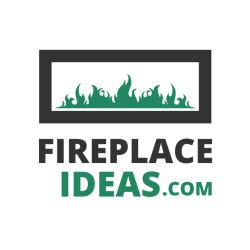 Latest posts by Stevie Morris
(see all)