Stone fireplaces are one of the oldest open fires in the world. Traditional fireplaces were built with stone because these fires were not just used to keep you warm but also for cooking.
This meant that you needed an extra durable and sturdy material for your fireplace.
Today, we use fireplaces mainly for heating a room and as an aesthetic focal point that also needs to visually balance with electrical devices, such as a television.
That's why it is so important that you choose the right fireplace design for your home.
We explore a number of different stone fireplace ideas that show off your television and fireplace in the right light.
The Best Type Of Stone For A Fireplace
Before we find out more about some interesting stone fireplaces, let's take a look at what type of stone you can use for a fireplace.
When you are looking to build or decorate your fireplace with stone, you will need to make sure that the stone is flexible as well as durable.
Here are some of the best options.
Slate
Slate is extremely durable and it is very heat-resistant, which means that the stone won't crack when you turn your fireplace to a higher temperature. However, it is typically only used for gas and electric fireplaces (see also 'How To Turn On A Gas Fireplace').
You can get slate in a range of different colors, although dark gray is still the most popular choice to create a feature fireplace.
Limestone
Limestone is one of the cheapest stones that you can use to decorate a fireplace. It is best used with electric or gas fireplaces only as limestone's heat-resistance isn't very high.
Granite
Granite is a stone that can be used for any type of fireplace. It is extremely durable and fire-resistant.
Similar to slate, you can find granite in a range of different colors, finishes and patterns.
Soapstone
Soapstone is somewhat more expensive than granite and limestone, but thanks to its green gray color and soapy texture, it is ideal to create a visually appealing fireplace.
As soapstone is naturally created as a result of volcanic heat and pressure, it is one of the most heat-resistant stones ideal for all fireplaces.
Marble
Marble is a beautifully patterned stone that just feels so luxurious. Although it is slightly softer than granite, marble is similarly durable and fire-resistant.
You can use it for all types of fireplaces. Unfortunately, this luxury stone comes with a higher price tag than any of the other stones.
The Best Stone Fireplace Ideas With TV
A traditional fireplace and modern electrical devices do not always go together, but there are a few clever things you can do to make these opposites harmonize in your home.
Stacked Stone Fireplace With Television
Nothing looks more natural than a fireplace that has been built with stacked stones.
The different size stones create a solid wall, and at the same time a good contrast to the burning fireplace.
You can use any different kind of natural stone, such as field stones or river stones, that have an earthy look.
However, it does take a little of planning and good design to create a pattern that reflects the raw beauty of these stones.
In smaller and naturally darker homes, a large stone feature fireplace can look overwhelming and oppressive, so a stacked stone fireplace may not be suitable for smaller rooms.
Stone Fireplace With Recess For The TV
A television naturally adds a contemporary feel to your living space, especially when it becomes the focal point of a media wall with fireplace.
A plain stone fireplace in a neutral light gray or beige color can create a great visual feature that helps draw all the family around the fireplace.
This type of fireplace is particularly suitable for a lodge style living room as it creates a very relaxed and snug atmosphere.
Stone Veneer Fireplace With Television
Although stone veneer (see also 'Stone Veneer Fireplace Ideas') doesn't have a good reputation in interior design, a stone veneer fireplace with the right type of stone can make your fireplace stand out.
Made with cement and stone aggregates, fireplace veneer does have a raw look with jagged edges.
This is ideal for a modern room design that integrates natural colors, such as charcoal gray.
As most stones that you can use for fireplaces have a natural pattern, you can easily match the texture of the stone with your room design.
You can either create a contrast to make the fireplace stand out more, you can seamlessly blend both television and fireplace in the wall.
A stone veneer for fireplaces is also suitable for smaller rooms, as the darker contrast of the veneer creates visually more space.
Stone Fireplace Surrounds With Embedded TV
Encasing your television and fireplace are one of the best ways to create a seamless look for your fireplace feature.
You can use almost any type of stone to create a fireplace surround. You can use marble for a touch of luxury, or the cheaper soapstone to create a lighter, textured feel.
Although the busy pattern of marble may seem at first overwhelming for a fireplace, if you choose a color scheme that matches your room design, you will find that the marble wall will neatly blend in.
Stone Fireplace Wall
You do not just have to stick to the surrounding areas of your fireplace and TV but you can also create an entire stone feature wall that has recesses for your fireplace and television.
But these impressive walls do not just give a home to your fireplace, but they also create a stunning focal point for the entire room.
This works particularly well in large, open living rooms with a lot of light coming in.
Final Thoughts
While they are often considered traditional, stone fireplaces are far from boring.
With a large variety of stone, textures, patterns and colors to choose from, you can either create a stunning contrast in your living space and hide any unsightly cables and wires from your television.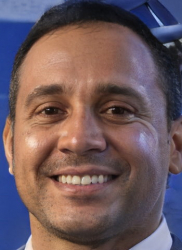 Latest posts by Stevie Morris
(see all)