Spaces around your fireplace are usually some of the best places to hang a television, but it can be difficult making this placement look modern and contemporary.
To make your job a little easier, we've listed some tips that can make your fireplace and television look amazing.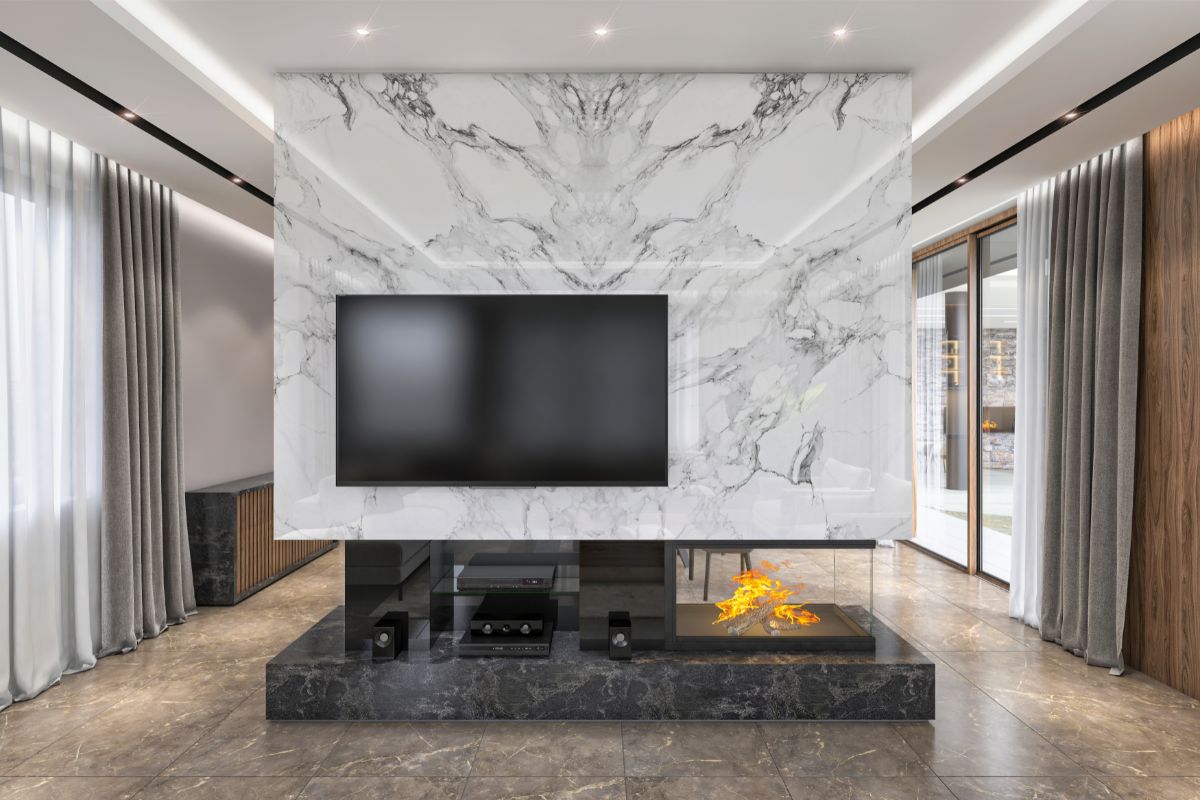 You'll also find a few safety tips that can help you avoid dangerous hazards in the process.
If you're interested in finding out how to mount a TV above your fireplace in a modern, stylish way, keep reading!
Use The Right Mounting System
Before you can think about mounting your television above your fireplace, you need to ensure that you're using the correct mounting method.
Don't just go for the cheapest option, as you run the risk of using studs that aren't strong enough to hold your television's weight.
Only use a mounting system that can safely hold the weight of your monitor, including any extra attachments that you may secure to it.
If you're unfamiliar with mounting, a stud finder may help to make the process easier.
Form A Social Area
You can use your television and fireplace to create a conversation area within your home. This is easy, as you just need to direct attention to a focal point, then arrange your furniture to match.
Most people do this by positioning their television as the focal point, having the furniture directed towards it. You could also face your furniture towards each other so that guests can talk to each other instead of concentrating on what's on the television.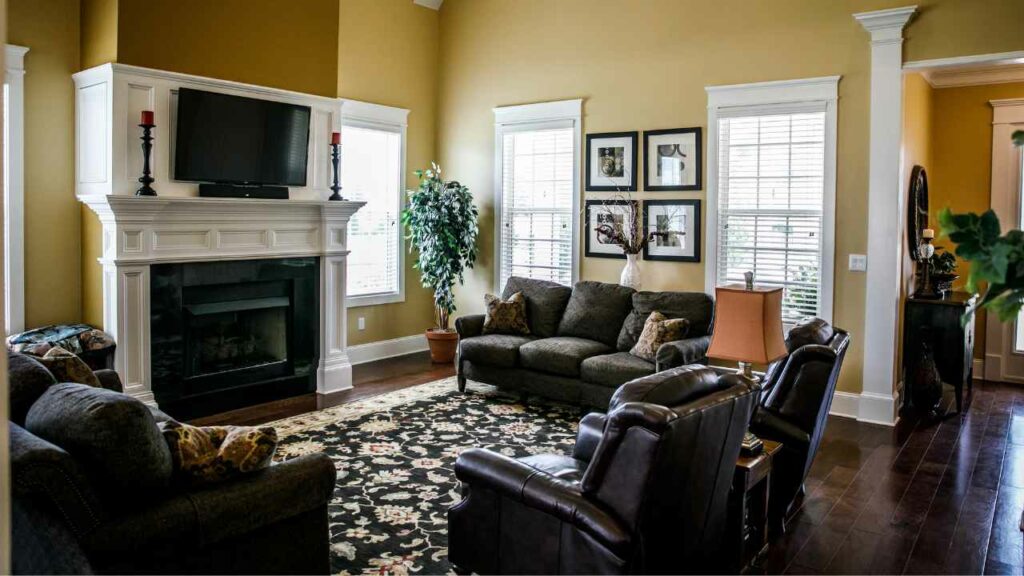 Double Check The Heat
Electronics should never be kept in hot environments, so always double-check to ensure your monitor isn't too near your fireplace.
No matter whether you use an electric or gas-powered model, make sure that any heat from your mantel is contained enough.
Air-tight doors and glass doors can keep the monitor safe. You can also check your TV's manual to see what its heat limits are.
This knowledge may make you feel more at ease when mounting a television near your fireplace.
Try Folding Cabinets
Televisions aren't the most stylish inventions in the world, so it can be difficult matching your set to the rest of your decor.
If you can't give up your television, try positioning it inside a folding cabinet.
The doors will hide the monitor, drawing attention to the rest of your accessories within the room.
You can choose different finishes, like dark wood or smooth chrome, so the cabinet goes with your home aesthetic.
Cabinet doors allow you to hide your television while you have guests round, then open them to enjoy your favorite shows whenever you want later. Unless they go peeking, no one will know that you have a television hidden behind your doors!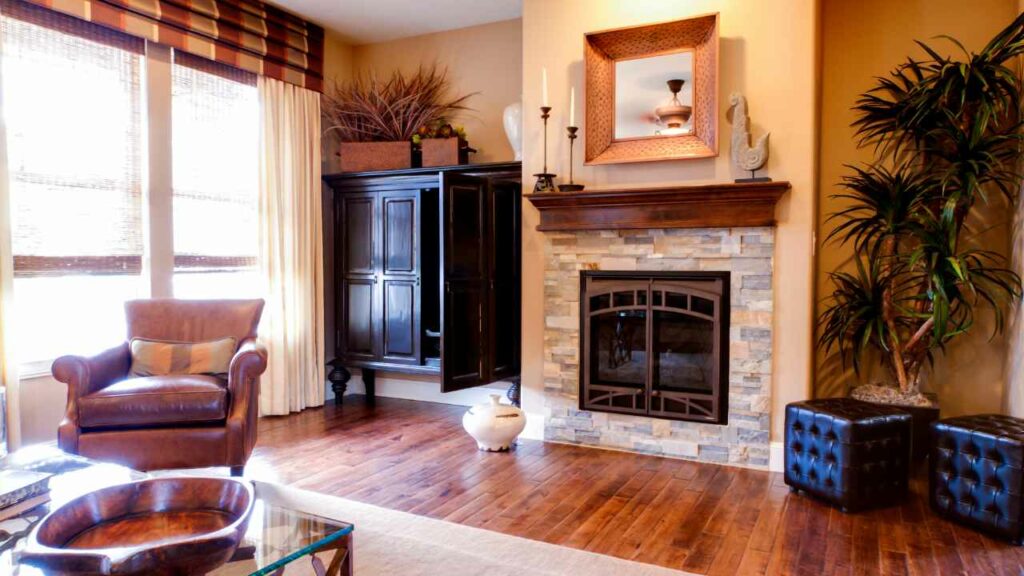 Spend Some Time To Hide Wires
Floating TVs can look very modern, but their cables and wires won't do the same to your fireplace! Even if you opt for a modern, sleek-looking fireplace, dangling cables and electrical outlets can take away from its beauty.
Always take the time to research and try different ways of hiding the TV's wiring. Whether you choose to fix the cables behind a wall, hidden in a box, or tucked within the decor, hiding your TV wiring can make a huge difference to your room, and with that, your fireplace.
Change The TV Angle
If you're placing a television around a fireplace, you'll need to double-check its angle carefully. If it's too high, people will be craning their necks to see the screen. Too low, and it won't be the focal point of the room.
The best position for television is at eye level, but unless your fireplace is particularly small, this won't be possible. In this case, you can purchase different amounts that will tilt the TV at a different angle.
For instance, if your TV is placed above the fireplace, the mount will hold the TV slanted forward. This allows you to hang your TV where you want it, but still lets others view the screen without any issues.
Put Your Monitor In An Alcove
People that are creating a living room from scratch should consider putting their monitor in an alcove.
These look a lot more current than simply hanging a TV, and the recess also acts as an extra safety guard against the fireplace.
If you aren't designing your living room from the bottom up, try adding floating shelves around the space. These can mimic the appearance of a recess without actually creating a hole in the wall.
Use A Backsplash
Backsplashes don't have to be kept in the kitchen! If your fireplace is looking dated and you want to make it look more contemporary, try adding a backsplash around the mantel or behind the television.
Whether you go for wood, chrome, or a matt board, a backsplash can give your health and television a new lease of life. Just be sure that your choice of finish is in line with the rest of your decor!
Use Plants and Accessories
If you mount televisions over your fireplace, the TV can easily become the center of attention, making it hard for the mantel to stand out.
If you want your fireplace to become the focal point of the room, accessories and decor should be cohesive, working with the fireplace's look.
Adding a few accessories like picture frames and ornaments can help with this. You can also choose some plants that will give the room some zest.
Just avoid using too many collective items, as this can make the space look cluttered. An item here and there is more than enough to bring the fireplace to life.
Go For Technology
If you'd prefer a high-tech method of hiding your TV, consider opting for mechanized panels instead.
These can be controlled with remote control, while some higher-end ones may link to your personal AI assistant via voice control.
If you prefer, you can use a projector panel in place that you can roll away once you're finished watching shows.
If you do go for this option, be wary of any dangling panel strings above your fireplace, as this could lead to a fire hazard.
Choose A Lower Mantel
Mounting a television above your fireplace can be an issue if it's positioned too high. One way of solving this is by choosing a fireplace that's lower to the ground.
Shorter fireplaces and lower mantels mean that there is more room on the wall for your television. You'll get the effect of a fire without sacrificing your view of the TV.
Lower mantels tend to look more modern than classic fireplaces, which is great if you're looking for a contemporary look.
Fake Fireplace
If you don't have a mantel, but like the way traditional fireplaces look, consider purchasing a fake mantel.
These can be stone or clay, depending on your preferences, offering you a visually interesting piece without any flames to worry about.
This is a good option for those with pets or small children that like to go wandering.
If you rent, you can purchase fireplace inserts for the fake mantel too. These may display electric flames without delivering too much heat, so they're great for safety-conscious individuals.
Create An Accent Wall
Accent walls can make your fireplace and television stand out together. Paint the wall around your monitor and mantel in a color that matches the fireplace's tones.
Neutrals work well for this, like gray, beige, and white, but you could have fun experimenting with bolder shades too.
A good rule of thumb is to choose the same undertone as the fireplace. For instance, if the mantel is a cool shade of gray, paint the accent wall in a shade with cool undertones, like slate blue or mauve. Choose accessories with hints of the same accent shade to match.
Use What You've Got
If your current fireplace is a few decades old, take a look and see what you can do with the structure. As long as the structure still looks attractive, there's no reason why you should have to replace it at all!
If you'd like to give the space a new lease of life, consider staining the framework a new color, or adding similar brickwork or stones behind your television so it matches the hearth.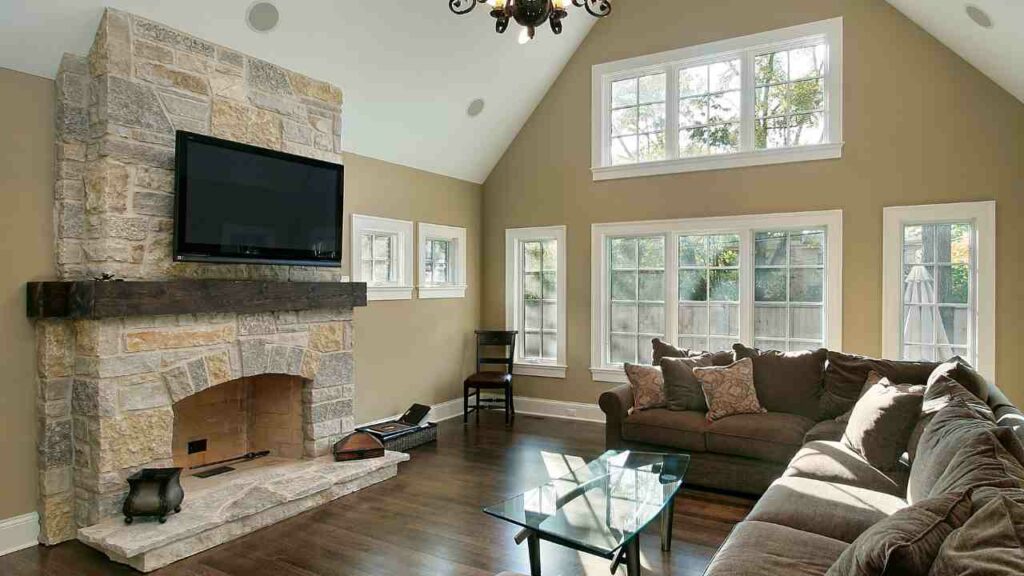 Be Different
TV monitors are usually mounted right above a fireplace, but you don't have to follow this tradition! If you have the space, consider positioning your monitor in an unconventional area, like next to your fireplace instead.
This is a good idea if you like the maximalist look. You can place art prints and mirrors around that work well with the quirky TV placement. Try experimenting – you can always put your TV back where it was!
Conclusion
There are so many things you can do when placing a TV and fireplace in the same space! Whether you prefer bolder colors or classic neutrals, you're sure to love the tips above when designing your room.
Before you can get started with things, always take safety precautions when mounting your TV.
You should also make sure that the heat from the fireplace doesn't affect your monitor and its electronics.
Once you've dealt with the safety side of things, you're free to experiment with your decor!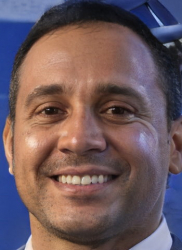 Latest posts by Stevie Morris
(see all)