When renovating your fireplace, finding the best fireplace design ideas is crucial. You might be stuck scratching your head trying to figure out what style of fireplace will match your floral curtains or which fire surround will complement your plush red sofas.
Well, there is plenty of inspiration to get the brain cells working. We have collected a gallery of some more exciting and eye-catching designs.
You'll no doubt find something that will appeal to you and blend in perfectly with the décor of your living room.
So, what are the best designs for your living room? How much will it set you back? What patterned designs are there? What plain color designs are there?
Guide To Best Fireplace Design Ideas
1. Tiles
These may not be something you associate with your fireplace. Still, they can really transform the look of your fireplace and your whole living room.There are so many patterns and designs that you'll be spoiled for choice.
You can go for an all-white tile design which will make the whole fireplace look much neater, although it might be more challenging to clean.
However, you can also opt for an alternating-color tile design, which will liven the living room up a few notches.
You should always ensure that you have measured the fireplace area properly before installing your tiles. This way, you'll be able to calculate exactly how many tiles you have to buy to fill your space.
You can even get tiles with your personalized pattern on them. Suppose you have a specific design in mind that you can only find online. In that case, you should look for a company specializing in these custom pattern tiles.
2. Dark Fireplace
If you want your fireplace to stand out against a white background, then you can always go moody with a fireplace surround that is painted black. If the fireplace is the centerpiece of your room, then having black as a color is a bold choice.
You can have many different textures with a black color, so you aren't limited. The fire reflects very well on black, making the fireplace and living room much cozier.
This is a chic combo that you can be sure will elevate your fireplace to the next level. This color goes well with deep red furnishings or green sofas and carpets.
3. Colored Wood
If you are looking for that rustic look with a bit of life, then we recommend colored wood such as pine or oak. Using this will give your living room a natural vibe you can only get from living materials.
You can buy raw timber logs from your local lumber yard, and it doesn't need to be trimmed or finished. You can leave all the notches on this wood trunk, giving it an even more natural, almost wilderness feeling.
Textured wood is another excellent choice for your fireplace. If you leave some of the bark on it, this is nice to look at and smooth to the touch.
This is ideal if you fancy yourself as someone who likes to lean on the fireplace with a glass of wine during a dinner party.
4. Angular
This is something for anyone who likes a very off-kilter design, disarming any guests expecting something more traditional when it comes to your primary dwelling spaces.
This will give your living room a chic vibe, almost like it is something from the 70s. You can pair this with soft bubble furnishings, a sharp contrast to the comfort of the rest of the décor.
This is also great if you have retro light fittings and ornaments.
There is no limit to the textures and materials that you can have with an angular fireplace. You can deck it out in terracotta tiling or pure white wood.
Both will add something unique, as you don't see an angular fireplace in many homes.
5. Traditional Fireplace
But what constitutes a traditional fireplace? Well, this is usually a classic square design with a plain surrounding that is either made from tile, wood, or stone and comes with a shelf that juts out at the top.
Suppose you aren't looking to rock the boat in terms of style or materials. In that case, having a traditional fireplace will be ideal. You can have sanded wood with lacquer, which will help to protect your fireplace from stains and burns.
This type of fireplace also goes with many different kinds of carpet. No matter what color you opt for, you can be sure that you will find a carpet that matches.
Why not have a deep salmon color with a plain white marble fireplace for that elegant late-Roman look?
6. Minimalist
If you are not a fan of the ornate, hand-carved look, why not a fireplace with no borders? You could have a fire pit in the center of your living room, the perfect focal point for all your guests to gather around.
This type of fireplace is very low-maintenance, as there are only so many surfaces or moving parts that you have to clean. These come with flues that look like monoliths. They look very imposing but also very neat and tidy.
This type of fireplace also has transparent elements, which are great if you gaze into your fireplace with a glass of wine or while chatting with friends.
Suppose you prefer that futuristic look to your living room. In that case, we suggest having a minimalist fireplace as the central point.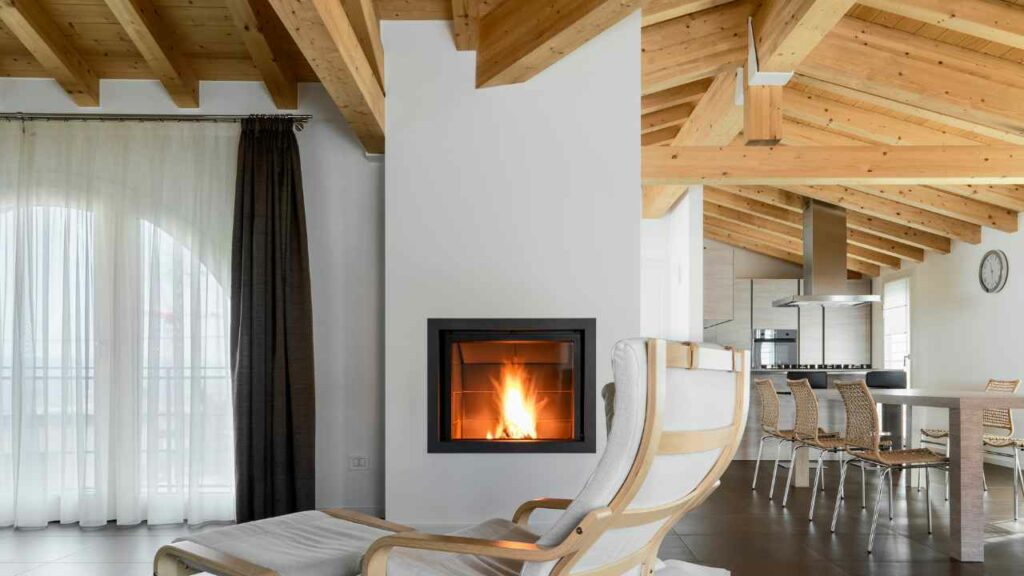 7. Contrasting Fireplace And Living Room
The best method of really creating an atmosphere is by having a fireplace that is at odds with the rest of your living room in terms of both style and color.
This could come in the shape of a dark and brooding mantel with buoyant red sofas. Trust us; this contrast can really work!
You can also choose to preserve some of the traditional elements of your fireplace whilst stripping down the rest of the room into a very minimalist aesthetic.
You'll be surprised at how well a Victorian fireplace fits in with a 50's style post-war color scheme.
8. Mirrors
You can house mirrors in your fireplace to create an almost psychedelic effect. Because why have one fireplace when you can create the illusion of two?
You can place a mirror above the fireplace, which will undoubtedly detract from the less savory aspects of your mantel.
You can also pair mirrors with gold to create an almost palatial effect in your living room. Gold fringing and trimmings are perfect, primarily when you use them as frames for your pictures.
Give the impression of wealth with a touch of gold!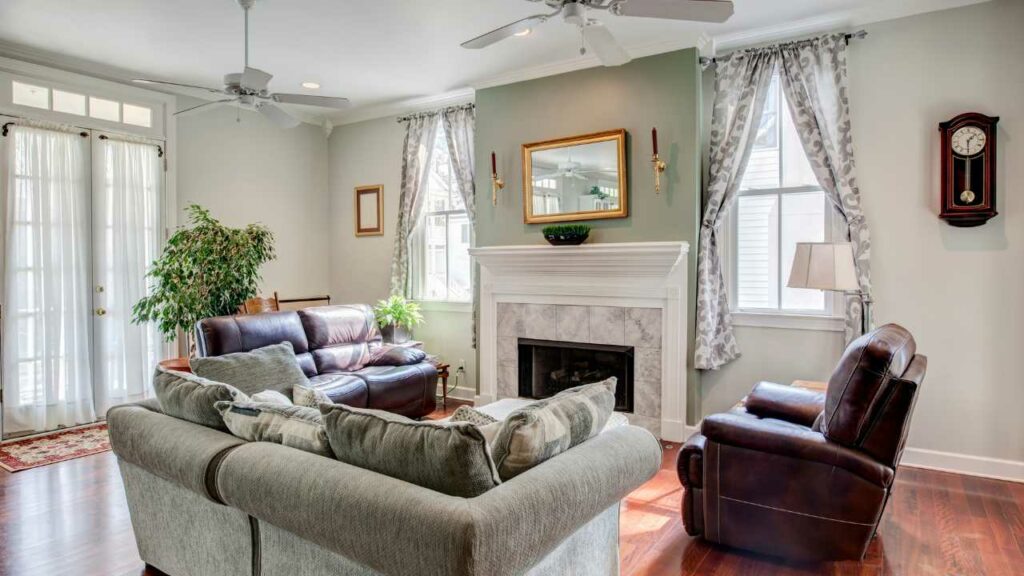 9. All-White Fireplace
One of the great things about white is that you can use it as a uniform color throughout your house. White brightens a room, making it look more lively, spacious, and cheerful.
There is something wonderfully sterile about the color white.
White is also a timeless color, so you can match it with modern or vintage décor. If you like your Cubist art, then white is the perfect backdrop. It will also make the other ornaments in your home stand out.
So if you have a golden glass table at the center of your living room, use white to make it pop.
10. Glossy
Whether black, white, or multi-colored, you can gloss over any fireplace to give it that day-round shine.
This will also help protect your fireplace from grit and grime and make it much easier to clean (although you'll need to ensure you have the right cleaning products).
This type of fireplace will look best decked out in wood. Giving you the luxury of an organic finish without any peeling or fire damage that you would get with unvarnished wood.
We suggest you paint your fireplace black with a heavy coat of gloss on the top. This will match effortlessly with plush furniture, either red or purple, with some gold flourishes on the legs and the fringing of your curtains.
You can also gloss your fireplace in a more modern-style home. You can have a smooth pine fireplace glossed with arty furniture and light fittings
Conclusion
We hope that our guide to fireplace design ideas will open your eyes to some of the possibilities.
Make sure you think long and hard about material and coloring and whether it blends well with the rest of your furnishings.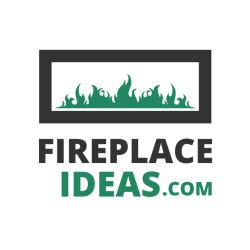 Latest posts by Stevie Morris
(see all)