Outdoor fireplaces create cozy backyards where you can spend hours even when it is dark, so having a fireplace that fits into your garden is important.
If the fireplace looks out of place, it can affect the comfortable vibe in your garden, so choosing the right fireplace for your outdoor space will make it more appealing and relaxing.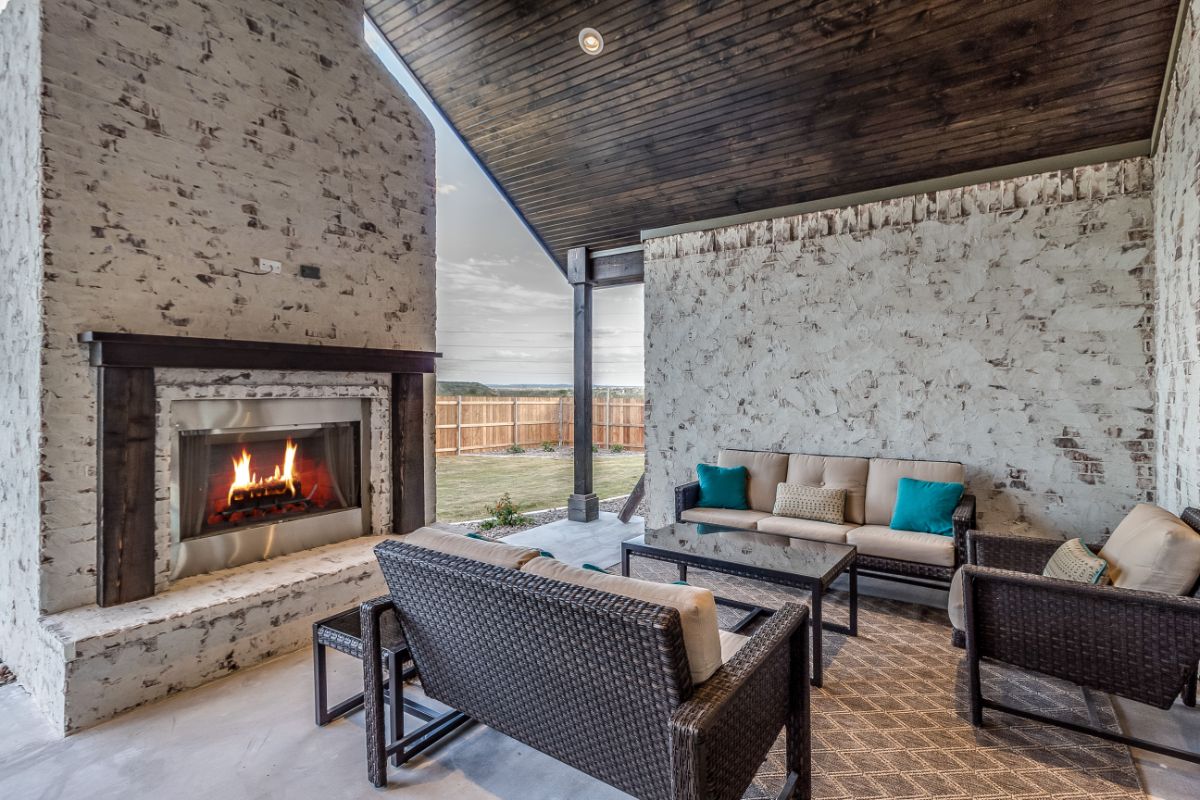 Stucco fireplaces are very popular as they are rustic, beautiful, and grand, so they are very eye-catching and become the centerpiece of your garden.
Lots of people want a stucco fireplace in their garden but they are unsure of designs, so how can you find inspiration?
This article will take you through stucco fireplace ideas (see also 'Beach House Fireplace Ideas') to help you find a beautiful and striking fireplace to have outside in your backyard.
You can find different ideas below and find some inspiration for adding more decor to your relaxing outdoor space.
What Are Stucco Fireplaces?
Stucco is a material that is made from Portland cement plaster, which creates either a smooth or rough texture and rustic look for an outdoor fireplace.
Stucco fireplaces can be very grand features that are round at the bottom and curve upwards, making them extremely striking features to have in your garden. 
Having an outdoor fireplace that is made from natural materials works very well in a garden setting, and you can also make them very individual and creative.
You can create patterns, create shapes, and play with color when you are creating your stucco fireplace, which is what makes them very popular as they are unique to you. 
Stucco Fireplace Ideas
If you are looking for stucco fireplace inspiration, there is so much you can do to make your fireplace the main feature in your garden.
They create a rustic and unique perspective in your garden that complements the natural elements, creating an individual design. 
Find more stucco fireplace ideas below to see what designs you can have in your garden.
The possibilities are endless with a stucco fireplace, so finding the right balance for you and your garden is important for the overall design!
Rustic Stucco Fireplace
Stucco is a very popular material to use as it conveys a rustic feel, so embracing this feature can create a very natural-looking fireplace for your backyard.
The shape of the fireplace should be large and bold and seeing marks in the plaster from where you have smoothed it down yourself further adds to the texture and the rustic element of the fireplace.
To add to the rustic look of the fireplace, a brick hearth will add more natural materials to the fireplace, but it will also showcase the fireplace and break up the texture.
If you are keeping the stucco fireplace a neutral color, adding accents of black or brown through decor will tie the stucco and the brick together to make an incredibly eye-catching piece. 
Modern Stucco Fireplace
Stucco can be used to make a very modern fireplace for your backyard as it is very bold.
For a modern take on a stucco fireplace, the overall shape should be one large rectangle, with sharp edges and clean lines.
As the fireplace will be large, you will not need to worry about young children running into the sharp corners at the top of the rectangle, but you will still need to supervise them around the fire. 
The texture of the rectangular stucco fireplace should be completely smooth and to make it more modern and striking, it should be painted white.
This will add to the modern style of the fireplace and make the stucco look fresh.
You can add a fireplace insert that stands out due to the white background, and you can break up the texture by adding neutral-colored bricks behind the fireplace. 
Mosaic Stucco Fireplace
One of the most popular reasons that stucco is used for outdoor fireplaces is that it allows people to get creative with their designs.
Mosaic can be used to decorate stucco fireplaces as it is a neutral color, so using bold and brightly colored tiles to create fun and eye-catching patterns on the fireplace will only make it stand out more. 
You can vary the sizes of the tiles to create depth in the fireplace, but you need to be careful that you do not over-decorate it.
Using tiles around the top of the fireplace and the fireplace insert will highlight it enough to make it stand out, but the decoration will not look too messy or crowded.
Brightly colored tiles will contrast the neutrals used to create a stand-out look. 
Stucco Fireplace With A Mantel
Adding a modern mantel to an outdoor stucco fireplace adds more detail and is another great way to add more natural materials to the outdoor feature.
The stucco fireplace should be a neutral color like beige or white, and you can then add a floating wooden mantel to add more natural textures to the fireplace. 
When wood is added to the fireplace for the mantel, it breaks the textures and color of the fireplace up to create more depth. You can then add ornaments or candles to the mantel to make it stand out.
The ornaments should be darker colors to emphasize the fireplace and to put a modern twist on the natural materials that are already being used. 
Stucco Fireplace With Bricks
Using another natural material for the structure of the stucco fireplace helps to make it look more modern, and bricks are an excellent choice to use.
If you are using bricks for the fireplace insert, using them around the fireplace and at the top of the chimney ties the whole fireplace together and adds some more natural tones. 
You can use different shades of brick for the fireplace as the stucco should be a neutral color, so red, grey, and dark-colored bricks will complement the stucco.
Using slate for the hearth and wood for the floating mantel adds more texture to the fireplace and provides more natural colors that will complement the beauty of the stucco fireplace. 
Add A Creative Feature
Having such a grand stucco fireplace in your garden doesn't call for a lot of extra design or decor, but adding a creative feature to the front of the fireplace can add more beauty.
A small lion's head or another animal in the center of the fireplace above the mantel can add more boldness, drawing even more attention to your fireplace!
When you are adding the lion to the front of the mantel, painting it the same color as the stucco fireplace will tie it in with the rest of the design.
The chimney (see also 'Chimney Decor Ideas') of the stucco fireplace should be textured to accommodate this feature as it adds more depth and texture to the fireplace, allowing it to become more of a bold feature. 
Painted Stucco Fireplace
You can choose virtually any color to paint your stucco fireplace, but neutral colors are often the most common as they fit in well with the surrounding greenery.
However, if you want to paint your stucco fireplace a bold color, go for it!
Stucco fireplaces allow you to express your creativity, so using a bold color can make them stand out amongst your garden features. 
Painting stucco can be difficult as it is a rough texture, but if you want a solid color, you will need to apply several coats of paint. This can be time-consuming, but the results are very striking.
If you would prefer for your stucco fireplace to look more rustic, applying a single coat of paint will emphasize the natural features of stucco. 
Add Industrial Materials
If you are looking to add sleek materials to your stucco fireplace, iron or steel can help you achieve this.
Using stucco around the sides of the fireplace will provide a natural look to the feature, and adding steel around the fireplace insert will create a modern and industrial look for your garden that ties into the overall design.
The sleek gray finish next to the neutral tone of stucco will create a bold feature in your garden that will have both a modern and natural look.
Adding slate to the mantel will complement the gray from the steel and the natural texture of the stucco, bringing all of the fireplace features together to create a well-connected feature in your garden. 
Final Thoughts
To conclude, there are lots of different stucco fireplace ideas that you can use to inspire your stucco fireplace in your garden.
Stucco is a very popular material to use as it creates grand and striking fireplaces that will become the main feature of your garden, so using it will guarantee that you will have an eye-catching piece of art in your backyard. 
There are lots of different designs that you can create with stucco, depending on what vibe you want in your garden. You can create a stucco fireplace that looks rustic, bold, bright, modern, or creative.
You have a lot of creative input with stucco fireplaces as you can add different materials, colors, and textures to create a well-balanced fireplace feature.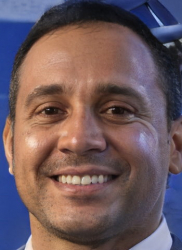 Latest posts by Stevie Morris
(see all)