Do you have a large open-plan living room design? Does this look appealing?
If so, you have a lot of space to incorporate unique and interesting ideas, whether regarding furniture, light fittings, or, perhaps most importantly, your fireplace.
If you have enough space, you can plant a fireplace in almost any part of the room. You can even have it in the middle, where people can circle it 360 degrees.
This feature will draw the eye, giving people a focal point or something to gather around.
So what are the best fireplace ideas for your living room space? What are the best materials, and what are the unique design features?
Well, we have compiled a list of some of the best fireplace designs we can find online. Prepare to be stunned by some of these outrageous designs.
Best Open-Concept Fireplace Design Ideas
1. Be Artistic With Your Fireplace
One of the main purposes of a fireplace is that it needs to create a focal point in your living room. This goes especially if you have a large living room.
If your living room is particularly wide, select a hearth design that emphasizes this.
If you have a loft-style living room with a lot of exposed timber, you can always contrast this with a steel design. Black and darker colors will also really enhance the effect of this type of exposed wood.
You'll need to think about the eye's visual journey around the room. If you have a large, exposed chimney made of brick or metal, then you can be sure that it will encourage the eyes up to the rafters.
2. Have A Lot Of Space Around Your Fire
The great thing about having lots of space is that you can leave it as just that. You don't have to fill all of the space with clutter. Give you and your family plenty of space in front of your fireplace to walk around.
This goes double if you have any energetic pets.
If you have a roaring log fire, you'll also want enough room to tend to it with your hot poker or steel dustpan and brush. You'll also want to make sure that your fireplace is a safe place to be around for little ones.
3. Pull Focus With An Eye-Catching Mantel
The great thing about an eye-catching mantel is that it can draw the eye, especially if the décor in the rest of your house is quite neutral.
You can spruce up your mantel with various materials, whether wood, steel, or tiles.
Ornaments are also a great way to attract the right sort of attention. A well-placed bouquet of flowers or a steel bucket in the corner adds those little flourishes that give a room a lot of character.
4. Have Many Ideas Working At Once
Again, the great thing about space is that you can develop ideas that wouldn't work in a more cramped room.
If you have a large room separated by a partition, you can have a fireplace that you can view from both sides, giving you the option of peering from one room into another.
If you are going to opt for this feature, then you won't even need to have anything that large. You can install a small stove, which is both ecologically and economically friendly.
You can warm up both rooms with only a small heating source.
5. Find An Alcove For Your Fireplace
If you are working with a large space, you can treat every portion of the room like a station. Curate one area in a certain style and switch it up when someone moves to another part of the living room.
If you have a nook, you can house a very small stove there (if you're thinking of revamping a fireplace nook, read here).
This will only heat a small portion of the room, but once you are done in the dining area and want to retreat to the comfort of a small, cozy portion of your large living space, a stove is the perfect focal point.
6. Keep The Proportions Just Right
No matter what size your living room is, you'll need to make sure that your chimney, as well as the fireplace itself, is all in keeping with the proportions of the furniture and the other features of your home.
If your chimney is too large, it might dominate the rest of the room and become distracting.
If you have bought a house with a fireplace that seems a little large for your space, you might want to paint it a lighter color to mute the effect.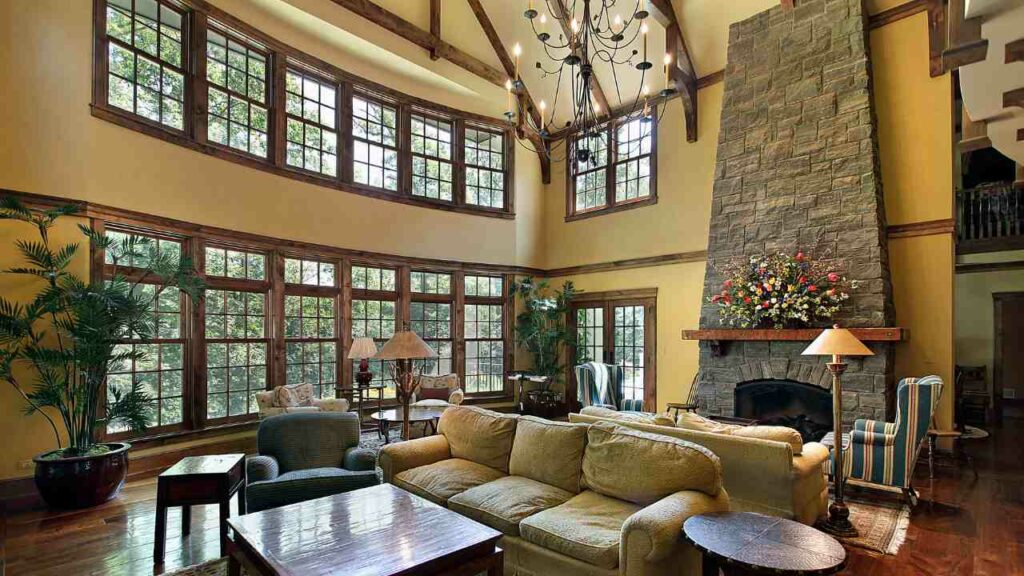 7. Utilize Exposed Bricks
This is a great way to grab people's attention. Exposed brick matches all materials, from steel to marble to pine.
We recommend a steel stove with an exposed brick fireplace to create an industrial vibe for your living space.
You can also hang pictures against your exposed brickwork, which will soften the harshness and give your guests something to look at when visiting.
Try matching this brickwork with a raised wooden flooring motif.
8. Go For That Period Look
Larger rooms are usually associated with older settings, as rooms were much more open plan then.
So why not lean into this aesthetic with some period-style furnishings such as a cast-iron stove, fireplace utensils, and a few bouquets of flowers for that charming effect?
Tile and marble were common surrounds for fireplaces at the turn of the century. We recommend going for monochrome color motifs, which were popular during this era.
Try white subway tile with black grouting. It might seem a bit garish initially, but trust us, it works!
9. Have A Uniform Color Scheme For Your Fireplace And Living Room
You might want a fireplace that pops out, but some people prefer something more subtle, a fireplace that surprises the guest once they spot it.
You can do this by blending in the fireplace with the surrounding walls and painting it all the same color.
It doesn't matter what color you paint it; it depends on your aesthetic.
A bright white or off-white color will create the impression of space and reflect more natural light. However, colors like teal and terracotta recreate that vintage vibe.
10. Place Your Fireplace In The Middle Of The Room
If you have a lot of space to play with, why not use it interestingly? A fireplace in the center of the room will immediately get people talking and create unity in your large living space.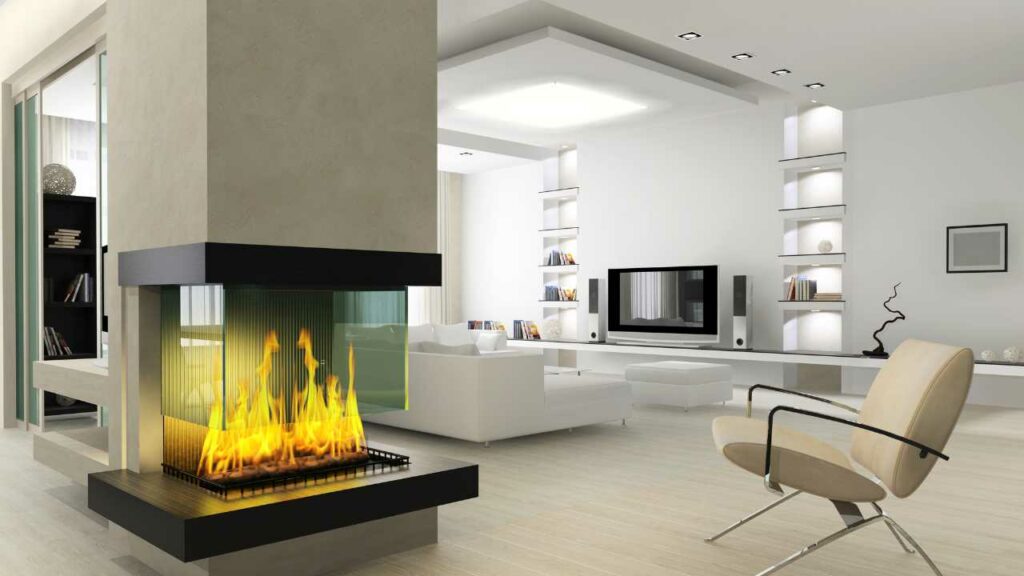 Conclusion
If you have a lot of space, you can afford to entertain more outlandish ideas.
We suggest a hanging fireplace in the center of the room, decked out in black steel with an eye-shaped grate where you can add your wooden logs.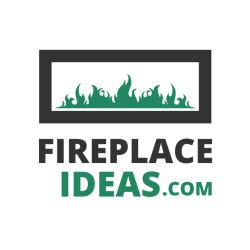 Latest posts by Stevie Morris
(see all)