A big double sided fireplace, which is often modern in style, fits brilliantly in open plan areas and indoor/outdoor rooms, where it provides numerous, aesthetically harmonious places connected by the fireplace wall.
If your home is large enough to have room dividers built in, you can easily make a two-sided fireplace. You'd be surprised how handy and beneficial these luxury additions to your home can be in between the lounge and dining room, or kitchen and office area.
We've put together a collection of magnificent double sided fireplace concepts to get your renovations started and offer you ideas for a more open layout. Let's have a look at some ideas!
Why Choose A Double Sided Fireplace
A two-sided fireplace is always a good option if you reside in a typically wintery environment where additional heat is usually welcome.
Every imaginative homeowner seeking a quiet refuge where they may take a cup of tea and read their books in the afternoons in the center of his or her fireplace understands the notion of a charming traditional dual fireplace.
The fireplace is more often than not the room's centre point, with the remainder of the décor placed around and in agreement with it. Aside from warming a cold area, a fireplace's other significant responsibility is to make spaces more beautiful and peaceful.
If you were looking for fireplace designs and decided on a two-sided fireplace, it can also serve as an effective interior divider, allowing you to enjoy its heat in multiple rooms.
You can use them to separate elegant living spaces or transform them into beautiful embellishments that will brighten up your room. Double or three sided fire ideas are not that costly and difficult to assemble.
For thousands of years, people have utilised fires. A centre room fireplace was formerly, and still is, a part of the domestic environment where the household gathers, makes meals, and warms up on cold winter nights.
Fireplaces evolved into an interior design signature and a magnificent home show stopper over time. The twin fireplace, or fires that serve up to 2 separate rooms instead of one, is a fairly new and efficient innovation that is gaining traction.
The nicest thing about a double sided fireplace is that it's easier and less expensive to put together, and it doesn't require additional fuel or a second chimney.
You've got yourself a gorgeous focal point with a double-sided fireplace installation that can break up a vast space while ensuring an uninterrupted supply of natural light despite the wall.
A two-way fireplace's main purpose is to warm multiple rooms at the same time. This allows the homeowner to save up to 50% on heating bills. When it comes to heating up huge areas, a double sided fireplace is far faster than its traditional equivalents.
They are usually constructed into the wall next to both spaces, so that everyone can enjoy their beauty and warmth.
Finally, double-sided fireplaces are available in a variety of sizes, styles, and types, allowing you to save money by using both gas and wood to heat your home.
Installing A Double Sided Fireplace
Double-sided fireplaces are innovative in that they don't require a lot of modernisation to make them appealing and impactful. Consider simply the indoor/outdoor double sided fireplace.
On both sides, flames and little sparkles are visible, creating a resemblance between the two chambers. Furthermore, with the exception of a wide wall in an open plan area, the double-sided fireplace requires no considerable preconditioning.
There are no limitations as to where you may put it – a large and elegant fireplace looks as great in your main bedroom as it will in your spacious bathroom or in your kitchen like a regular fireplace.
A double-sided fireplace, in essence, will render your two favourite areas even cosier.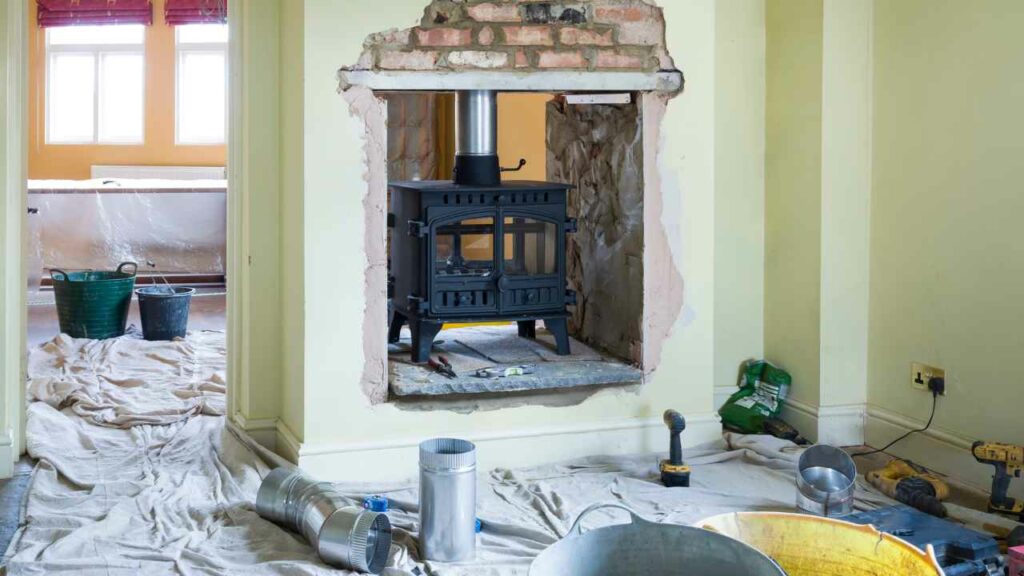 Ideas For A Two-sided Fireplace
A Fireplace That May Be Used Both Inside And Out
It's usually a good idea to put a stone fireplace in the middle of the sliding glass doors that serve the indoor and exterior. As a result, the smooth link between the inside lounge and the terrace will be enhanced, and the space will appear and feel more relaxed.
Family Rooms With Traditional Fireplaces
In a vintage living room, how about a moulded frame fireplace? It seems like it came straight out of a fairytale, especially when surrounded by brickwork or brick-like textures.
A see-through fireplace is a chic and sophisticated addition to any decor.
Arabian floor rugs and light wood tables, which provide a delicate touch to a corner fire insert, are recommended for a much more pleasant environment.
Fireplaces That Are Both Fresh And Unique
Contemplate an eclectic and new twin fireplace design to make an open area more subtle and appealing, and to make your home more youthful and modern. Choose and use neutral hues for the room divider fireplace if possible.
Fireplaces With a Focal Point
Double-sided fireplaces are prominent by default, as you'll have to strive to divert attention away from them after they're installed, which you may do with the help of indoor fireplace kit instructions.
Make the most of it by choosing bold colours and materials – a stone fireplace (see also our guide to whitewashing a stone fireplace) is the first thing people notice when they walk into the space, and the feature that emphasizes and defines your home's stylish and sleek aesthetics.
Custom-Made Glass Fireplaces With Four Sides
A four side custom fireplace insert is another wonderful thing you can accomplish for an affordable price.
Tinted glass, which may be used to surround the fire, is the best material for this sort of fireplace. A corner gas fireplace, in particular, adds a unique element to your decor.
Fireplaces That Are Sleek And Modern
Chic and ultra-smooth fireplaces are a stunning option for any modern home, especially if the homeowner enjoys fashion-forward and futuristic features blended with classic color palettes.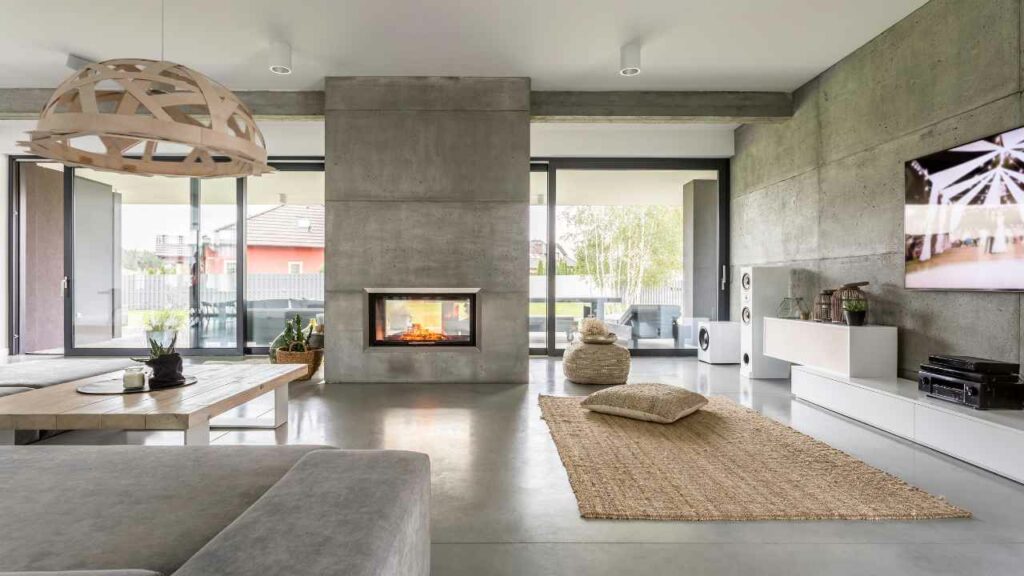 Fireplaces That Run On Gas
Gas fireplaces, especially two sided gas fireplaces, are among the most efficient and hassle-free heating options, making it simple to warm up huge areas with a single switch.
People who live in colder climates should realise that gas fireplaces are far more effective than firewood, and they also appear more modern.
A transparent fireplace insert is a unique decorative element for a space, adding a layer of depth to the overall mood.
Fireplaces In Master Suites
A double sided fireplace is all you need to transform your bedroom into a luxurious sanctuary, especially if it's situated between the dormitories and the bathroom.
This is a great option for bedrooms with bold wooden furniture, as well as minimalist settings where a sleek gas or corner fireplace may make a big difference.
Mountain Contemporary
Mountain modern refers to traditional stone and steel fireplaces, with the exception that this time the goods are eclectic components blending the two materials. Use stone on the bottom half for even more utility.
Fireplaces That Burn Wood Rather Than Gas
Although gas is less finicky and easier to handle, it can't compare to the warm and inviting atmosphere created by burning wood (see also our article on burning charcoal).
A stone wood-burning fire will be more than just furniture; it will be a statement of your personality and a superb divider between both the lounge room and the dining area.
Advantages And Disadvantages Of Double Sided Fireplaces
The double-sided fireplace fad is quickly capturing hearts of people all around the world for a variety of reasons:
First and foremost, a double-sided fireplace is incredibly appealing, allowing you to enjoy their splendor in two adjacent spaces that appear to have nothing in common.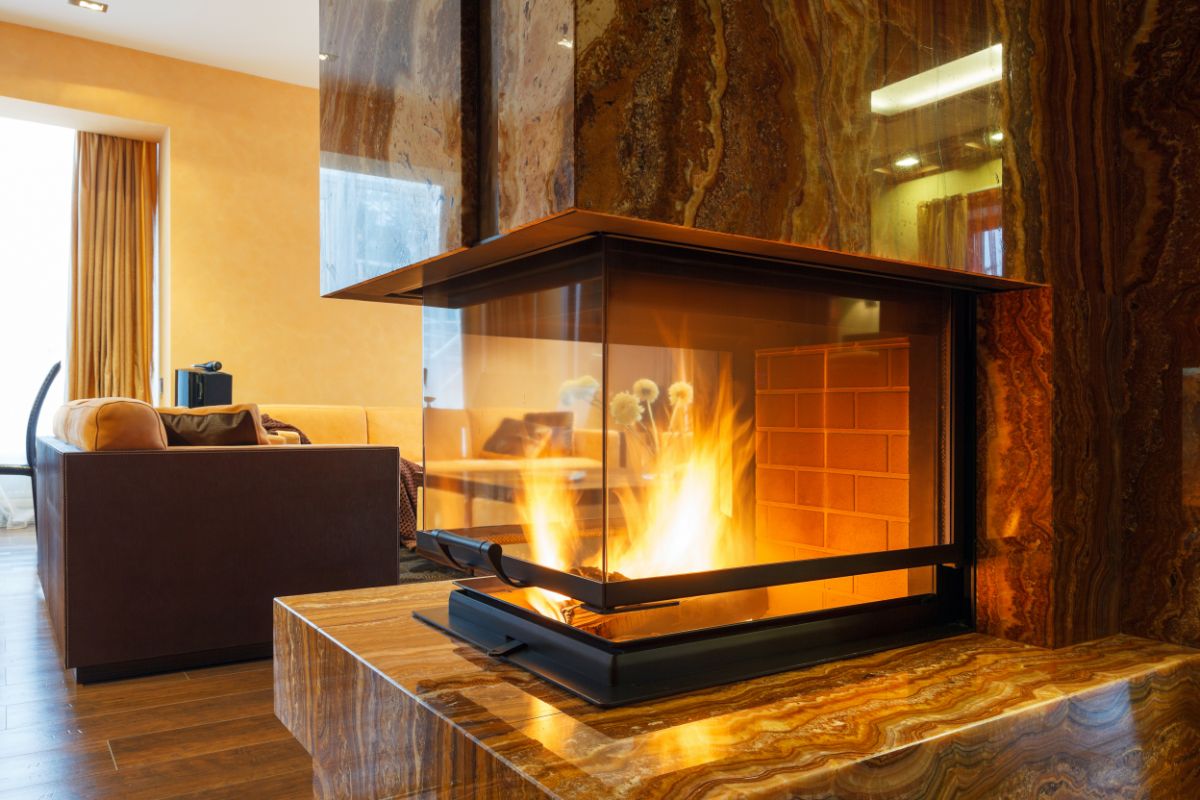 Technically, the fireplace does not need to be entirely enclosed and obstruct the view from one space to the next – if built creatively and with all major stylistic elements in mind, the fire can appear and function in a variety of ways.
However, not all of the features of a double sided fireplace are ideal.
You can't count on them to be the only and dominating supply of heat, especially in a broader region, despite the heat they will disperse.
Another point to consider is the toxic fumes that some fireplaces generate, despite the fact that most current models have doors to prevent this.
If the double-sided fireplace is not closed, it will smoke in two rooms instead of one, or the whole floor if you have an open plan house.
This is another issue that can be solved by covering your fireplace, since you will be limiting even the harmful stench emanating from the deposited soot in the chimney.
When it comes to the chimney, you must also consider the water that may drip down or even leak straight within our chimney, as this may necessitate further fireplace maintenance, resulting in a much higher fireplace price.
If left unattended, the chimney problem might manifest itself along your walls, where deposits and residue can appear as unsightly stains that are difficult to remove.
However, if you reside in a hotter climate and want a fireplace set only for its spectacular design, then a double sided fireplace is perfect for you.
Frequently Asked Questions
What Are The Best Design Options For A Double Sided Fireplace?
This will always depend on the style you are looking to achieve. There is no doubt that modern sleek looking fireplaces with a minimalist look are trending. These will however only look good in a modern looking setting.
If you are looking for a more natural rustic looking double sided fireplace, then use stone or wood to add texture and highlight your existing features.
What Materials Should I Use To Build A Double Sided Fireplace?
Most fire resistant materials can be used.
Concrete is popular for a more modern look, and using a glass front to create a contemporary look. Stone or brick is also very popular. Just make sure the materials used are appropriate for the fire and heat generated.
How Can I Incorporate Lighting To Enhance The Look Of My Double Sided Fireplace?
Lighting the area around a fireplace is a perfect way to make the fireplace pop and stand out, a sure way to create a cozy feel . Think about recessing the fireplace and using wall mounted lighting.
Another popular option is using floor standing lamps each side of the fireplaces. The lamps frame and draw attention into the fireplace.
Final Thoughts
You'll quickly increase your house's pleasant environment and market value with a double-sided fire, and you'll have something home buyers would like while evaluating your property.
Aside from the economical benefits, there are numerous other advantages to utilise a two-sided electric fireplace: you'll be able to rapidly warm two rooms in a visually appealing and elegant manner, as well as offer a focal point that everyone in the family will enjoy.
The warm and inviting environment created by these fireplaces is why they're used all over the world, especially in nations where warmth is a top priority for extended periods of time.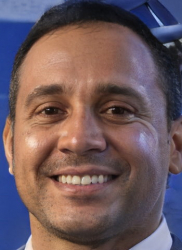 Latest posts by Stevie Morris
(see all)