If you're reading this article, you're probably thinking about installing a gas fireplace with a modern edge. While gas fireplaces were more widespread in the '70s and '80s, that doesn't mean you have to be stuck in time there.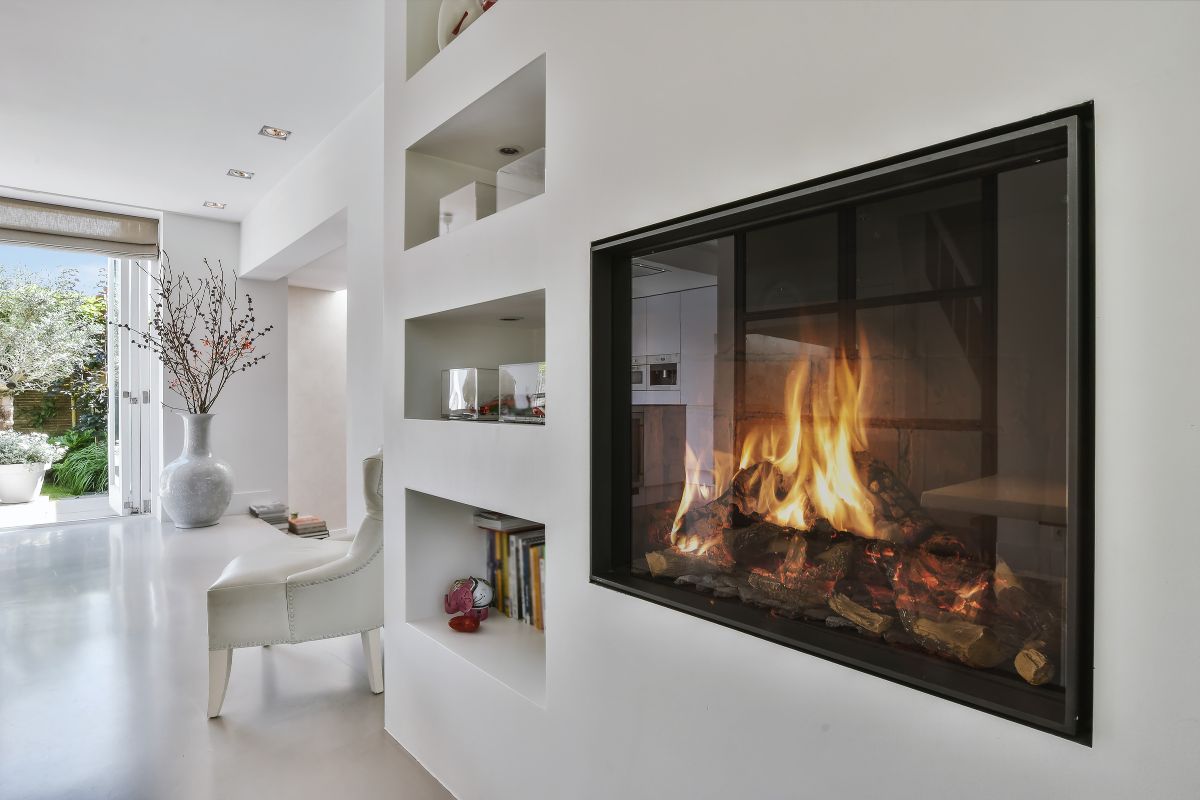 After all, while electric fireplaces are a great option, we understand that there are certain benefits to using a gas fireplace.
Nowadays, there's a lot more you can do with a gas fireplace, and in many cases, they're still reliable. Most homes have gas systems already installed, and we love the amount of control having a gas fireplace gives us.
If you're reading this article, you're most likely thinking about installing a gas fireplace with a modern twist. And who can blame you?
We can put on our gas fireplace with the flick of a switch, and we don't have to change the logs or destroy any trees. It saves energy and doesn't only warm up one part of the house, as it has a constant heat stream.
Best of all? There's no actual cleaning involved. We can still have all the elegant aesthetics of a wood-burning fireplace but as a more environmentally friendly option.
So, let's look at some of our favorite modern gas fireplaces found online.
Examples Of Modern Gas Fireplaces
In this section, we'll be taking a closer look at some of our favorite gas fireplaces that we've seen on Pinterest. We'll explain how these fireplaces appear modern and analyze how we can make our fireplaces more modern. 
This gas fireplace makes us think of warm campfires with decorative logs beside the glass panel, including a collection of logs within the shelving merged with the surrounds. It makes this design both rustic and modern.
The other side's sculptures show us how to decorate sparsely around it. However, despite the rustic log collections on either side, it fits perfectly with the modern decor, so we can feel at a campsite while watching TV.
When we think about modern fireplaces, imagining hard, rectangular edges is easy. We like this design because it leaves us plenty of space to decorate around it.
Instead of being a standard fireplace, it's partially in the wall with a cast iron shell, and we can see how it's ventilated. It appears to be at the perfect height, allowing us to sit and enjoy the warmth.
With the cylindrical design, we can place this fireplace anywhere in our home, so long as the ventilation pipe is uncovered and the heat can escape. 
We appreciate how the fireplace itself doesn't take up too much space with this design. There would be plenty of room to decorate around it as we wouldn't have to worry about finding a matching surround.
We don't even have to worry about the hearth, and it's as though it's part of the wall. Looking at this design, we can imagine how we'd sit in a chair with a good book as the fire burns behind a panel in the wall. 
We love this design because it is both classic and modern. The modern color of the panels around it and the traditional yet modern mantel fit perfectly in this home. The fireplace looks like another TV, and it fits perfectly with the size.
The logs are carefully placed, showing us a small fire behind a reflective black glass. While the mantel and back panel are more traditional, the fireplace is delightfully modern.
We love how the fireplace fits in perfectly below the TV and soundbar, also installed on the wall. We can see how the airflow is ventilated from above. We found that it almost resembles a tank, with logs on display.
We can appreciate how we could modify the flames and control the amount of fire to appear, with the embers offering a light source too.
We like that it fits into the wall behind a glass panel and how it is kept separate from the rest of the room with the panel below. We can imagine the ambiance that this fireplace provides!
We adore the wrap-around design of this two-sided gas fireplace so that we can appreciate two different angles. It doesn't take up too much space, and the flames behind the glass help give it a sense of ambiance.
The wood above doesn't detract, and the marble trim beneath allows a perfect position to sit nearby with a book and appreciate the design. Using mixed elements such as marble, wood, and glass gives it a modern aesthetic that can't be overlooked.
The monochrome aesthetic of this gas fireplace is perfect for any modern home. The glass conceals a fire that looks like a campfire.
Unlike some other fireplaces, its positioning puts it at center stage, while the decorations above don't stand out as much.
We love how the wallpaper points at the fireplace and the TV, and the mantel serves as a perfect divider and fits with the color scheme of the panels around the fireplace.
We adore this modern tunnel-through gas fireplace, as it serves as a divider to two different rooms, and the wall space can double into a bookshelf.
The fireplace placement provides a natural space in between, allowing us to enjoy the warmth of the fire in two rooms instead of one.
With how the seats around the fireplace are positioned, we love that everyone can sit back and relax and still communicate through each room.
We adore this bedroom fireplace as it is almost camouflaged in its design. The dark colors allow the fireplace to serve as a natural nightlight.
As it's placed in the bedroom between the windows, the attention is naturally drawn to the fireplace embers at night.
We love how it serves as a Centrepoint in the room, showcasing how we can place a gas fireplace in any room, so long as the ventilation is accurate.
We understand that Christmas is the time to decorate our fireplaces, and we can see how it would look with this modern fireplace. While the gas fireplace placement makes it appear more traditional, the color makes this design modern.
We love how the white paint around the brick walls and hearth prevents the gas fireplace from feeling too traditional. Instead, with this design, we can see how the color can impact the modern aesthetic of this festive fireplace. 
Our favorite part of this fireplace is that while it's modern, it's also classic. While the dark wooden furniture may feel traditional, the gas fire in the window shows how modern it is.
This fireplace stands out with a monochrome brick wall and hardwood shelves that connect to the mantle. We love how it merges two distinct styles, and the idea of merging our fireplace with our shelving units is ingenious. 
This is the one that comes to mind when we think of a modern design. It's white, angular, and doesn't draw too much attention to itself. The fireplace appears like a campfire behind glass, but it stars as the center of attention.
The surround doesn't distract from it in any way, and the white colors and understated design can allow anyone to sit back and relax. 
We love this design because it almost feels like we're sitting in a museum and watching a campfire on display.
The way it's built allows it to remain separate from the rest of the living room and keeps it as a focal point.
With this design, we expect that when it's not winter, it's easy to forget about this corner of the room. However, once the cold weather comes around, it will stand out among the plain white wall around it.
We love this small central fireplace because it doesn't take up too much room and stands out among the rest. With this type of fireplace, it's difficult not to imagine sitting back and relaxing with a coffee beside it.
The industrial appearance wouldn't be lost in a café, and we could easily sit and watch the flames contentedly in this cozy corner of the room. 
The ashwood backing and the traditional white surround placed in front of the coffee table make this modern fireplace feel at home in a Hallmark movie.
We love how the embers stand out and serve as the focal point instead of the TV. We love the colors used, and it shows us that modern fireplaces don't always have to lose sight of traditional views to enjoy a modern design.
A marbled wall can offer a classical yet modern design. It merges perfectly with the wooden shelving on the walls. Placing the shelving units in the gaps in the walls can save space instead of wasting it.
While it may feel expensive, this design could easily be emulated with the right wallpaper. Including lighting on the shelves beside the walls offers warm lighting.
Using wooden shelves and marble walls can give us more freedom with the other materials used around the house.
Black and white walls are essential to any modern scheme, and we find that painting our surroundings black offers us a perfect camouflage in the warmer months.
Instead of wood filaments, pebble filaments can hide the fact that we even have a fireplace in the summer. We love how understated this design is, and it's perfect for anyone who doesn't want to feel like showing off their fireplace all year round. 
Wooden panels in the wall around our fireplace can be a great method to show off a modern design for anyone who lives in an older home.
Paint the panel in the surrounds a white color, and we find that the mantel can be used to show off any decorations that we may have.
It stands out more than if we had a traditional fireplace, and the mantel doesn't take up too much room. Instead, removing the surround and the hearth saves us space. 
We've previously mentioned modern tunnel fires and how they can offer warmth to more than one room. We love how this design shares warmth with the dining, kitchen, and living rooms.
The placement of it ensures that we can still see the fire and keep everyone warm when eating or chilling in the living room.
The arrangement makes it perfect for keeping everyone involved in any conversation, and we love how it serves as the distinguishing feature that connects all three rooms. 
We appreciate the fireplace in a contained area within the wall, with plenty of space away from the mantel. While it doesn't take up too much room, the lack of a surround or hearth ensures that it doesn't take up more attention from the TV.
Meanwhile, the mantel can be a perfect place to put TV remotes or decorations, becoming a key place to put areas.
The fireplace is high up from the ground to prevent the ground around it from heating up, and we love how it's small enough that it doesn't distract from everything else in the house.
Instead of having a small tunnel wall, we could easily get caught up in the windowed gas fireplace that serves as its own wall.
Along with the marble surround-like wall around it, we find that it's perfect for anyone who doesn't care for the wall around it.
We find that this fireplace offers a transparent wall that almost appears to be aquarium-like.
There are plenty of embers and light stones to form around the flames, and there's plenty of space for the flames to grow. 
What we love about this gas fireplace is that it stands out with the brick placement around it. It provides an urban aesthetic that looks different from the rest of the room.
With the wooden filaments around it, we love how the gas fireplace is divided into this corner of the room, with the brick flooring taking in the heat that would otherwise affect the laminate flooring.
The mantel appears to be half of a surround, and we appreciate how using the surround ensures the brick placement around the fireplace doesn't stick out like a sore thumb.
We can't deny that we love gas fireplaces ventilated through a visible pipe through the ceiling.
Instead of worrying about making room for a surround, hearth, and mantel, we can avoid all that by having a localized area for the smoke to be ventilated and ensuring that the area around the fireplace isn't overheated.
Using stones as filaments, we can have an industrial appearance that works in most modern designs.
While modern designs may appear to be all about industrial and angular designs, if anyone has a curved wall they would love to use, we recommend converting it into a fireplace.
We love how this design works because it is all kept in a compact location and doesn't take up too much space. Instead, it works as a makeshift fire pit where we can place plenty of pebble filaments inside.
It's not just the surround and hearth that can make a fireplace more modern. We find that using concrete and ceramic fireballs can offer a modern look for a more affordable price.
We love how these control the flames; the more we have, the better the design looks. Instead of relying on rocks, granite, and wood, we can use these to showcase how we don't need to change everything to make our fireplaces more modern.
Earlier, we mentioned how a curved fireplace could save space in our homes. However, they're also perfect if we have a spare corner.
Placing a fireplace in the corner allows everyone to gather when the weather gets colder. Having a fireplace below the TV in the living room can feel overdone, and we understand why.
Fireplaces are the focal point of the living room, but with this design, we can shun tradition and enjoy the fire radiating from the corner.
We love how this gas fireplace fits perfectly on the countertop here. Instead of being underneath the TV, this design fits perfectly beside it.
We love how it doesn't take up too much space, and the ventilation pipe keeps it separate from other materials.
It's as though we have an old oven in the living room, yet it doesn't seem out of place. Instead, it fits perfectly in this area and offers plenty of heat from a higher level.
How To Modernise Your Gas Fireplace
We have found a variety of ways that we can modernize our gas fireplaces (see also 'How To Turn On A Gas Fireplace') without making any major adjustments. Many gas fireplace adjustments can be made by changing the exterior of our fireplace. 
Change Your Fireplace's Surround
We've found that it's not the fireplace that makes it look modern. Instead, it's the surround. Many people don't realize they can change their fireplace's surround and replace a more traditional one.
Installing a surround isn't difficult, and we've found that they can change the overall aesthetic of our homes.
Surrounds can be made from different materials and changed into different colors. Materials such as limestone and black granite are perfect for a modern fireplace.
However, an affordable wooden surround can still provide a modern look, but we know they can also be painted and stained to fit a modern room.
Replace The Filaments In Your Fireplace
We've noticed that the filaments in the fireplace can be changed to make it more modern. We don't need to use wood, pebbles, and coal. Instead, other filaments can be used.
For example, there are stone balls that can control the flames, and with them, we don't have to change the exterior of our fireplace.
Instead, we've found that these can offer an easier method of making our fireplaces more modern for a more affordable price.
Install A New Gas Fireplace
Not everyone can afford a new fireplace, but for those who can, why not get a new fireplace installed? If you have an older fireplace, even a new surround may be unable to upgrade the design.
While it may be more expensive, we recommend contacting a professional to install a new one for you.
If you're happy with your fireplace surround and can still improve that yourself, then replacing the fireplace without changing the design can make the design more inexpensive. 
Change The Furniture Around Your Fireplace
Sometimes, it's not the fireplace that needs to be upgraded. Perhaps the furniture around our fireplace is making it stay back in time.
If the rest of your furniture is more traditional while the fireplace is modern, you may want to change the way your furniture is arranged.
Not all fireplaces need modern materials; we think you could change your accessories.
Modern designs invoke minimalist thoughts, and less furniture can draw more attention to a modern design than if the mantel and shelves are cluttered with furniture.
Final Thoughts
Gas fireplaces don't need to invoke retro feelings of the past and are often better than electric fireplaces. We've found that they heat up quickly, and nowadays, there are many more ways to customize them to have a modern design.
In many cases, we don't have to make major adjustments; instead, we could change them by painting, changing filaments, or even adjusting furniture around our gas fireplace.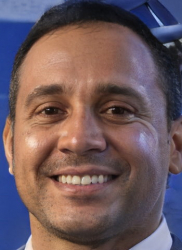 Latest posts by Stevie Morris
(see all)