Having a fireplace inside your home is cozy, and warm, and creates a welcoming atmosphere for you and your guests.
Fireplaces bring rooms together and provide the room with a beautiful focal point, but can they only be installed inside?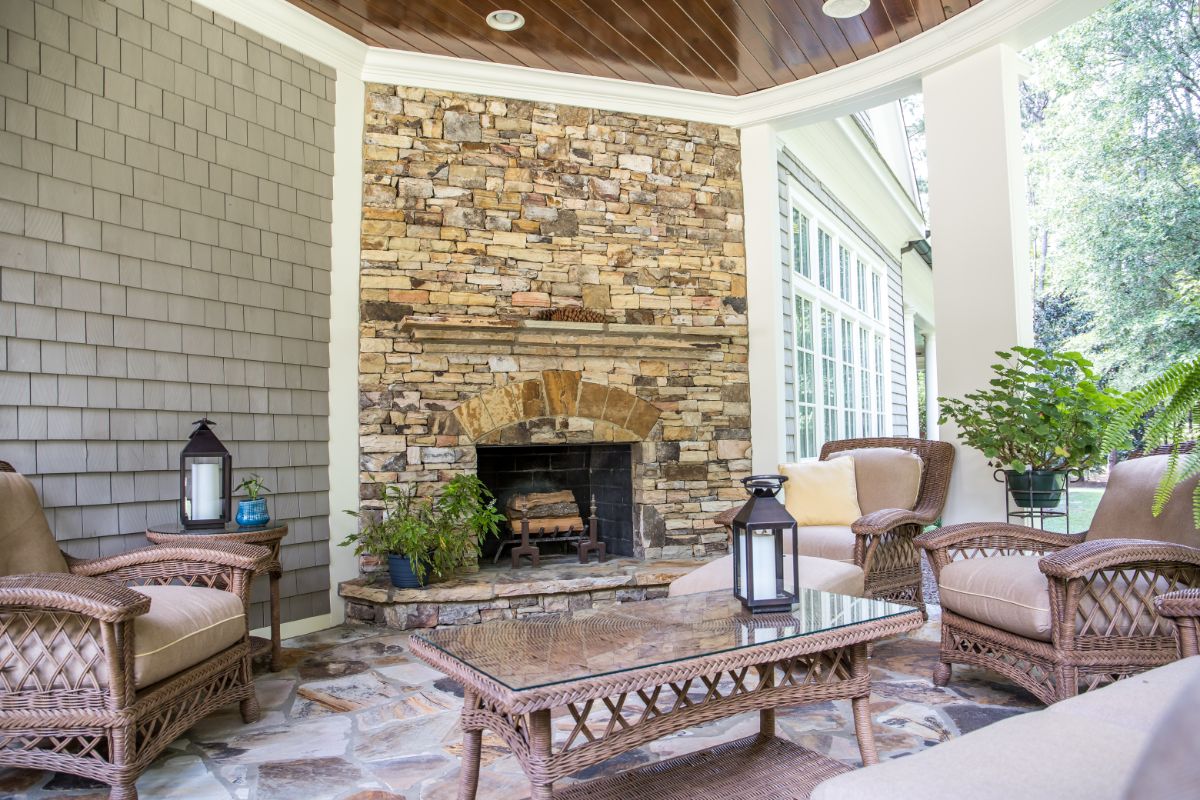 Outdoor fireplaces are becoming more and more popular as people enjoy spending evenings outside. If you have invested a lot of time and effort into making your garden beautiful, why not spend more time outdoors?
Unfortunately, as the sun goes down, it gets colder, which is where an outdoor fireplace comes in.
This article will explain to you modern fireplace ideas to create a warm and cozy environment outside that will showcase your garden.
You can find out more ideas about modern outdoor fireplaces below and how you can create a stylish outdoor area. 
Modern Outdoor Fireplace Ideas
Having an outdoor fireplace has become popular as people enjoy spending evenings in their gardens, but styling them can be difficult.
Utilizing space is important if you want to have a fireplace on your patio, but you want to make sure that it looks great as well. Find out more about modern outdoor fireplace ideas below!
Use Wall Space For A Fireplace Insert
Patios and decking are often attached to a house, so using wall space for a fireplace insert frees space on the floor and will not make your patio or decking too cluttered.
They are safe as people cannot knock them over accidentally as they are inserted into the wall, making more room on the patio for garden furniture and tables. 
A professional will be able to advise you on the best place to position the fireplace insert (see also 'What Is A Fireplace Insert?') on the patio to make sure that you receive the full benefits from it.
The fireplace inserts will light up your home and create a cozy environment for you and your guests to comfortably spend your evenings. 
Use Different Materials
Natural materials can be mixed to give a more rustic look to your property, so using different natural materials for your outdoor fireplace can create a cozy and stylish look.
If wood is used in your home construction, using stone for your outdoor fireplace will illuminate your home and create a cozy atmosphere. 
To connect the fireplace to your home, you can use the same bricks for the fireplace that are used for your stone patio. This will tie the fireplace to your property so it won't look disconnected from the rest of your home.
Install A Fireplace Into A Pergola
If you are looking to create a different sitting area in your garden away from your home, having an outdoor fireplace installed into a pergola will be incredibly relaxing.
The seated area can be covered to protect you from the sun and the rain, and the fireplace will enable you to stay outside after the sun has gone down. 
The height of the fireplace will need to be planned carefully with a professional as you don't want it to be too low or too high.
You also do not want to clutter the pergola with unnecessary accessories, so only add garden furniture with blankets and cushions for a cozy feel. 
Purchase A Chiminea
A chiminea is a clay fireplace that is used outdoors as it is rustic, portable, and complements any garden design.
It doesn't need to be installed as it is portable, so you can move it around if you are redesigning your garden and want to try out a new placement for the chiminea. 
Although chimineas are made from clay, they come in lots of different colors so that you can choose the one that complements your garden the best.
They look great against backdrops of wood, stone, and concrete, and add a touch of style and class to your garden to keep you warm in the chilled evenings. 
Purchase An Iron Cast Outdoor Fireplace
An iron cast outdoor fireplace is the same shape as a chiminea but made out of iron. If your home or garden has lots of metal features, having an iron cast fireplace outdoors will tie your outdoor area to your home.
This will prevent your home and garden area from looking disconnected as the metal will be carried into the garden through the fireplace.
Having a portable fireplace makes it very easy to maneuver if you want to try the fireplace in different locations of the garden.
The iron cast fireplace is very easy to integrate into your garden as they usually come in dark colors, complementing the natural colors that it is surrounded by. 
Showcase Your Pool
If you have a pool installed in your garden, installing an outdoor fireplace can help you to showcase your pool and make it stand out.
You can position the fireplace at the far end of the pool, it will reflect into the water and creates a focal point in the garden. This will make evening swims comforting, warm, and lit up by the fireplace. 
Making sure that your fireplace is an appropriate distance away from the pool is important as you don't want it to be put out by water.
The distance that you leave between the fireplace and the pool can look sparse, so adding loungers allows people to relax and warm up after a swim. However, make sure that you don't position the loungers too close to the fireplace. 
Final Thoughts
To conclude, there are many modern outdoor fireplace ideas that you can use in your garden designs.
Having an outdoor fireplace is very popular as they allow people to make the most of their gardens and enjoy spending evenings outside.
They keep you warm, create a cozy atmosphere, and illuminate features in your garden. 
You can install an outdoor fireplace in many different ways, so it is up to you how you would like your outdoor fireplace to be positioned.
You can have a portable outdoor fireplace that you can move around or one that is more permanent.
They will all provide you with warmth and comfort, it is just based on personal preference which one you would prefer.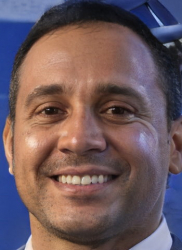 Latest posts by Stevie Morris
(see all)