Are you considering revamping the fireplace in your kitchen and don't know where to start? Maybe you have bought a new home and there is a fireplace in the kitchen and you are looking for some inspiration?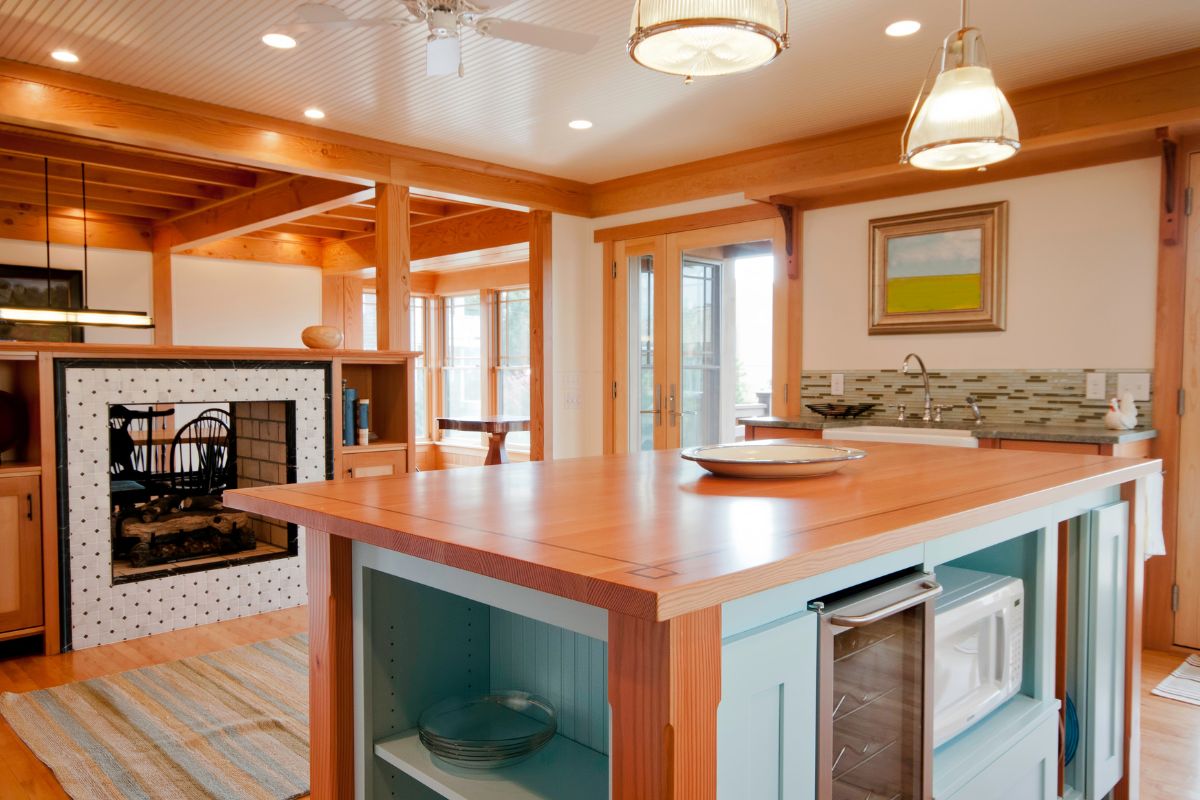 Or are you considering adding a fireplace to your kitchen and want ideas on how to integrate it? Whatever your reason might be, we have the answers for you!
Fireplaces have been a traditional and integral part of kitchens for generations. But with modern heating and cooking advancements, they have become redundant, but some remain in people's kitchens.
We are left to decide what to do with the fireplace. Do we get rid of it, or do we keep it?
If you decide to keep it, you start to wonder what you can do with it?
How will you make it work in your kitchen? It can be tricky to decide what to do with your fireplace, leaving many of us feeling stressed and overwhelmed!
Well, no more! Today we are here with the answers that you need! Just keep reading to find some fantastic fireplace in kitchen ideas today.
Fireplace In Kitchen Ideas
Let's get right into it! Below we have a list of fantastic ideas you can use for the fireplace in your kitchen.
Before implementing any of these ideas in your kitchen, be sure to measure your space to ensure that the design is suitable.
You will also want to consider the practicality of the design. Will it work in your space? Are you going to get used to it?
By considering these factors you can use an idea that will work not only in your kitchen but with your lifestyle too!
Let's get into the list now!
A Fireplace Above The Bar
This first idea works well for those adding a fireplace to their kitchens! Why not add a wall-mounted electric or bio ethanol fuel fireplace above your breakfast bar?
Not only can a fireplace fill some dead space here, but it gives a sophisticated and modern feel to your kitchen.
That's right, despite what you might think, fireplaces in your kitchen don't need to be large and traditional.
They can be sleek and modern too! Just think how wonderful it will be to sip a glass of wine in the evenings by your sleek black wall-mounted fireplace!
Fireplace By Your Dining Table
If your kitchen is large enough to have space for a dining table too, why not put a fireplace by it?
This works well with those adding a wall-mounted electric or bio ethanol fireplace, or if your kitchen already has a fireplace in it.
Nothing says grandeur and sophistication quite like enjoying your dinner with a roaring fire in the background!
Wall-mounted fireplaces can be added easily behind your dining room table, or if you have the space, why not center your table around the fireplace?
All table sizes will work well by a fireplace, but if you have a larger table, we recommend positioning it so the center of the table is in line with the fireplace.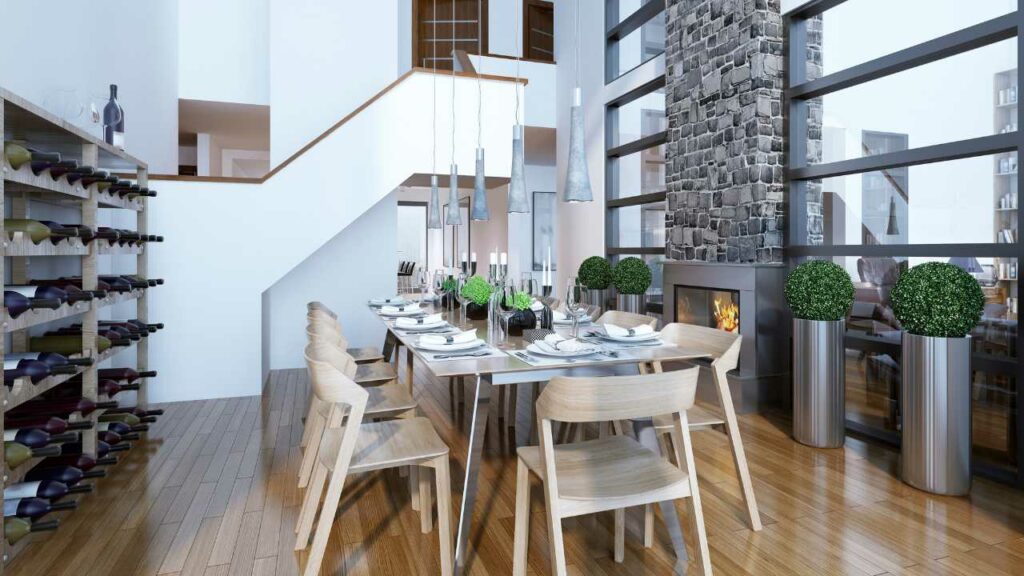 Fireplace Between Rooms
If you have an open-plan space, why not use a fireplace to act as a divider between the rooms?
It can be a good way to separate your living space and cooking space while adding a decorative feature too.
Fireplaces like ventless two-sided fireplaces can be installed between kitchens and living rooms to create a stunning focal point in your home.
We would opt for a see-through fireplace with water vapor or an ethanol burner.
You could mount a fireplace to a wall between the rooms, or place a fireplace in some empty space to separate the rooms.
Fireplace On The Worktop
We know this one sounds a little out there, but if you have a worktop or countertop that doesn't get used often, why not add a fireplace to it?
These small fireboxes can be installed easily and will allow you to warm a cold area of your kitchen or add an interesting new focal point.
You just need to take care if you are placing any real flame fireplace on your worktop.
Ensure that you have the appropriate clearance between it and any combustible objects or materials.
Hang From The Ceiling
If you are short on space, then you could hang a fireplace from your ceiling! Not only is this a fantastic focal point, but it allows you to save some space while still enjoying the warmth of a fireplace!
Having a fireplace hanging like this will take up a fair amount of 'air space' though, so this might not be the best option for those with limited space in their kitchens.
However, if you have some dead space you are looking to fill, then this is a fantastic option for you to consider.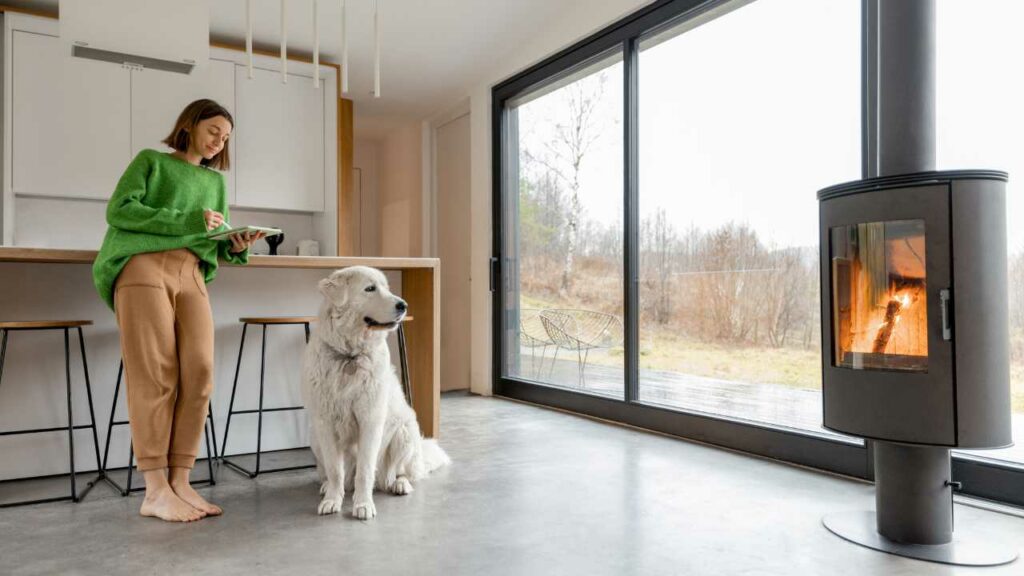 Add Shelves Or Storage
If you already have a fireplace that isn't used, you could utilize it by adding some shelves or storage around it.
You could build shelves on either side of the fireplace (see also 'What To Put On Either Side Of A Fireplace') or above the fireplace if you have any dead space to utilize.
You could add pans hanging from the shelves or some plants for a more rustic feel.
You could also add some doors to the shelves to create cupboards where you could store plates, cookbooks, or other items you need to store in your kitchen.
Adding shelving like this can make the fireplace a focal point or make it seem more practical, especially if it is taking up a lot of space that you need to make use of.
Make It A Focal Point
Why not go all out and make your fireplace the focal point of your kitchen?
By rearranging any furniture to draw people's eyes to the fireplace, you can transform your kitchen into a rustic powerhouse, or a sleek and sophisticated kitchen depending on the fireplace that you have.
You might want to change up the tiles around your fireplace, paint the wall it is on, or simply move a table out of the way for the fireplace to be seen.
No matter what you do, these small changes can make all the difference and help you make the fireplace the center of the kitchen!
Decorate The Fireplace
Another option with your existing fireplace is to decorate it.
This can help make the most out of the fireplace in your kitchen, especially if you don't have much room in your kitchen for any decorative items.
How you choose to decorate the fireplace depends on the type of fireplace that you have. If you have a traditional fireplace, you might place candles in the center or around the grate.
You could also add some logs or coal into here even if you aren't going to light the fire!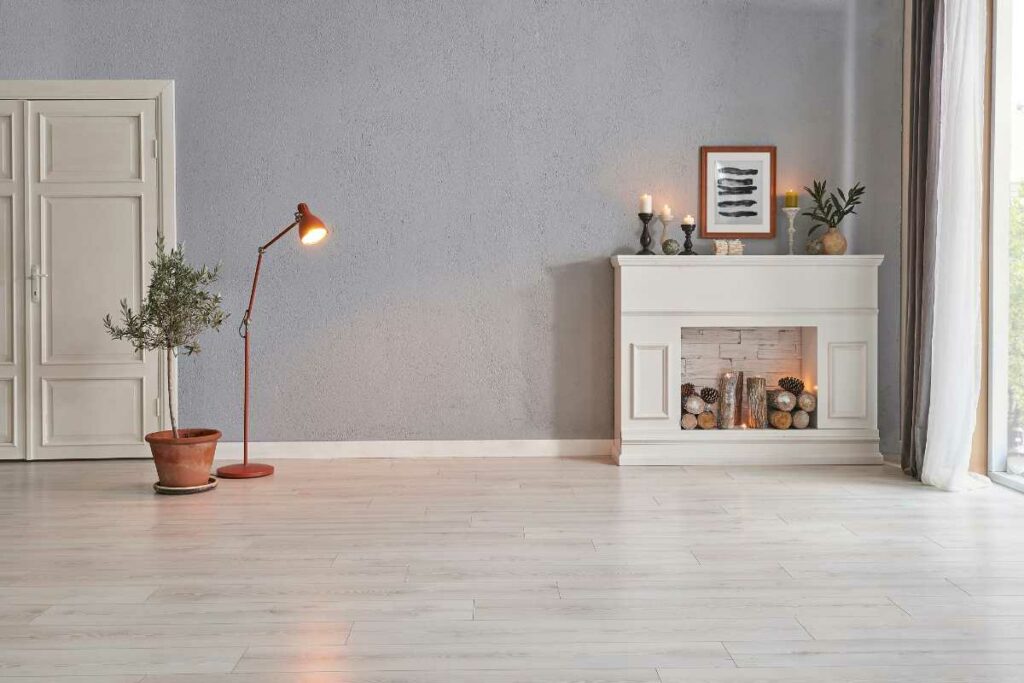 You can also decorate the mantel. Why not add photo frames, a small pile of cookbooks, plants, or some nicknacks from your travels?
These personal touches can give your kitchen a cozy and homely feel, making it seem like the center of your home.
Take care when decorating your fireplace though. You don't want anything combustible just in case, and you also don't want to add too many items in case it looks cluttered.
Plus the more items you have out, the more cleaning you will have to do!
Conceal The Fireplace
If you don't want the fireplace in your kitchen but don't have the time or money to remove it, you can conceal it.
You can do this quite simply by putting up a curtain pole and curtains in front of your fireplace. You could pick curtains that match the paint in your kitchen for a seamless look too.
Now, it might not be the most sophisticated approach, but it would add some texture and unique touch to your kitchen!
It would also allow you to keep the fireplace and expose it again if you wish. You could simply open the curtains or remove them entirely if you change your mind and want to include the fireplace as part of your kitchen again.
Just be sure that any curtains you put up are far away from any flames. The last thing you want is to have any flammable objects near heat or open flames in your kitchen!
Frequently Asked Questions
What type of fireplace is best for a kitchen?
You can certainly use any type of fireplace ranging from electric, gas, bio ethanol or wood burning. The electric and gas variety are most commonly used. The electric fireplaces are easy to install, a gas fireplace can be a simple installation as there is usually a gas main already in the kitchen.
The main benefit of using a gas or electric fireplace sin the kitchen is lower maintenance, we suggest keeping the wood burners for other rooms. It's just too much hassle for the kitchen. A bio ethanol fireplace can look great especially when used as part of a dining table.
Can I install a wood-burning fireplace in my kitchen?
Yes, but there may be building code and safety regulations to consider. We would always suggest seeking professional help before installing a wood burning fireplace in a kitchen.
The professionals will ensure the fireplace is installed safely and is properly vented to carry away harmful fumes and smoke.
What are the building code requirements for a kitchen fireplace?
Building codes regularly change and they vary by location. Some of the basics are that the fireplace is properly vented, has an heart and will be located far enough away from combustible material.
When installing fireplaces, we always advise using a professional. They maintain knowledge of building codes and safety regulations and will advise on how best to install a fireplace in your kitchen.
Final Thoughts
And there you have it, a list of fantastic ideas you can use for your fireplace in your kitchen!
Whether you are looking to add a fireplace to your kitchen or are looking to make more of your current fireplace, there is an option for you to explore!
Be sure to double-check all your measurements before you add a fireplace to your kitchen or make any changes.
The last thing you want is to purchase a fireplace and then it doesn't fit in the space you have.
When installing a new fireplace, be sure to follow the instructions in the user manual or consult an electrician for help.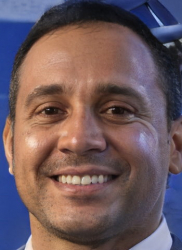 Latest posts by Stevie Morris
(see all)