Who doesn't love a beautiful brick fireplace?
Whether you've recently moved home and have found yourself the proud new owner of a brick fireplace, or you're currently planning a big home improvement project and you simply want to enhance your existing one – a brick fireplace is a perfect way to create a rustic focal point.
Regardless of what kind you have, the texture and aesthetics of a brick fireplace are a surefire way to add charm and character to any indoor space, and in this article – we are here to help you decide what you should do with yours!
Regardless of whether you want to give it new life or you're yet to build one, just read on to discover some brick fireplace inspiration!
Remove The Surrounding Wall's Plaster For A Rustic Aesthetic
One of the easiest ways to instantly elevate your open brick fireplace and give it a more central feel is to carefully remove some of the surrounding wall's plaster to reveal more of the bricks.
This method can also even be used to create an open brick fireplace if you don't currently have one! By gently peeling away parts of the plaster, you will be able to give your fireplace more character, as well as enhance it with a rustic feel.
However, if you do want to go ahead and do this, it is important to keep in mind that the color and style of the brick used on your open brick fireplace might not match the bricks used to create the surrounding wall.
Open Your Space With Light-Colored Bricks!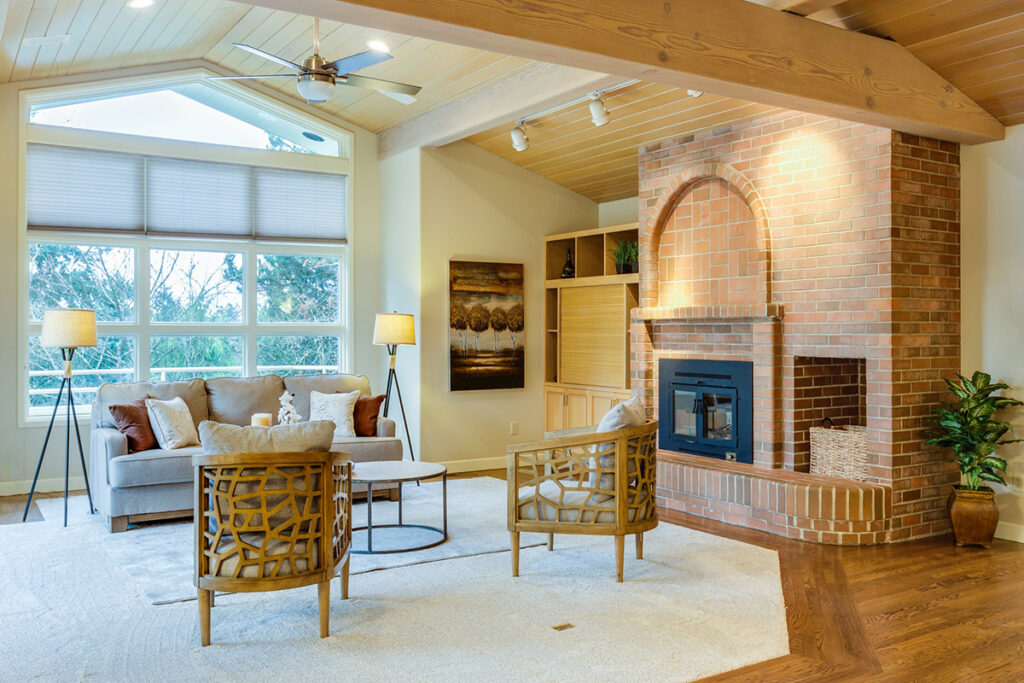 If you don't have a lot of space in the room that the open brick fireplace features, then why don't you consider tinting the bricks with a lighter shade if you haven't already?
By doing so, you will be able to create the illusion of a bigger space, while also lending your indoor living area a bright and airy feel that will feel welcoming and relaxed. The best colors to achieve this are neutral shades such as white, cream, and beige.
Match Wooden Accents With Brick Color
If you are lucky enough to own a home that has oak frames lining the interior, why don't you consider matching the color of the timber with the color of the bricks in your open brick fireplace?
This will help to give your interior space more unity, while also helping to give your fireplace a more subdued and subtle appearance.
If you do not have bricks that match the timber in your home or you're yet to build your own open brick fireplace, there are a variety of brick stains that you can use to make sure that they match with the wooden accents already in your space.
Decorate With Ornate Cornicing
If you want to create a rustic feeling in your home while still maintaining structure and unisom throughout the space, why don't you consider elevating your fireplace with some cornicing?
This will create a beautiful contrast between the rustic appeal of your fireplace and the traditional, ornate detailing that is so commonly characterized by interior cornicing.
When done right, decorating the edges of a brick fireplace with cornicing is a surefire way to elevate your space with a modern yet traditional design focal point that won't take away from the rest of the space.
Consider Painting The Fireplace Bricks
Even though it's well-known to have tinted brick fireplaces, have you ever considered painting your brick fireplace (see also 'How To Clean A Brick Fireplace'), instead?
If you happen to have a pretty old brick fireplace that is beginning to look a little worse for wear, opting to paint over the top of your bricks can help to transform it with a pristine and uniform appearance.
However, you can also opt to paint your brick fireplace if you simply want to move away from the rustic look often associated with an open brick fireplace, and instead give it a more uniform appearance that matches the color scheme of the surrounding area.
As a side note, if you are interested in painting over your fireplace bricks to help give it a lease of new life, it is worth noting that brick can require multiple coats of paint due to the fact that it has a highly porous surface.
This means that painting can be quite a costly job. In addition to this, you are also going to have to make sure that the paint you use is heat-resistant if your fireplace is going to be an active one.
Use Bricks As A Fireplace Insert
Last but certainly not least, the final way that you can enhance and elevate your fireplace (or even design it if you're yet to make one) is by only exposing the bricks on the interior of your fireplace, rather than the outer.
While this might not be something that is suitable for all types of brick fireplaces, if you happen to have a large fireplace or you're planning to make yours larger than average – you could opt to expose the interior of your fireplace in order to create an eyecatching insert.
In addition to making a beautiful and eye-catching insert, using bricks as your fireplace insert can also save you a lot of money in the long run as bricks are extremely heat-resistant and do not require much maintenance.
As for the outer area of your fireplace?
If you're interested in using bricks as your fireplace insert, you could alternatively opt to decorate the exterior area of your fireplace with paint, tiles, wood, or anything else that you think would look good.
Wrapping Up
All in all? There are plenty of different ways that you can elevate and enhance the appearance of your brick fireplace – and we hope that this guide has helped you to gain a little inspiration on what you can do to bring your ideas to life! Thank you for reading.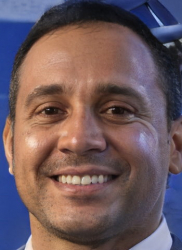 Latest posts by Stevie Morris
(see all)