There is no better feeling than cozying around a fire pit on a chilly fall evening with your friends and family. Paired with hot drinks and warm blankets, you're sure to have a good time.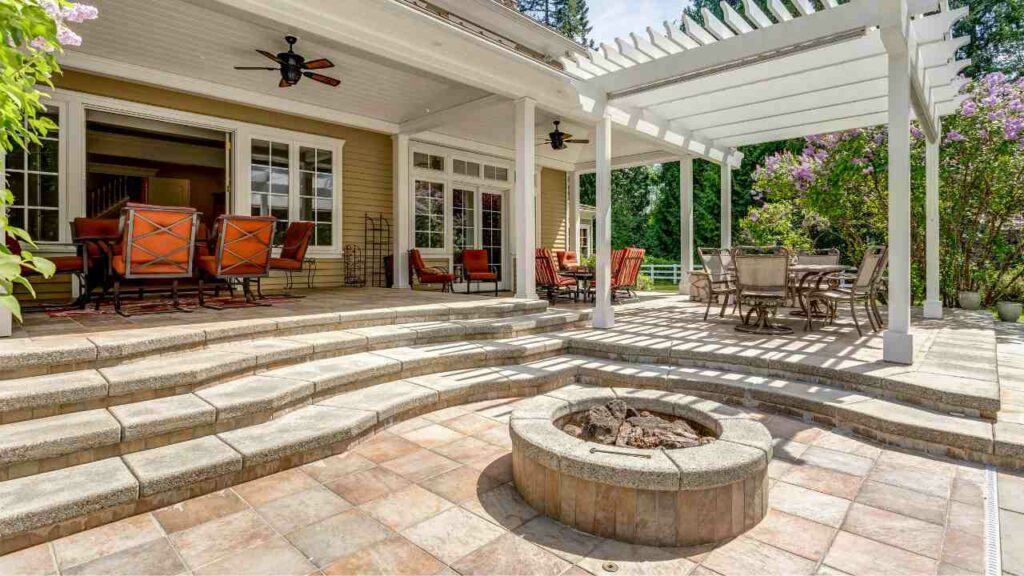 Rustic fire pits have the ability to add a touch of mother nature to your backyards. While, at the same time, allowing you and your guests to stay warm into the night.
If you're a fan of all things unrefined, then you've come to the right place. This guide explores some marvelous rustic fire pit ideas to get you inspired.
Let's get straight into it!
For those who already have a concrete patio, installing a fire pit couldn't be easier!
The first thing you'll want to think about is what function and purpose you want your fire pit to have. For instance, do you want a wood-burning or gas fire pit? Do you want to cook over it? Do you prefer a more rustic look as opposed to a traditional one?
Once you have determined the perfect fire pit for you, you can start thinking about where you want to put it. Before long, you'll have the fire pit of your dreams.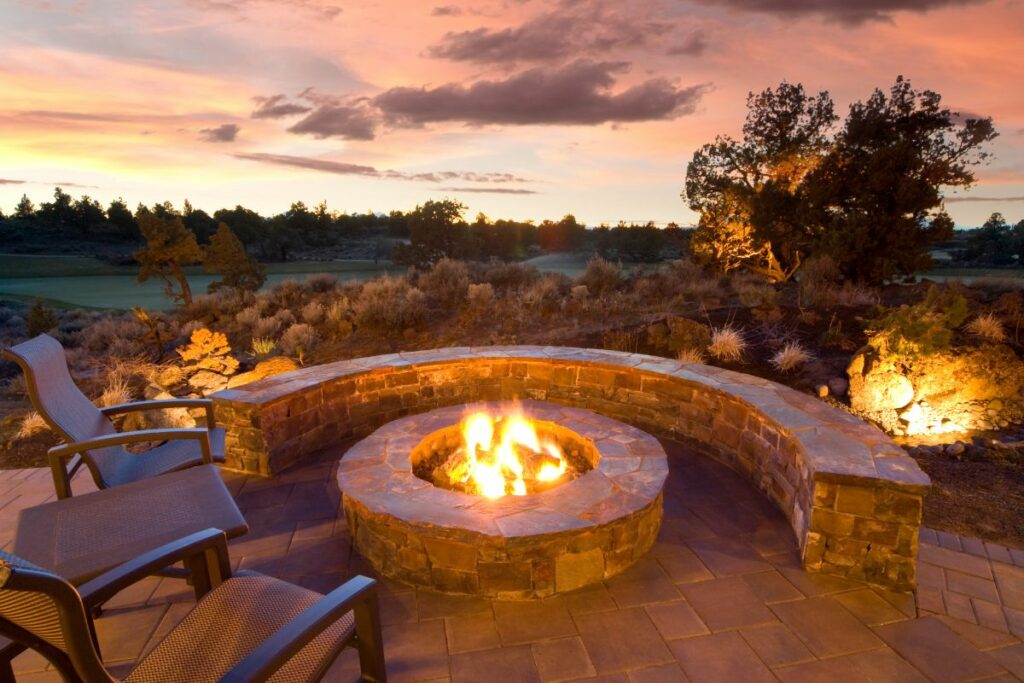 This backyard patio is the ideal location to host a range of social gatherings. The circular fire pit itself features natural stones in a variety of colors to amplify the rustic vibes.
In this example, the patio makes the most of the view, with soft lighting enhancing the light from the fire pit.
If you're unfamiliar with a sunken fire pit, it is essentially one that has been dug out and installed into the surface beneath the ground of your deck or yard.
Here we have an example of a simple rustic sunken fire pit design.
The lip of the fire pit can either be installed so that it protrudes above the patio or not. In addition to this, they are usually made from stone or brick and are typically made/ installed by the hands of a professional. 
Are you looking for fire pit landscape design inspiration? Then this is sure to be the one for you. The combination of pavers, a flagstone fire pit, and seat walls ensure that the overall look blends seamlessly with mother nature.
Here, boulders provide a rustic, durable wall. Plus, the gravel is displayed in a way that keeps the backyard patio neat.
The patio itself features numerous seating areas to provide an elegant flair to the space. On top of this, traditional wrought-iron furniture pieces have been added to contribute to the refined look.
Plus, bushes, tall trees, flowering perennials, and shrubs help to liven up the rustic environment. 
If you're an avid DIY enthusiast, then making your own rustic fire pit shouldn't be a problem. Here, you have the opportunity to use a wide range of materials, most being budget-friendly, too.
If you're looking to achieve that quintessential rustic look, then concrete blocks are a great way to replicate this. Plus, they are easy to work with and affordable, as well.
This means you can finish your project within one week without having to break the bank at the same time.
When it comes to securing the area, all you have to do is layer river rocks around the fire pit. To highlight the fire pit, extend the rock layer. This turns it into the central focal point in the garden.
The result is a fire pit setting that has organic notes – making it feel both rustic and natural.
Moreover, if you're confident in your DIY skills, you can even attempt to build a half wall. Then, decorate with throw cushions to create a comfortable bench to enjoy the fire pit.
This fire pit features one of the best rusting seating areas to suit your natural ambiance. Here, the resin-wicker furniture adds to the rustic feel while providing your guests with the comfort of sitting around the fire. 
The best feature of this square fire pit is its metal grill plate. Thanks to this feature, homeowners are able to use their backyard patios all throughout the year.
Moreover, stone pavers are placed in various palettes and tones – providing a comfortable and welcoming scene.
If you're looking for inspiration, take this fire pit for example, and decorate yours with orange cushions to ensure both comfort and coziness while abiding by the theme.
Furthermore, evergreens, pink blooms, and climbing vines make the overall scene all that more exquisite.
The ultimate gathering point in your backyard is a fire pit made from fireproof stones. When installing your fire pit, you want to ensure that it is away from your windows – ensuring no smoke will get into your house.
Here, the stone bricks are used to give the fire pit its shape. Then, you want to pave the surrounding area. This will be your base.
During the shaping process, make sure to keep in mind the shape of your fire pit tray. Before constructing anything, measure your tray to ensure it will fit.
This ensures that the pit is both safe and blends seamlessly into your landscaping. 
While you may not be able to use your fire pit all year round, you can easily transform this into a function table by constructing a wooden cover over the top when not in use.
The result will be a cute coffee table where you can enjoy your breakfast, lunch, or even dinner, with friends and family all together.
Are you looking to go down the unconventional route when it comes to your fire pit? Then this next idea is perfect for you. Here, the homeowner has decided to construct their fire pit out of an antique wooden barrel.
The barrel has been thoroughly sanded and painted and then weatherproofed. The final result is something that exudes a sense of age. 
This is the perfect addition to your backyard patio area, ensuring both beauty and rustic splendor.
To top it all off, a black granite counter has been added. Thanks to a combination of iron strip chairs with the metal elements of the barrel, everything comes together perfectly.
If you're looking for the ultimate getaway, then this is the perfect fire pit for you. Here, an inviting and comfortable seating arrangement is centered around a fire pit.
When you're using a tabletop fire pit, you have the freedom to create an extension to that of your indoor living space.
That said, for traditional fire pits, you'll want to be careful with which furniture you're choosing since the smoke could potentially cause damage.
An outdoor loveseat or a sofa provides the perfect seating arrangement to accommodate all your friends and family.
The combination of cement and cozy chairs provides an area that is both comfortable and welcoming for your guests.
If you're looking to go one step further, consider installing swinging chairs to enhance the overall setting.
Once you have finished establishing the area, don't be afraid to bring export elements of the indoors to the outdoors – making it feel like an extension of your interior living room.
For instance, provide ample access to a range of rustic throws, adding doses of texture and color that have the ability to elevate the space.
As such, you're creating a conversational space that is both inviting and ideal when enjoying a glass of cider in the late summer afternoon or fall evenings.
Thanks to the flames of the fire, you don't have to worry about getting cold anytime soon.
For an incredible mountain fire pit idea, you've come to the right palace. This fire pit is located on the spectacular backdrop of mountain scenery – providing one of the best locations for outdoor scenery. It is certainly a view made to admire.
The fire pit itself features chiseled stones, as well as pavers that consist of varied tones – adding to the depth of the area. Plus, the flagstone flooring here ensures everything is cohesive.
The Adirondack chairs add to the comfortable, homey scene. While the blankets and candles create a relaxing atmosphere.
Final Thoughts
Having an outdoor space where you can socialize and entertain guests is something that everyone should have. What better way to achieve this than with a rustic fire pit?
Not only do these provide warmth, but they are the perfect gathering point, too. Hopefully, this guide has inspired you with the fire pit ideas.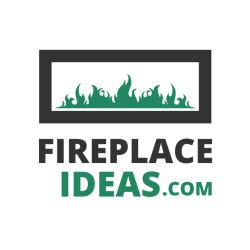 Latest posts by Stevie Morris
(see all)