One of the most common concerns of those using portable fire pits is whether you can use fire pits on decking. Those who are would-be owners of a fire pit and own decking also have this concern.
There is no doubt that fire pits look awesome on decking, but there is a lot of concern for composite and wood decks, especially fire risk, warping, and cosmic damage. Luckily fire pit mats exist to help prevent these issues.
Any deck owner knows just how expensive it is to build and maintain these, so the last thing you want is your fire pit causing problems. However, if you have a bioethanol fire pit or a gas fire pit, you might not even need to worry about this.
Let's talk about fire pit mats and just how useful they are for protecting your decking, and why gas and bioethanol fire pits are different.
Why Use A Fire Pit Mat On Wood Decking?
Fire pits look gorgeous on wooden decking, however, they are not without risks. Wood is very flammable and very susceptible to heat damage as well.
Fire pit mats protect your wooden surfaces from suffering damages such as warping, burns, and even discoloration!
These mats can protect your wooden decking from high temperatures, such as the 1,200 degrees Fahrenheit that a wood-burning fireplace can get to.
Fire pit mats are made of fire-resistant fabrics and can therefore form a barrier between the heat, ash, embers, and flames coming from the fire pit.
It is important to have this protective layer on wooden decking, without it your fire pit can become dangerous.
These mats can prevent accidental fires, and damage to the wooden surface beneath such as heat-relative warping, or burn marks from ash and embers.
What Is A Fire Pit Mat?
Fire pit mats are affordable safety options that can protect your deck from the fire pit. It works as an extra protective layer that is used to safeguard the decking below, these mats can also add to your decking aesthetic too!
These mats are made to resist high temperatures, so when you use them any embers or sparks will not damage the mat and will still protect the deck as well.
This is especially important on wooden decks which are far from flame resistant, and can easily suffer burn marks and heat-related warping.
These mats are there to protect your deck, but they are only relevant if your fire pit stands on legs, if the pit lies on the ground, you may need a stronger form of deck protection.
Fire pit mats are a must-have if your fire pit is on a deck that is flammable.
There are different materials which fire pit mats can be made from, let us discuss these.
Types Of Materials Used For Fire Pit Mats
There are several choices for fire pit mats, and each has its own benefits.
PVC
Rubber
Fiberglass
Silicone
Ceramic Fiber
Steel
Let's take a look at the benefits of each of these:
PVC: PVC is good at insulating, thus keeping the heat on the right side of the pat, it is also high in chlorine making it self-extinguishing when embers fall onto it.
It is also weather-resistant, corrosion, abrasion, and chemical resistant, making it ideal for outdoor conditions. PVC mats are also easy to store when not in use.
Rubber: Rubber is abrasion and tearing-resistant. It is strong and is both heat and flame resistant.
It can resist extreme temperatures which are ideal for the extreme heat that wood-burning fires can climb to. Rubber fire pit mats are also foldable making for easy storing.
Fiberglass: Fiberglass is commonly used in construction, and it is no wonder as it is chemical resistant and very stable. It has strong thermal properties and endurance.
Fiberglass is often used for electrical insulation, showing its versatility. It is also non-flammable. It will not warp, bend, or suffer damage easily.
Silicone: Silicone is often a favored choice as it withstands low and high temperatures much better than other organic rubber types. It can even withstand up to 400 degrees Fahrenheit for over 10,000 hours!
Some can go higher! It has all the same properties as rubber, with increased heat resistance.
Ceramic Fiber: Ceramic fibers are lightweight and used for insulation, this material does not retain heat. It can even resist motel metals and heat distribution.
This material is often used for lining kilns and furnaces, which shows its viability in application with extreme heat.
Steel: Steel is hard, tough, and non-flammable. The main problem with steel is that it can still get very hot. While it will protect decking from warping, steel is still able to get very hot, very quickly.
It is also not rust-resistant, so if exposed to the elements, expect rust.
Can Fire Pit Mats Be Used On Other Decking Materials?
Fire pit mats can be used for any type of decking as long as you have a fire pit that stands on legs. It is always best to use a fire pit mat to protect the surface below.
Whether you have your fire pit mat on stone, decking, or concrete. Embers can easily burn into the surface below, or leave marks, and ash can be very messy to clean up. Fire pit mats can prevent these problems.
Fire pit mats can even do their job on grass.
When choosing a fire pit mat you should choose it for the material you will be placing it onto, as well as the height and ground proximity of the fire pit.
Some fire pit mats are best suited to grass, some for decking, and some are made for concrete. Choose accordingly.
Fire Pit Mats For Gas & BioEthanol Fire Pits
Fire pit mats are not always necessary if you have a bioethanol or gas fire pit.
Bioethanol fire pits are an eco-friendly option with a low eco-impact, they produce no smoke, embers, or ash. The only concern is the heat that comes off of them.
Most of the time, however, these will already have heat protective measures built-in. They also do not get as hot as wood-burning or coal-based fire pits.
Gas fire pits are propane or natural gas-fueled fire pits. These fire pits tend to come as a table and are already secured. These also do not produce any embers or ash, therefore the only concern is heat.
However, depending on the model of fire pit you have, even gas and bioethanol fire pits can benefit from a fire pit mat.
When using these types of fire pits, accidental gas or ethanol spills can still occur and fire pit mats can help to prevent these liquids from damaging the surface below.
Similarly, they can still get very hot, and having a fire pit mat in place can prevent any warping or heat-related damage from occurring.
It's better to have it and not need it than to end up with damaged decking.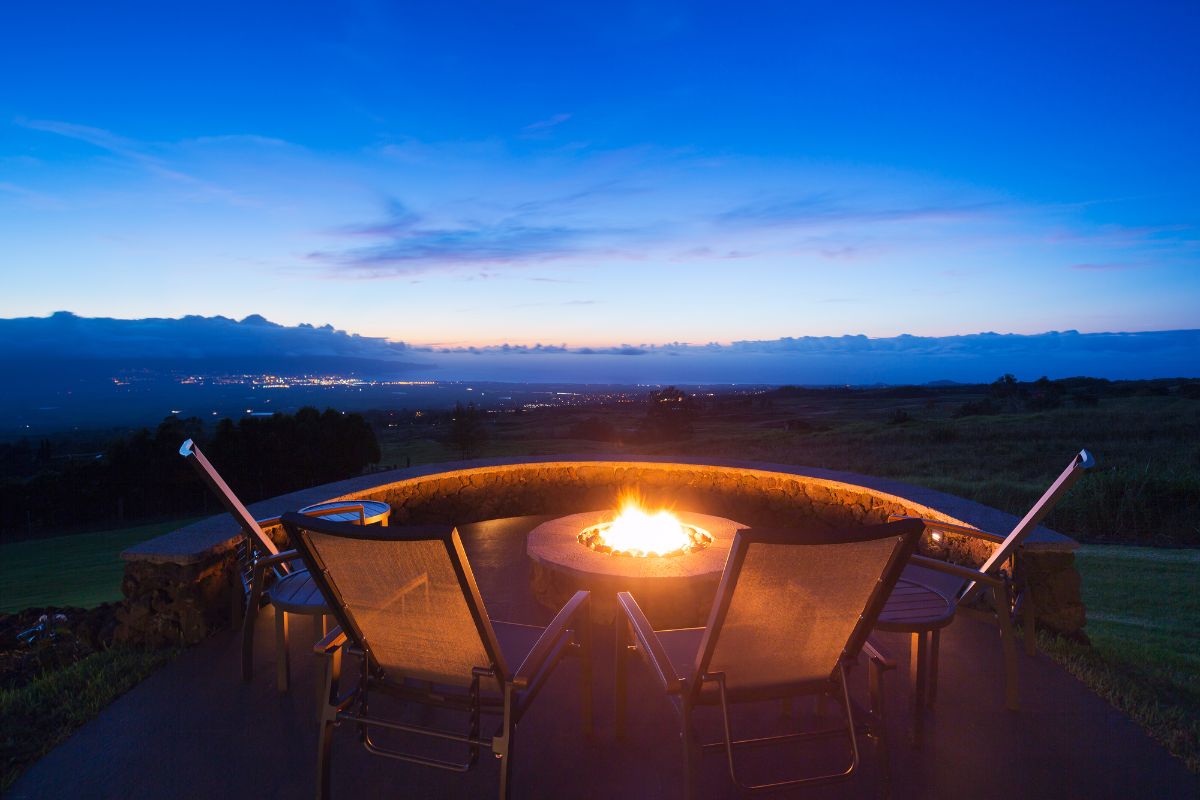 How To Choose A Fire Pit Mat
There are several things that you should consider before you purchase a fire pit mat.
The main considerations include these;
What type of fire pit do you have?
What is the surface underneath the fire pit?
What fire pit mat material do you need/want?
Do you want the mat to be portable?
Does the mat need to be rust-resistant?
What is your budget?
How big do you need the fire pit mat to be?
How much space is there between the ground and your fire pit?
You need to consider many factors to help you choose a mat for your fire pit. However, we would argue that even if you have a tight budget, you still want to choose a reliable one that will last a long time.
Fire pit mats do not only protect your deck, but also you, and you do not want to have too tight of a budget when it comes to your safety!
Regardless of which fire pit mat you end up buying, always ensure that you follow manufacturer instructions on the packaging as well.
This is critical for your safety. Ensuring you install and set up the mat properly will ensure it works as intended, keeping your decking and you safe.
Other Tips For Using A Fire Pit On Wood Decking
Ensure the deck is always cleared. Free the area of debris and any other flammable material. A fire pops and crackles and a single flying ember can easily start a fire on a pile of dry leaves.
Keep your fire pit away from your home. Fire pits should never be up against your home. The risk of your home catching fire from a rogue ember is a real one. Aside from this, fire pits produce a lot of heat which can be damaging to your home.
Always dispose of ashes the right way. Wait 24 hours and then scoop them into a metal bucket. If you leave them inside the pit they can corrode the pit if they get wet, which could also cause a mess if they end up on your deck.
Conclusion
Fire pit mats protect your decking from burns, spills, warping, and even accidental fires.
These mats are flame-resistant, heat-resistant tools that you place underneath your standing fire pit to ensure that your fire pit does not cause any damage to the ground below.
Always be careful when using a fire pit, accidents, and carelessness can result in nasty burns or dangerous fires.
When you set up your fire pit mat, follow manufacturer instructions to ensure you use it and maintain it correctly, so it does its job properly and protects you and your home.
If you have a standing fire pit, no matter the type, a fire pit mat is always a great safety precaution to employ.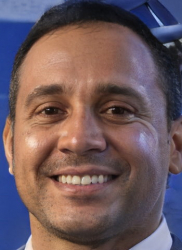 Latest posts by Stevie Morris
(see all)