When people imagine fireplaces and what they look like, there is a wide range of different forms and variations that are bound to be seen.
On top of this, there are a lot of different materials that are used to make sure that there is a unique and specific look out there for anyone who is looking to add one of these fire features to their home.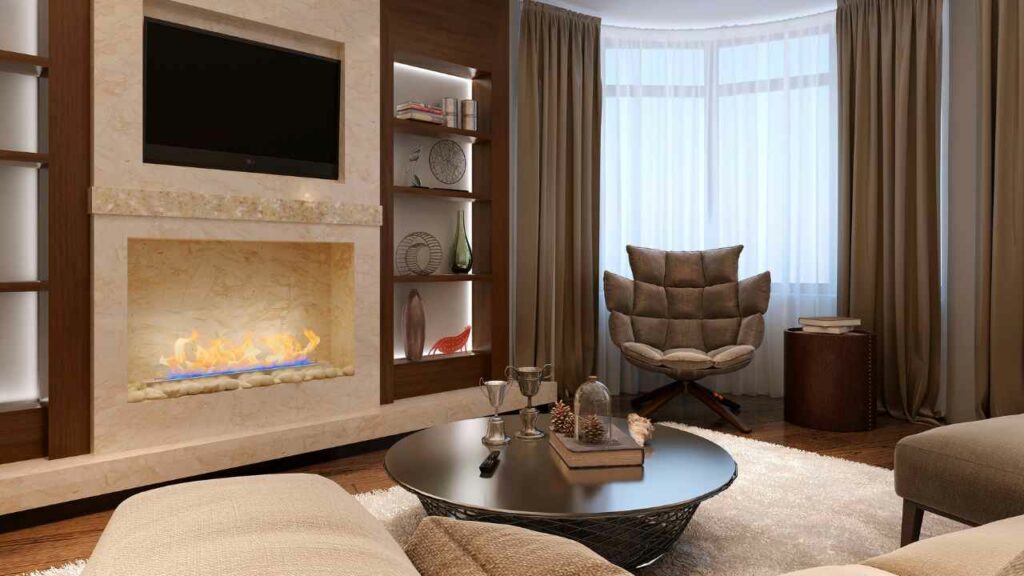 However, one material that is often overlooked and is quite underrated is marble.
Marble is a sleek, smooth, sophisticated material that you might not associate with fireplaces, but, you'd be surprised at how good they go hand in hand. They seem like a match made in Heaven. But, where is best to start?
Well, we have some ideas for you so that you can find a perfect design.
Follow the rest of our guide to find some of the most popular ideas for marble fireplaces and the different advantages of each one. We all need a helping hand or a push in the right direction sometimes.
Accompany With A Nice Mirror
There are a lot of things that go well with a fireplace, however, many people will choose to include a mirror in their plans because of how well the two work together.
Who wants to sit there and stare at a black space on the wall when they sit in front of the fireplace?
Not us! Having a mirror with a smart frame is a great way to make the space above the fireplace stand out.
On top of this, we recommend choosing a frame with a complementary color or shade to the marble so that you can have a good combination of colors and tones in the same space.
The last thing you want is a mirror and a fireplace fighting to be in your eyesight, especially with
colors that don't work well together.
Marble Shelves
When it comes to areas around fireplaces, you're bound to see some shelves ready for things to feature on.
Storing your prized possessions and some aesthetically pleasing items around a marble fireplace will definitely add something different for those entering the room, that you wouldn't get with other things to accompany alongside your fireplace.
Like displaying plants throughout your home? No problem, the shelves are there for you! Want an area with some lovely picture frames to make an appearance?
Your friends can look at your pictures whilst they warm up by the fire. The possibilities are endless and there are no real wrong answers!
It's all down to what you want and how you feel. Just choose some great frames!
Bookshelves
Similar to our last point, there have to be some bookshelves included in the conversation.
As many fireplace lovers will tell you, there is no feeling quite like curling up in front of a fireplace with a good book and losing yourself in the world of escapism and stories.
However, we don't recommend just implementing any old bookshelf into your fireplace.
We think that you should try and find some marble bookshelves or cubbies and implement them into your cozy living space.
On top of this, a sleek and maintained wooden shelf can be the perfect way to blend books with modern architecture.
After all, who wouldn't want to show off all of the books they've been reading, further showing off their personality?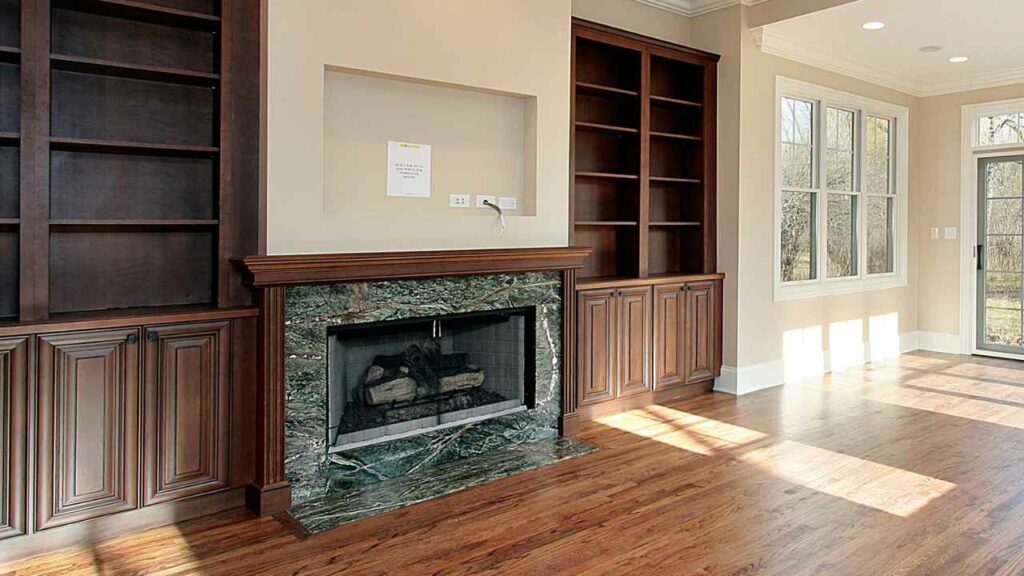 Add A TV
One thing that many people love in the colder months of the year is to make yourself comfortable and position yourself in front of the fireplace.
If you're not into reading, as our last point would require, then watching TV on a cold evening with a blanket and a lively fire is definitely a good option to choose as an alternative.
Whether you're more into romantic comedies or you love a good horror movie with the lights off, having a marble fireplace with a good TV is a perfect choice.
The TV should be placed over the fireplace so that you have the best view of the device whilst facing the fire. If the TV is off to the side, then you risk only warming up one side of your body.
A Splash Of Art
If there's one thing that can add a bit of character and personality to any room, it's art.
Coming in all different forms and variations, you can expect anyone to have art in their home to show people what they like and the type of person that they are.
Similar to our mirror suggestion, having a frame that complements the marble is crucial and can make or break a good mirror/fireplace combination.
However, we think that you need a piece of art that suits a place above a fireplace so grand. By ensuring that you have a piece of art that you love, you show that you have a piece of your home worth looking at.
On top of this, you can match colors from the art with the colors of the fire if you're feeling especially unique.
Textured Accents
One thing that is great about fireplaces is that they don't have to be flawless to be perfect. A lot of these features have been around for decades at a time and they should be kept that way!
Of course, we don't mean that they shouldn't be maintained and kept clean, but if there are little imperfections in your fireplace, then they should be utilized to make your fireplace unique from others.
The shape of the mantel and all of the little details in your piece should be celebrated and kept on display. Antiques are always a perfect way to connect the classiness of the past with the innovation of the future.
The color contrast between modern ways of maintaining the fireplace and the original colors will make for a winning combination.
Marble From The Floor To The Ceiling
We understand that a lot of people say that less is more, however, when it comes to incorporating marble into your fireplace area and living space, we think that more can be more!
Fireplaces come in a whole range of different shapes and sizes, with some being very large, with others being smaller and more subtle. However, marble can give them the same effect.
If you have a smaller fireplace that's positioned a bit lower to the floor, then why not use extra marble to emphasize the area?
By filling the blank space above with marble that matches the fireplace, you draw everyone's eye to the amazing area that you have built.
On top of this, you can use this aesthetic to match the rest of the room.
Use Different Shapes
One thing that will make a room stand out is when you make the most of all the different shapes in the spectrum. The fireplace is most likely going to be a square shape, or something similar.
So, why not contrast this with a round mirror or a rectangular mantel. Adding some circular stools and a rectangular table can further add to the features.
All you need to do is make sure that you don't overdo it and include too many shapes and sizes, otherwise, you might be making your living room look more like an art gallery than a living space!
Just keep things tasteful and make sure that you mold everything around your personality and your character.
Marble On Marble
A good idea that we absolutely recommend is using different marble features around the room to make sure that the fireplace fits in with the rest of the theme.
One of the worst things for interior fanatics is to have a special feature like a fireplace, with nowhere to fit it in. Nobody wants their fireplace to stick out like a sore thumb!
Having a coffee table with marble legs, or a smooth couch with marble feet will show people that you know exactly how to blend things together without forcing it too much.
We understand that too much of a good thing can become overkill, however, marble looks so slick that we think it would be a waste not to utilize it fully.
Make It Stand Out
If you're looking to dress your fireplace to impress, then make it stand out and look above everything else in sight!
Using graphic textures from different variations of marble will ensure that people know you're making a statement, with marble on your side as the main talking point of the room.
Frequently Asked Questions
What Are The Benefits of a Marble Fireplace?
When you see a marble fireplace, it instantly brings the wow factor. They look great!
They are heat resistant, and as you can imagine therefore perfect for a fireplace.
They are durable, if not abused they will last a very long time. They are also easy to polish to bring back to life and energise that sparkle.
There are many colours to choose from, so you shouldn't be worried about matching the rest of the room
What is the cost of a marble fireplace compared to other materials?
They will be more expensive for sure, compared to brick or stone. It's a very labor intensive process from mining to cutting and transporting, this becomes expensive quickly.
Even marble is graded, so there are cheaper options. The price will also reflect the design and the intricacy.
Custom made marble fireplaces are expensive, but if within budget we think the pros outweigh the cons.
Can a marble fireplace be converted to gas or electric?
Yes they can. While the enjoyment of designing the new fireplace can be yours. We always recommend hiring a professional for any electrical or gas works in this conversion.
The added benefit of an electric fireplace, no chimney or vent is required. A gas fireplace does not require a chimney but will require venting through an exterior wall.
Conclusion
There are lots of different ways to make sure that your marble fireplace is a spectacle to behold, however, this guide is just a way for you to get started and think of some potential designs.
Ultimately, it all comes down to your gut feeling and the different ways that you can make the marble fireplace stand out from the rest of the room.
At the end of the day, a marble fireplace is a truly special piece of any home and should be celebrated as best it can! You just need to find ways that suit you!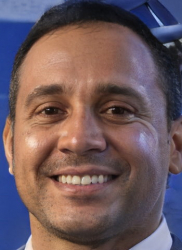 Latest posts by Stevie Morris
(see all)