A fireplace usually tends to be the focal point of any living room that it is placed in as they are strong design features that can be uniquely designed for each room.
Having a fireplace should never be dull and it should be one of the first features that people notice when walking into a room.
Having a striking fireplace adds style and detail to your living room, but how can you make it look more creative and stylish?
A fireplace accent wall is a great way to enhance your fireplace as it adds individuality to your living room that is creative and unique to you. 
Your fireplace will look striking with any of these designs and will be the main focal point of your room. Find out more below!
How To Highlight A Fireplace Accent Wall
When you are looking to highlight your fireplace accent wall, it can be difficult to design as you want it to be striking, but not so striking that it doesn't fit in with your room aesthetic.
The fireplace accent wall needs to be balanced and it cannot overshadow the fireplace. For this reason, there are a lot of different materials that fireplace accent walls can be made from.
Brick
Exposed brick walls are very popular in homes as they give a rustic appearance to your rooms that are very eye-catching and striking.
There are different colored bricks that you can choose for your accent wall that create different styles in the room. Aged bricks create a rustic style in the room, whereas white bricks add a fresh and light style to the room.
If you already have exposed brick in your home, this is a great way to highlight your accent wall. If you don't have exposed brick, brick wallpaper is another way that you can get the effects of brick accent walls.
The design is fresh and accents the wall without overshadowing your fireplace or your TV if you have decided to mount the TV to the wall above the fireplace.
Tiles
Tiles are a sophisticated, stylish, and smooth material to use to highlight an accent wall as they are very good at capturing people's attention.
They offer a sleek finish to your room, but you need to make sure that you choose the right tiles to gain this effect. Having the wrong tiles in your room could make the entire room look disconnected and confusing.
When you are choosing tiles, there are different options that you can choose from to achieve your accent wall.
Porcelain stoneware tiles work in lots of different interiors as they bring natural textures into your home, whereas majolica tiles are very creative and bold, making your accent wall creative, unique, and beautiful to look at.
Stone
Stone is a popular material to use for an accent wall as it is a natural material that will create a great style for your room.
There are lots of different stones that you can choose to be the feature of your accent wall, so you need to choose wisely to make sure that the stone chosen will complement your room's aesthetic.
You can choose from the following stones:
Marble: Provides your accent wall with a luxurious and stylish finish
Limestone: Provides your accent wall with texture and earthy tones
Slate: Provides your accent wall with a smooth texture with a charcoal finish
Using any of the stones above for your accent wall will give your room texture and color, which is why it is important to match the stone to the aesthetic of your room.
You want to avoid your accent wall looking disconnected from the rest of your room, instead, you want to bring the whole room together.
Decor
If you are happy with your accent wall and you do not want to change the color or the texture, there is the option to create an emphatic accent wall using decor.
This will differentiate the accent wall from the rest of the walls in your living room, and it will create a personal accent wall that is unique to you.
You can use mirrors, art, or pictures to decorate the accent wall to make it look striking. You can use a large fashionable mirror, a piece of brightly colored art, or photos of your family and friends to highlight the wall.
This is what will make the wall unique to you as you can handpick the items that are personal to you.
Metal
Metal is not a very common fireplace accent wall material, but it is very popular with those who are trying to convey an industrial look in their home.
As it is an unusual material, it will create a striking accent wall that will most definitely draw the attention of your guests as it will be unique and sleek.
There are a variety of metals that you can choose for your accent walls such as iron or copper, but they have to be chosen carefully based on your room color scheme.
Iron will work best in a grayscale room, whereas copper will work well with warm colors and tones that already exist in the room.
Colors For Accent Walls
If you want to paint your accent wall, choosing a color can be tricky as you want to make sure that you choose the right one for your room.
If you have a TV on the wall above your fireplace, you need to be extra careful when choosing a color for your accent wall, so what colors should you choose for your accent wall?
Blue
Blue tones are a great way to introduce color into your front room as they are calm, relaxing, and easy to implement.
There are different shades of blue that you can choose for your accent wall that will have an impact but create a luxurious and striking accent wall.
The colors can range from turquoise, blue with gray undertones, dusty blue, ocean blue, or deep blue.
If you already have blue tones in the room, you should try to complement the accent wall with the shades of blue that are already present.
This will tie the room together and create a continuous flow of color.
Black
Black creates a very sleek and modern room when it is used, but it needs to be carefully introduced. Too much black can be overpowering, but accents of black can create a very chic design in a room.
Using the color black for an accent wall is bold, striking, and very stylish.
If your front room is white, adding a black accent wall will be incredibly striking. Combined with different natural textures like brick and wood, your black accent wall will stand out and look very stylish.
Neutral Shades
Neutral shades are very good companion colors, which makes them very complementary to use as accent walls to highlight the fireplace.
If the walls in your living room are already painted a neutral color and you do not want such a striking contrast for your accent wall, using another neutral shade will differentiate the accent wall whilst keeping with the tones.
If your living room walls are painted white and you do not want such a dramatic contrast, you can try using beige or gray for your accent wall.
If there are already warmer tones present in your front room, beige should be used for the accent wall, but if the tones in your room are cooler, gray will be a better choice.
Red
Although it seems like a bold choice, using red for your accent wall is very striking and introduces bold colors into your room.
If you are worried that red will look too bold in your front room, different shades can be very complementary to your home when they are used correctly.
Brick red, burgundy, red wine, terracotta, and saffron are all good choices to use for your accent wall, but you need to pair them with the tones that are already in your room.
If the wall is too bright, it will take center stage in the room and other features, like your fireplace, will not be showcased. It is important to choose the right shade to complement your room. 
If you are looking for more this article will show you some fireplace accent wall ideas that you can implement in your basement to enhance your fireplace and make it look creative and unique.
Final Thoughts
To conclude, you can highlight your fireplace accent wall in lots of different ways, but it is important to choose the right texture, material, and shade for the accent wall.
If you choose the wrong ones for your accent wall, the room could look disconnected, so it is important to find a good balance between a striking fireplace accent wall and one that works in the room.
Make sure that the fireplace accent wall does not overshadow the fireplace in your front room, which is a risk if your accent wall is too striking.
Your fireplace should be the focal point and the accent wall should highlight it, not draw attention away from it.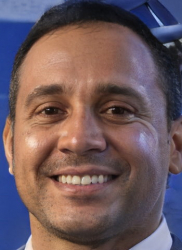 Latest posts by Stevie Morris
(see all)