An unused fireplace can often feel like a burden. They can take up a lot of space and may not quite match the decor that you prefer.
If you are struggling to incorporate your unused fireplace into your room in a functional and stylish way, we are here to help.
Rather than looking at your unused fireplace as a burden, we recommend viewing it as a totally blank canvas! An unused fireplace is an opportunity to let your creativity run wild.
For inspiration, check out our favorite ways to decorate an unused fireplace below.
Add A Freestanding Electric Fireplace
First of all, why not make your unused fireplace somewhat functional again? If you feel as though the room could use a bit of warmth, we recommend using the space for a freestanding electric fireplace.
If you are skeptical about whether an electric fireplace will suit your decor – don't be!
There are many different styles of electric fireplaces out there. If you want to keep the feel of the room rustic, you should consider getting a freestanding stove-style fireplace.
Use It For Plants
Using plants for decor is all the rage these days. However, it can be tricky to find space for them that is practical and looks great.
But, if you have an unused fireplace, you already have the perfect spot!
Fill the fireplace and/or the mantlepiece with gorgeous greenery.
Remember to consider how much sunlight your plants will need – if you place your plants in the fireplace, it's likely that their contact with direct light will be limited, so pick an appropriate variety!
Make It Look Functional
Real fireplaces can be a hazard to run. But, there is no denying that they do look wonderfully rustic.
If a real, wood-burning fireplace matches your style and decor, you could always choose to decorate your unused fireplace with wooden logs.
This way, you'll still have the rustic and cozy look of a working fireplace, without all of the annoying mess.
We recommend choosing a light type of wood such as birch and arranging the logs on top of a dog crate. This way, your fireplace will be a focal point.
Use It For Seasonal Decor
If you're a fan of decorating your house for the seasons, you could treat your unused fireplace as a perfect blank canvas!
During the Christmas season, you can use it to hang stockings and house your favorite festive decorations.
However, this idea isn't only limited to the Christmas season. In the autumn, a fireplace is a perfect spot to store pumpkins of different varieties and colors.
In the spring, it's an ideal place to put bright yellow flowers and hide Easter treats. The opportunities are endless!
Paint It
Whether you want your fireplace to stand out and be a focal point in the room, or you want it to blend seamlessly with your other decor, painting it is always an option.
You just need to make sure that you purchase the right paint for the material of your fireplace.
If you want a super minimalist and elegant look, we recommend painting your fireplace white or off-white.
Whereas, if you want a super bold and chic look, you could choose a bold dark color, like blue or black. Regardless, it is very important that your fireplace is painted well.
Use It For Storage
If your fireplace is somewhat deep-set, it can often feel like it's taking up a huge amount of space in your room.
This can be very frustrating, particularly if you have a small house or one that lacks storage space.
If this is the case, we recommend using your unused fireplace as a space to store your belongings. For instance, stacking books in a fireplace looks especially cozy.
Or, you can keep a basket in there that is filled with blankets.
Add Some Interest With Tiles
Whether you are using your fireplace or not, it will always be the focal point of your room.
So, rather than trying to disguise it unsuccessfully, why not embrace it by making it stand out even more?
You can do this by using tiles. Specifically, we recommend purchasing some high-quality and unique tiles to lay around the fireplace.
However, it is important that you choose the tile carefully, as they could either bring the whole room together or make it seem discorded.
Make Your Mantle The Focal Point
If you like the idea of making your fireplace stand out somewhat, but unique tiles are a little bit too much for you or your space, we recommend incorporating a large and bold mantlepiece.
Not only is a large mantelpiece an excellent design feature, but they are also incredibly practical!
You can use it to display a few of your favorite items or plants. For the best results, ensure that your mantlepiece is the focal point – rather than the fireplace itself.
Use It For Displaying Art
Whilst you could choose to hang your art on the walls, placing your favorite pieces around your fireplace and on your mantle is a great way to add interest and create a more modern, carefree appearance.
Whether your unused fireplace is modern or rustic, leaning framed paintings, drawings, or prints in and around your fireplace will really give your room a chic edge.
Any guest is likely to comment on it!
Use The Space In Front Of It
It can often feel like an unused fireplace is taking up a huge amount of space in a room.
However, this is sometimes because people have a habit of leaving the space in front of fireplaces empty (see also ' 20 Empty Fireplace Ideas To Inspire You ').
This is totally unnecessary if your fireplace is unused. Whilst you don't want to overcrowd the area, you can place some extra seating in this space.
We recommend purchasing interesting stools to place in front of your fireplace to increase the functionality of the room.
Conclusion
An unused fireplace can often feel like a burden. But, with a bit of creativity, an unused fireplace can actually make a room more appealing and functional!
We hope that these ideas have inspired you to make the most of your unused fireplace.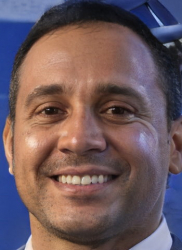 Latest posts by Stevie Morris
(see all)