Does your living room feature a fireplace? Some people view a fireplace as an interior design advantage, while others simply adore how comfortable, inviting, and peaceful it makes their living room.
Whether it is a modern or vintage fireplace, one certainly provides architectural charm to your house. You can have a fireplace that occupies the entire wall but has empty areas on each side.
There will be some areas with a similar size on both sides and some with varying sizes.
When it relates to arranging a living room, people are curious about what should be on each side of the fireplace.
Fortunately for you, we have a tonne of ideas collected here and ready to inspire you.
You can be trying to modify what is currently adjacent to your fireplace or developing a fresh look.
Whatever the reason, you may find something to go with your present color scheme, design, and style.
What Should You Put On Either Side Of A Fireplace?
If you want to efficiently design and utilize the area next to your fireplace, you could turn it into a study nook by placing a small table on one side as well as a bookcase to house your study supplies on the other.
You can also include a seating area with a cozy chair, a console table for your beverage, and a throw mat to keep your toes warm. Keep it straightforward by hanging complementary mirrors or pieces of art on either side.
Utilizing Eclectic Design
Consider your fireplace's design as a whole. It has to do with the accents you can put atop your mantle, what you place in front of the fireplace, and if you really are using the fireplace or just use it for decoration.
The hearth also includes a lot of decorative objects.
If a fireplace is made of stone, you may consider incorporating some unusual materials and textures to assist create a seamless and well-balanced appearance.
Use foliage in layers, such as next to the fireplace or above the mantel, and then add textures with a garland of greenery, a rug, or a straightforward hanging textile accent.
This will provide you with a point of focus that is unique yet still warm and comfortable.
You can position candles inside your hearth in various heights and places if your stone fireplace isn't being used. Candles create a cozy atmosphere and go well with greenery.
How To Surround Your Fireplace With Mirrors
Getting identical floor mirrors and placing them in the empty spaces along either of the fireplace's sides is a great way to make your fireplace look even better.
These will aid in framing your fireplace because they provide height to the eye.
You will have a sense of how vast the room is from this angle.For brickwork fireplaces and perhaps even white ones, symmetrical mirrors are ideal because they highlight the reflective surfaces, provide visual harmony, and have a more formal appearance.
If you're at a loss for what to put on either side of your fireplace, mirrors are a fantastic option. Mirrors are a good choice because they may be modern or even classic and go well with both tiny and large fireplaces, provided you have two identical ones.
Employing Built-ins
If your fireplace has built-ins on either side of it, you should adorn them with functional and ornamental elements that complement the style and design of the space as a whole.
To help draw the eye from a distance, you can think of using handwoven art, candlesticks, vases, lights, candles, and greenery.
Bold decorations and artwork are perfect for either of the fireplace's sides since they simultaneously offer color, depth, and texture without detracting from your fire and mantle.
For those who want a color scheme that unifies the furnishings and accents, this is a terrific option to decorate a fireplace.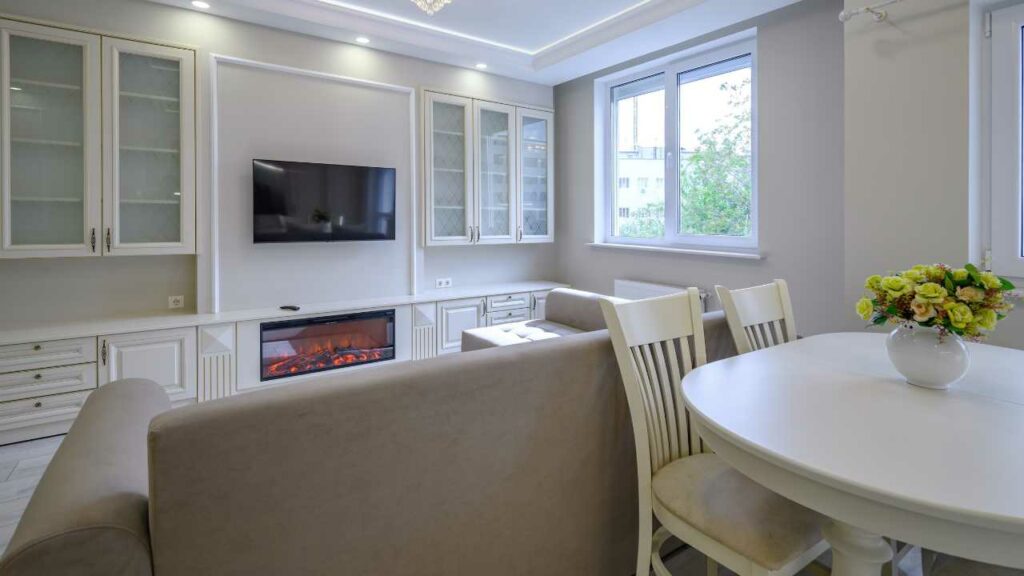 Decorating Fireplace Sides Asymmetrically
If the rooms on the sides of your fireplace are not all the same size and you want to take a stylish approach, then you need to harmonize the décor.
On one end of your fireplace, install a big mirror or even a tall plant, and on the opposite side, position a TV stand to create contrast.
You may even put out an armchair that is facing the fire in a favorable position. This will make it possible to create a layout that seems more natural and harmonious while yet looking cool and collected.
If you have a contemporary fireplace, you can arrange each item of furniture and home decor in an asymmetrical configuration.
Instead of having the conventional plain matching look on either side of the fireplace, this will offer your lounge room a more well planned and tasteful appearance.
Allow Space For Seating By The Fire
Your fireplace will look more elegant and ageless with chairs added. It appears to be among the oldest fireplace decoration ideas even today. To create a cozy fireside for two, position a chair on each side of the fireplace, with a good table or rug in front.
This provides attractive, comfortable seating that is near to the fireplace. Just be careful not to set the rug or table too near the fire so as to pose a risk. This works effectively in settings
where there isn't much area for seats other than on each end of the fireplace and up front.
Balance Your Fireplace's Sides With Bookcases
Freestanding bookshelves are fashionable and provide either side of your fireplace balance, height, and depth. When properly arranged, towering bookshelves might resemble upscale built-ins.
With whitewashed brick fireplaces and wooden bookcases, you may add contemporary to your home without going overboard.
You should exercise caution when decorating. Nothing retro or otherwise out of character with your living room's style and decor should be added here.
Contemporary tall plants placed close to the fireplace and contemporary art hung on the shelves are also necessary to counteract this.
Avoid utilizing an excessive amount of baskets, ornaments, and trinkets. Family-friendly bookcases that are next to a fireplace are ideal for households that are trying to appeal more to children.
Final Thoughts
With the empty areas on each side of your fireplace, there are countless choices for what you can create.
Before you determine if the designs and styles on each end of your fireplace should be identical or completely different, you may need to experiment with various designs and styles.
Anything flammable should not be placed too close to a wood fire. You are quite safe if the fire is contained inside a cement or brick mantle so make sure to do this.
Avoid keeping items like clothing racks near the fireplace since they could catch fire rapidly.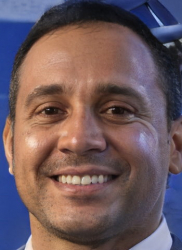 Latest posts by Stevie Morris
(see all)