Have a fireplace that is outdated and boring? Looking to remodel but simply can't afford an entire makeover? Luckily, there are a few simple upgrades that can make your fireplace look brand new.
More often than not, your fireplace is the center of attention in a room. As such, it helps to establish the whole atmosphere of your space.
If your fireplace is dull it will radiate negative energy, however, if it is bright and clean it will create an inviting space.
With this in mind, if you're ready to kick the ash from your fireplace, then you're in the right place.
In this guide, we'll explore some of the best fireplace upgrade options available – your fireplace will be looking spectacular in no time.
1. Start With A Thorough Clean
This is one of the simplest upgrade methods, yet you'll be surprised at how effective it actually is.
Here, all you need is some polish and a scrub brush and you'll notice the results on your hearth instantly.
If you're cleaning brass details, simply combine half a lemon with some table salt to create a paste, then rub it onto your desired areas.
Once you have removed all the initial grime, use a damp cloth to remove any residue and buff until it's sparkling. .
For those cast iron surrounds that may contain bits of rust or markings, take some fine wire wool and metal polish to attempt to remove these imperfections.
2. Embrace The Classic Materials
If your new home has a lot of classical features, including a traditional fireplace, instead of ripping it out, there are various ways you can make it up to date to match your modern home.
For instance, one way could be to add a simple panel above the mantel. Here, the chimney breast becomes the focal point in the room.
3. Give Your Fireplace A Lick Of Paint
Traditional fireplaces can feature spectacular engravings or traits, however, over time they tend to become dated or even begin chipping away – creating a somewhat underwhelming feeling.
That said, you can keep all the classic elements alive by simply giving your fireplace a new lease of life thanks to a lick of fresh paint.
This is among the easiest methods you can use to upgrade your fireplace, plus, it allows you to be creative, too.
The insert – To achieve decent coverage here, you'll need a foam brush and some high-heat-resistant enamel paint. Before you add any paint, make sure to do a patch test to see how the paint takes to the particular surface – since not all materials like to be painted.

Wooden surrounds – These areas are super simple to makeover, however, just remember to strip and sand away any paint before cleaning and applying primer to the area. Here, all you should need is two coats of your desired paint to achieve your goals. If you choose to use semi-gloss acrylic paint, simply make sure it completely dries before adding another coat. Once done, you could even consider painting the ridges or adding some extra details in another color.

Transform tired tiles – When it comes to retiling an area, there is a lot of hassle involved. However, to avoid all this, why not simply paint over them? For instance, you can choose to paint your beige tiles white to instantly transform your fireplace into something brand new. Here, just remember to use painter's tape to create clean ages, and to apply three coats of primer before painting, too.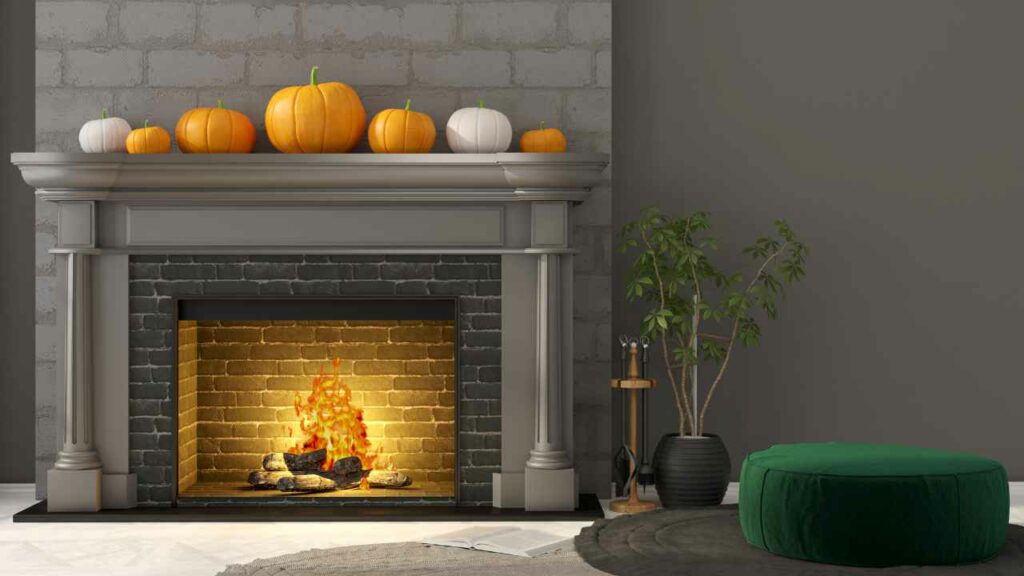 4. Keep your Tiles In Style
Tiling a fireplace is one of the best ways to bring out your own personal touches to an area – completely tailoring it to your taste. If you prefer bright colors, then you can go crazy here.
Although, if you prefer cool prints, then there are tons of chic options available, too.
Conversely, you may be looking to keep things simple – which is perfectly fine, too – which can be achieved by sticking to a monochrome palette for a chic look.
Here, you could opt for encaustic cement tiles. These are ideal since they do most of the work for you.
As they are larger than typical tiles, you can get the job done in no time. The result is a modern, clean-looking fireplace.
Plus, don't forget that tiling doesn't have to stick to the surrounding areas, either. If you're looking to go one step further, why not consider tiling to hearth instead? While it may not be the quickest DIY, it will certainly make an impression.
5. Whitewash It
White attracts light, making a space seem bigger and brighter. Therefore, if you've got a brick fireplace, one way to brighten it up would be to add some white paint to the area.
Oftentimes, dull bricks can be extremely difficult to makeover. Plus, simply adding bright colors to the area can make it seem brash, too.
However, a simple wash of white paint can make all the difference. Here, it is adding a new lease of life to your bricks, while making them appear wonderfully rustic at the same time.
The best part? It is super cheap to achieve, too. All you have to do is pour equal amounts of water and white latex into a container and mix well.
Then, simply spray your clean bricks with water – ensuring you aren't leaving any drips – and then take a rag to apply the paint. For those hard-to-reach areas, you can go back in with a dry brush.
Just remember that you may need to add another coat depending on your desired coverage. Who needs a professional decorator when you can do it yourself?!
6. Update The Mantelpiece
A mantelpiece has the ability to make or break a surrounding area. Essentially, it can act as an architectural anchor for the whole room.
Whether you prefer something simple like a wood frame, something grand with ornate patterns and carved feet, or even a classic, sleek silver number, then these are the perfect accessory to add character to your fireplace.
Plus, you'll often find them having a shelf attached, too. Here, you can play around decorating the area by incorporating candlesticks or even picture frames.
Second-hand websites, including eBay, are great for finding some gorgeous, one-of-a-kind mantelpieces. Just remember to check your measurement and you're sure to find something!
7. Add A Floating Beam
If you're looking to create a rustic, country farmhouse aesthetic, then have you ever considered adding a floating beam into the mix? These are ideal for fireplaces that feature a hearth but without the surround. Plus, they are extremely simple to fit, too.
Believe it or not, beams are surprisingly simple to find.
Whether you're checking out your local salvage shop, wood shops, eBay, or even browsing the web for your perfect beam, there are many different styles, colors, and options to choose from.
When it comes to installing the beam, this is a fairly straightforward process, too. All you need is an angle grinder, a level, lag bolts, a drill, and vent sleeves.
There are many guides and step-by-step YouTube videos explaining the entire process of installing your beam.
However, one key thing to remember is that you mark the height correctly and drill every 16 inches to ensure effective support.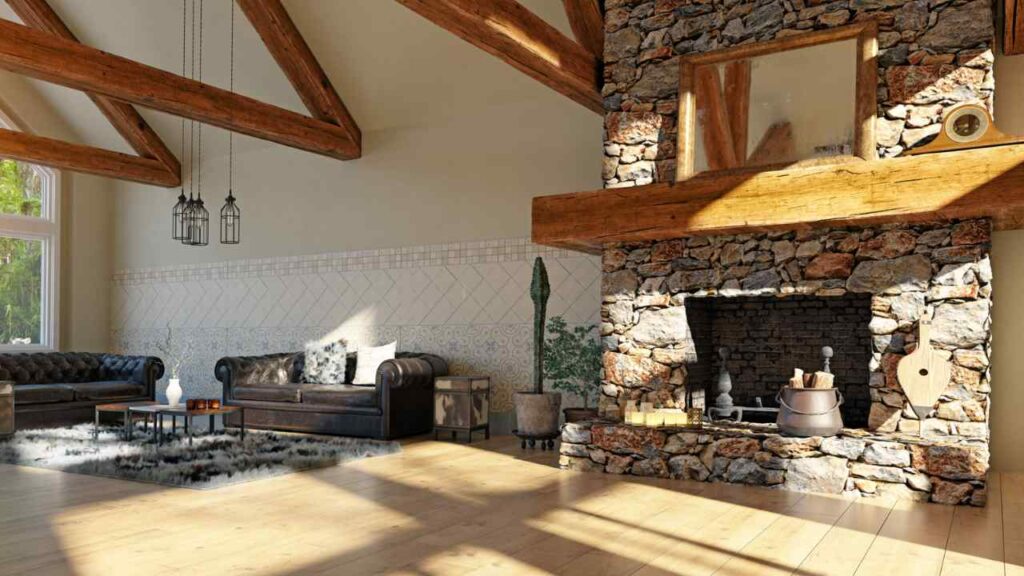 8. Dress Your Mantelpiece
One way to upgrade your fireplace – that never goes wrong – is by decorating it! If DIY is simply not your thing, then this is the upgrade option for you.
Whether you adorn the above wall with art or add a huge mirror to the mantle – there are tons of ways to spruce up the area.
9. Adopt A Faux Fire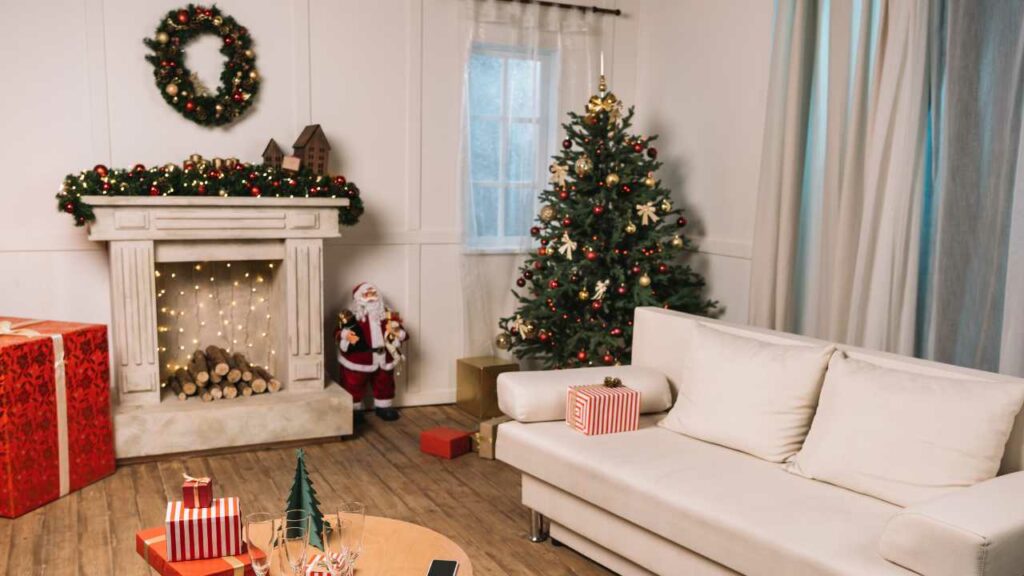 If your fireplace doesn't contain a fire or log burner, this doesn't mean you have to leave the space empty – you can still enjoy your fireplace with its intended purpose!
There are many ways you can upgrade this empty space. For instance, try surrounding the area with string lights or even placing a lantern inside. Moreover, adding various-sized pillars also helps to create a firelight aspect you've been missing.
Additionally, you can try adding accessories such as a pile of chopped wood to the space or even a basket of pinecones – going as full out or as minimal as you desire.
Plus, you can even change the decor depending on the season! For instance, add a small Christmas tree for the holidays, and so on.
Final Thoughts…
Most of the time, the fireplace is the main focal point of a room – therefore, you can use it to attract and welcome your friends and guests, rather than turn them away.
However, this doesn't mean you have to replace your whole fireplace. Instead, opt for an upgrade. With the help of this guide, your fireplace is sure to be looking brand new in no time.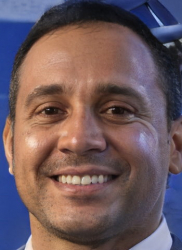 Latest posts by Stevie Morris
(see all)