Have you found yourself struggling to clean your fireplace glass? Maybe no matter what you do you can't get the glass to shine and sparkle like it did when it was new?
Or have you just had new glass installed in your fireplace and want to keep it as clean as possible? Whatever your reason might be, we have the answer for you!
We know how tricky it can be to clean your fireplace glass. If you don't do it regularly you can quickly find yourself overwhelmed, with filthy glass covered in soot, dust, and grime that can take hours and lots of elbow grease to clean.
You find yourself wondering if there is an easier way to do this, but no matter what you do, the answers seem out of reach.
Well, no more! Today we are here to tell you how to clean fireplace glass. Just keep reading to find out how you can clean your fireplace glass.
We will be walking you through our favorite method today.
How To Clean Fireplace Glass
Let's get straight into it! How you clean your fireplace glass first depends on the type of fire in your fireplace.
Whether it is a gas fire, electric, or wood-burning fire, each fireplace will need to be cleaned differently to ensure that you are using safe products.
Now, don't panic, we have a method for each type of fireplace coming up below!
With all of these methods, you will want the fire to be off or put out, and the fireplace completely cool.
The last thing you want to do is burn yourself on the glass! Make sure that any children or pets are in a separate room too, just in case any embers fly out. You don't want anyone to get hurt!
To find out how to clean both the inside and outside of the glass on your fireplace, simply find your type of fireplace below!
How To Clean Wood/Coal Burning Fireplace Glass
To clean a wood or coal-burning fireplace you will want the fire to have extinguished and for the fireplace to have cooled entirely.
Then you can remove the glass doors from the fireplace and lay them flat on a drop cloth or rag.
This ensures that your cleaning area stays clean as soot and ash can be messy! If you can, clean your fireplace glass outside or in your garage.
Once you have removed the glass, take a newspaper or paper towel and some ash.
Dampen your towel or newspaper and dip it in leftover ashes. In a circular motion, wipe the glass. This will loosen any soot. Repeat this until all the soot has lifted.
Dispose of the towel or newspaper before continuing to clean the glass. You can do this with a glass cleaner and paper towel.
Simply spray the cleaner and use the towel to buff it out in circular motions for a streak-free finish! You can purchase specific fireplace glass cleaners, or simply use the glass cleaner you have in your home if you prefer.
Alternatively, you could make a cleaning solution. Take 1 cup of vinegar and mix it with 3 cups of warm water and a tablespoon of ammonia and add it to a spray bottle.
Spray your mix onto the fireplace glass and leave it to sit for 30 seconds. You can then take a cotton cloth and scrub in circular motions until the soot loosens.
You will want to repeat this 2 or 3 times until your glass is clean! We do recommend using a different cloth each time to avoid smearing more soot onto the glass.
How To Clean Gas Fireplace Glass
When it comes to your gas fireplace, you need to be careful with the products you use on the glass. Before we dive into how to clean it, we strongly recommend that you avoid using any abrasive cleaners or an ammonia-based cleaner.
If you are ever unsure, you can contact a professional who will safely clean your gas fireplace and its glass for you.
But, if you want to do it yourself, keep reading! Start by turning off your fireplace, including the pilot light.
If you can, remove the glass and place it on a towel, drop cloth, or carpet. You will want a soft surface for the glass to prevent any damage.
Once removed, take a cream cleaner and apply two tablespoons directly to the glass.
You can purchase specific cleaners for gas fireplaces, which we recommend doing so that you know they are safe to use.
Take a soft cloth to spread the cleaner around, we suggest opting for cotton cloth. Leave the cleaner until it is dry.
This can take around fifteen minutes. Next, take a clean and soft cloth to buff the cleaner off.
You will want to use circular motions for this to get a streak-free finish.
Once done, you can repeat this on the outside of the glass too. We suggest buffing it with opposite strokes though.
That way if there are any areas where the cleaner isn't buffed out, you can quickly tell what sides they are on!
How To Clean Electric Fireplace Glass
As there is no fire in an electric fireplace, the glass tends to be easy to clean! You might notice some dust or debris, but other than that, it should be a straightforward job for you!
Simply take a damp cloth and wipe it over the glass to remove any dust and enjoy a streak-free shine! If there are any marks or dust on the inside of the fireplace, you can remove the glass to clean the inside too. Just make sure the fireplace is off when you do this!
Final Thoughts
And there you have it, all the ways to clean your fireplace glass. No matter the type of fireplace that you have, you are sure to find the best cleaning method for your fireplace today!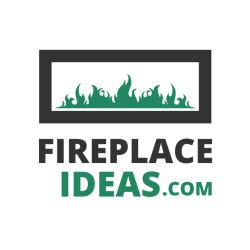 Latest posts by Stevie Morris
(see all)