Fireplaces are very popular design features in homes as they are warm and comforting, but finding the right design can be very difficult.
Deciding what material you want your fireplace to be made out of means that it needs to fit into your room, but stone fireplaces have been a favorite for years. 
Stone fireplaces are incredibly popular as they are classic and traditional, but there are lots of different stone fireplace designs that you can choose from.
Making sure that you choose the right stone fireplace for your home is important as you don't want it to look poorly designed, but what stone fireplace is right for your living room?
This article will explain more about different living room stone fireplace ideas (see also our favorite beach house fireplaces) to make sure that you choose the right fireplace for your home.
Find out more about the different designs that you can have below and how they can add style to your home.
Why Are Stone Fireplaces Popular?
Stone fireplaces are popular in living rooms as they are very traditional, so they add a stylish and classic look to your home.
Using stone in your living room introduces natural materials to your home, so you can then bring elements of the outside indoors. 
If you have neutral colors in your living room, having a stone fireplace works very well as it continues with the natural theme. Matching your fireplace to the aesthetic of your home is important as you do not want it to look mismatched.
This will disrupt the flow of your living room and will not create a comfortable atmosphere. 
Living Room Stone Fireplace Ideas
Choosing the right stone fireplace for your home is important as they are all different, despite being made out of the same material.
There are lots of different designs to choose from, so make sure that you are happy with the stone fireplace that you choose for your home. Find more designs below!
Arched Stone Fireplace
Having a fireplace means that you have a striking feature present in your living room that will capture the attention of your guests as soon as they set foot inside.
Creating an arched stone fireplace will capture people's attention and create a beautifully designed fireplace that will introduce classic features in a modern room. 
To achieve this design, you simply need to arch the stones from one side of the hearth to the other, creating an arch.
If you have a square fireplace, you can still have an arched stone fireplace, you can just cover the metal with more of the stone to create the effect of a classic stone archway. 
Cobblestone Fireplace
Cobblestone is a very traditional style of stone fireplace as it creates lots of character in the room.
Using different-sized stones to create a stone fireplace is very creative and it allows the fireplace to be emphasized in the room.
Cobblestone is a classic design, but it needs to fit into the room. 
If your living room is painted neutral colors and there isn't much texture, using cobblestone for the fireplace will enhance it and provide the room with natural tones and textures.
If there is too much texture in the room, it will look mismatched, so making the cobblestone fireplace the main point will bring a beautiful classic style to your living room (see also '13 Modern Boho Living Room Fireplace Ideas'). 
Seated Stone Fireplace
If you are looking to make your stone fireplace as warm and cozy as possible, having seats incorporated into the structure will make your fireplace both unique and comfortable.
You can have stone benches cut into the walls so they are attached to the fireplace, and decorating them with cushions and blankets will add more texture and bring warmth into the room. 
You need to make sure that the benches are not too close to the fireplace as you do not want people to get too hot or burnt.
Situating the benches at a safe distance away from the fireplace will keep people protected from the heat.
If you have children or pets, you will need to monitor them around the benches to ensure that they do not go near the fire or fall off. 
Add Wood
When you are designing your stone fireplace, adding wood to the fireplace in the form of a mantel or shelves will bring more natural materials into the room.
This will create a rustic vibe in your living room, which will work very well if the fireplace is left in its natural color and isn't painted. 
Combining stone and wood creates a warm environment in the room that can then be continued throughout the room with other wooden ornaments.
This will help to connect the stone fireplace to the rest of the room as the wood will allow a continuous flow of materials that will connect the entire room. 
Stone Veneer
Stone veneer is a classic way of bringing more texture into the room as the stones are different textures, drawing lots of attention to the fireplace.
Having a stone veneer fireplace is unique as the stones come in lots of different tones, colors, and textures, so the fireplaces can be individual to your home and fit in well with your room.
Contrast The Stone With Modern Designs
When designing your stone fireplace to look modern, you can contrast the stone with a modern white mantel to give your stone fireplace a fresh look.
Creating too much contrast will make the stone look out of place, but using white will keep the tones neutral and offers a modern design. 
The stone should be kept naturally colored to show the contrast, so avoid painting it white.
Keeping the stone natural will show the contemporary twist that has been applied to the fireplace that will create a unique design for your room.
White will be the most striking contrast color, but you can use other neutrals depending on your color scheme. 
Floor-To-Ceiling Stone Fireplace
Having a floor-to-ceiling stone fireplace is very prominent in the room, which works well when making the fireplace the main feature of the room.
Cultured stone is very easy to use for floor-to-ceiling stone fireplaces as it is light and easy to install, making it the perfect addition to your living room. 
Choose the right stone for your floor-to-ceiling fireplace as this is where all the attention will be, so it needs to look perfect.
Avoid over decorating the floor-to-ceiling stone as this will make it look too busy and there will not be a focal point.
The stone is striking enough, so you will not need to add any more textures or decor to this area as it will be too crowded. 
Why Bring Natural Materials Into A Room?
Stone is a popular material to use for fireplaces, but why is it so important to bring natural materials into a room? There are lots of benefits to using natural materials indoors as they add richness to a room.
Using artificial materials will not have the same effect, whereas using natural materials, like stone, will create layers and texture in the room. 
Layering and adding texture to a room are important for creating balance.
If you do not have balance in a room, the features will look out of place.
Therefore, to achieve depth in the room, layering natural materials will look inviting and fresh for people to relax. 
Despite being completely natural, using natural materials in your living room can add elegance and luxury to the space.
They work well with neutral colors and can provide you with a timeless appearance in your room that works well with both traditional and modern decor. 
Looking After Your Stone Fireplace
Once you have decided on your stone fireplace, you need to make sure that it is looked after correctly.
The main problem that stone fireplaces have are that they become dirty from the smoke and they are exposed to moisture, so they need to be cleaned properly. 
When cleaning the stone fireplace, you need to avoid using flammable liquids as this could cause an explosion.
Be very careful with what you are using on your stone fireplace as you do not want any toxic chemicals to damage the natural stone.
Only use cleaners that are suitable for stone fireplaces and do not bleach the stone as this will change the color and damage it. 
Final Thoughts
To conclude, there are lots of different living room stone fireplace ideas that you can use in your home to create a unique design that complements a variety of textures and colors.
Although stone fireplaces are thought to be traditional, they can also work in modern settings, which makes them very fresh and interesting to add to homes. 
Using natural materials in your home is very beneficial as they add texture and color when bringing the outside indoors, which is modern, elegant, and very stylish.
Without adding texture or color to a room, it can look flat and disconnected, and stone is a great way to add natural elements to your fireplace to help it stand out as the main feature.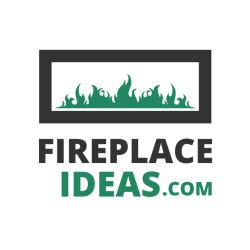 Latest posts by Stevie Morris
(see all)