As anyone with a fireplace will tell you, there's no feeling quite like wrapping yourself up in a soft blanket and placing yourself on a couch near the fire.
However, there are lots of different things that people would like to do in this situation. From sleeping to watching TV or reading a good book, there's no limit to what you can do to relax in front of your fireplace.
However, we know that immersing yourself in a good movie or watching a brilliant TV show is a feeling quite like no other.
Because of this, we think it's a good idea to highlight some different TV fireplace wall unit combinations for you to consider.
This way, you'll be able to picture yourself enjoying some good TV in no time!
Thin Wall-Mounted TV
When it comes to having a subtle piece of tech, choosing an ultra-thin TV for your wall is a great way to go. This TV is versatile and will match the vast majority of walls with regard to color and design.
The thinner the TV, the less color that will be on display, however, the majority of TVs are black and you'll need to keep this in mind, at least!
If you choose a wall-mounted electric fireplace then you can customize the flame size with different settings available with a lot of different units.
This way, you can choose the right atmosphere for the room or even the right sort of color to have with your fire.
With varying heat settings also frequently available, you can choose the right sort of temperature for your room.
Entertainment Center With Fireplace
We always recommend having an entertainment center because of all the different uses they have and the ways they come in handy over the years.
If you're a fan of movies, then having an entertainment center with lots of shelves can be used to store all of your DVDs.
We understand that in a world with Netflix and other streaming services, DVDs are almost redundant. However, many people love to display what they've watched!
On top of this, you can also place some books and plants around the center so that you can have some nice things to look at when the TV isn't on.
One of the best things about an entertainment center is that you can store big speakers and places for remotes so that you have the full experience right in front of you.
Electric Fireplace With Large Frames
When it comes to drawing people's eyes toward the fireplace, having thick frames is definitely the way to go. Picture having a dark gray wall with a fireplace mounted on the side, where you'll need a frame to make the fireplace stand out.
By having a white, or similar, color on the frame, you make sure that the fireplace complements the walls and stands out at the same time!
What the frames are made out of is up to you, but one of the most popular materials that are frequently seen is stainless steel.
This is a perfect material for those looking for something slick and smooth, whilst still being easy to keep clean and maintain.
However, for those with a bigger budget, we definitely recommend considering marble as a perfect way to show off your fireplace.
Small Electric Fireplace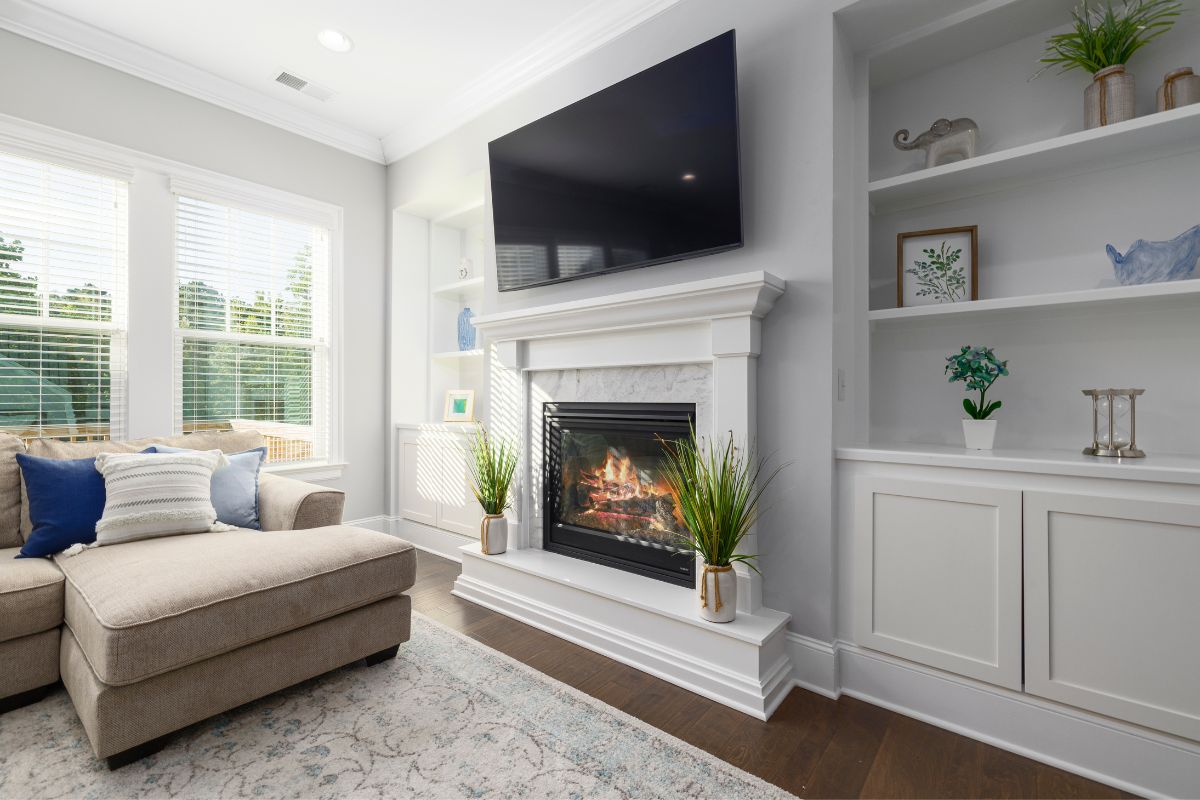 When it comes to size, it's all down to what the person prefers in their home and the type of effect they're hoping to have on the home.
For example, many people will have a large fireplace if they want to fill a big space, whereas, others would have a smaller fireplace if they're looking to utilize the smaller areas of their home.
One design that we particularly like is a cube fireplace. These can fit in a lot of different areas and places, which makes them perfect for being next to a kitchen or being on the side of a living room.
If you like to have the TV as the center of the room, without a fireplace getting in the way, then these are absolutely perfect!
These fireplaces are known to be capable of heating up 500-square-feet of a home and will have the same effect as a larger fireplace, in a much smaller form.
If you have an area where you're not likely to walk past too much, then this bulky but small design can be perfect for your home (prefer an art deco-style? Read here).
Small Round Fireplace
Similar to our last idea, this one works brilliantly for those people who want a fireplace but don't have a lot of room to work with.
Coming in electrical form, these fireplaces can be seen in a lot of different colors and patterns, which makes them ideal for a wide amount of different homes and styles. However, they are also perfect despite their limited shape.
TVs are a great thing to have in a living room, with the majority of film-lovers not wanting to be distracted when watching their movie or show.
Having one of these fireplaces underneath a TV will keep you warm and cozy without taking your eye off the screen when the good bit comes on!
These fireplaces are also perfect for kitchens, where TVs can often be seen on the walls when someone needs a bit of entertainment when cooking or eating their food.
Easy to install, they can be a perfect choice for anyone who needs to add some heat to their humble abode.
Conclusion
That's the end of our guide! The number of different combinations available with TVs and fireplace wall units is endless.
If you can think of a design that you like, then it's likely that someone's already thought of it and tried it out. All you need to do is take a chance and try some of them out for yourself!
We always recommend setting yourself a budget and having a look at different websites before buying one of these features straight away. Hopefully, our guide has given you the tools you need to make your own decisions!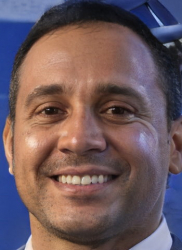 Latest posts by Stevie Morris
(see all)