Have you purchased an electric fireplace insert and don't know where to put it? Maybe you are looking to change up the position of your electric fireplace insert but don't know where to start?
No matter what your question is, we have the answer for you!
There are so many possibilities to explore when it comes to electric fireplace inserts!
Whether you want to place one in a traditional fireplace setting or a unique location to see some flickering flames, there is a location to suit you. But deciding on how to design your home and incorporate an electric fireplace insert (see also 'How To Build A Frame For An Electric Fireplace Insert?') can be tricky.
You can easily find yourself overwhelmed, stressed, and unsure where to turn or who to trust for advice. It can feel lonely and as though your dreams of a newly designed room are out of reach. But no more!
Today, we will walk you through some of the best ideas for an electric fireplace insert. Just keep reading to find out more.
Electric Fireplace Insert Ideas
Let's get straight into why you came here today! We have a complete list of the best ideas for where to put and how to style your electric fireplace insert. Before making any changes to your home or adding your insert, be sure to check the measurements carefully.
The last thing you want to do is find out that the insert doesn't fit the desired space!
Once you have done your measurements, you can get cracking using one of our ideas before. Let's tackle this now.
Mount The Fireplace Above Your Couch
First, you can mount your electric fireplace insert above your couch! Not only does this make your fireplace a fantastic focal point, but it's a great way to utilize a large and unused wall.
Placing your fireplace like this can also help to create a cozy atmosphere.
Not only will it warm your home, but it will be a fantastic talking point for you and your guests.
Mounting Your Fireplace Like A TV
Commonly, TVs are mounted above the fireplace, but why not mount your fireplace like you would a TV? Doing so can give your living room a classy vibe, especially if you don't already have a TV here.
It also makes the fireplace insert a focal point rather than the TV that we normally see as a\ focal point in people's living rooms. You could mount it at eye level or slightly higher or lower, whatever best suits your living space.
Fireplace Above Kitchen Worktops
Another option is to put an electric fireplace insert above a kitchen worktop. You could do this near a worktop you don't use often, or a breakfast bar. This adds a cozy vibe to your kitchen and is a fantastic way to warm up the colder parts of the kitchen.
You could opt for a small insert here, or a larger one depending on the space that you have. When putting an insert in your kitchen, be sure to keep any combustible objects far away from the fire.
While electric fireplace inserts are less likely to cause a fire, the last thing you want is to melt any objects!
Use A Smaller Insert
Sometimes, less really is more! If you have limited space, or you don't have the budget for a large fireplace, a small insert can look fantastic. These can be mounted to small spaces on walls, or to add a cozy vibe to a smaller room.
You can make these inserts stand out by placing them on walls with contrasting colors. Just think how good a small, black insert would look on a bright white wall! You can make them more of a focal point by adding tiles or paneling around the insert.
Just be sure to check the dimensions of the fireplace insert before you install it.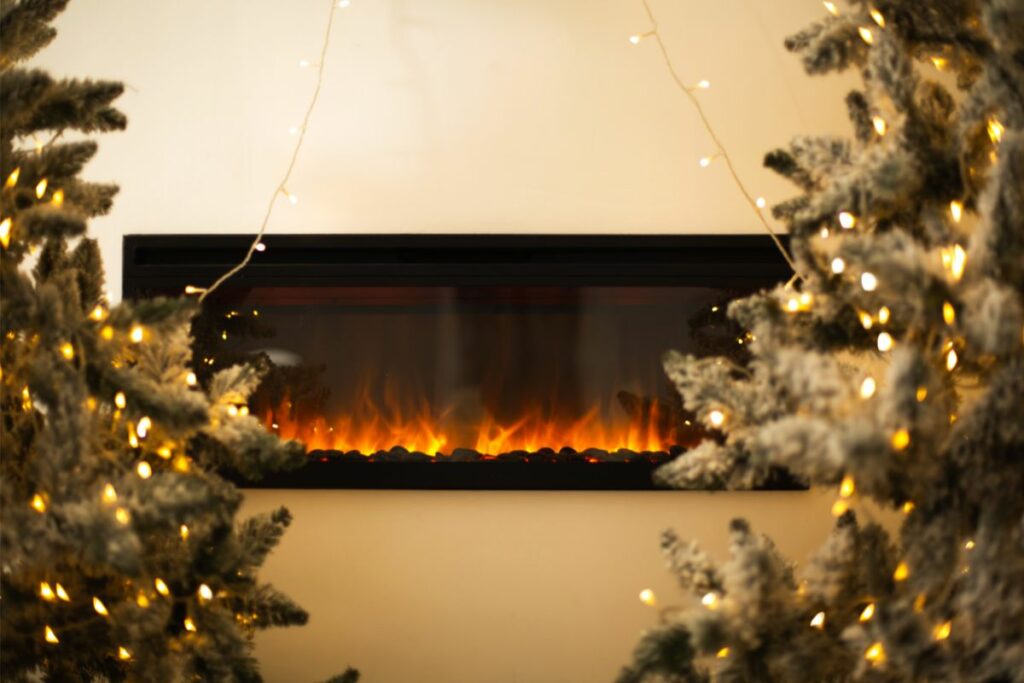 Install It In Shelves
If you have a small electric fireplace insert, you can opt for installing it into storage or shelving. Doing so can transform any shelving units you have and create a wonderful focal point.
These fireplace inserts in shelving look fantastic in dens, living rooms, and even studies.
Imagine how wonderful it will be to spend your evenings working in your study with some flames flickering in the background? It's giving us cozy vibes just thinking about it!
Mount Your TV Above It
Of course, we could not write this list without mentioning the classic option when it comes to electric fireplace inserts! Why not place it in a fireplace setting and mount your TV above the fireplace?
Not only will it allow you to enjoy its warmth while you relax and watch your favorite movies and shows, but it makes a fantastic focal point in your home! Just make sure that you position your TV the correct distance from the fireplace and find a solution for any cables.
Don't worry, we have plenty of articles about this on our site, so be sure to check them out!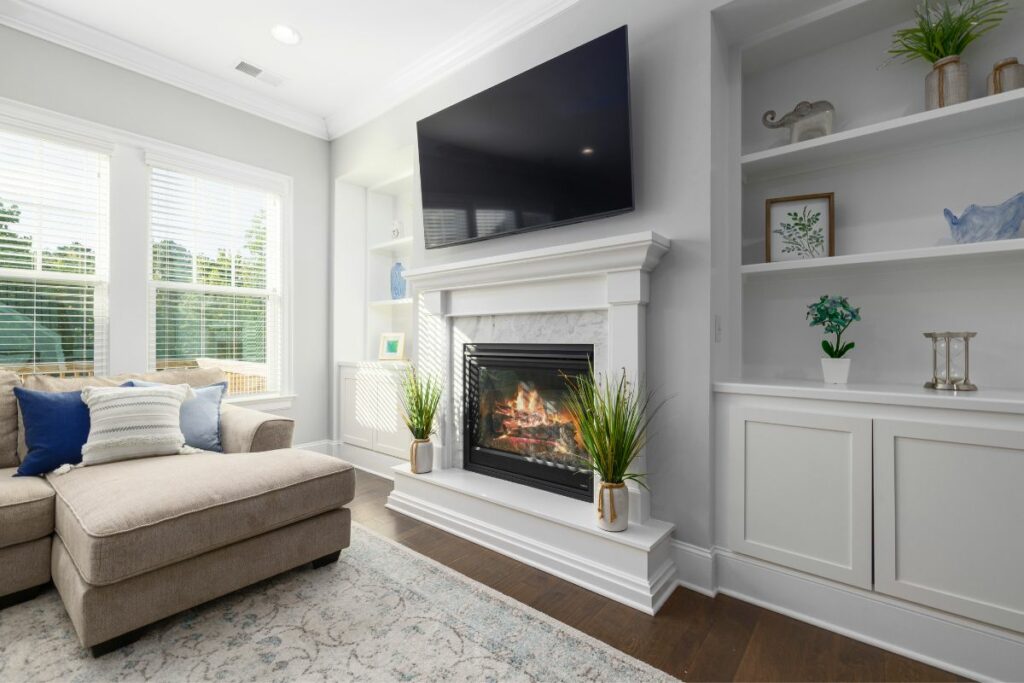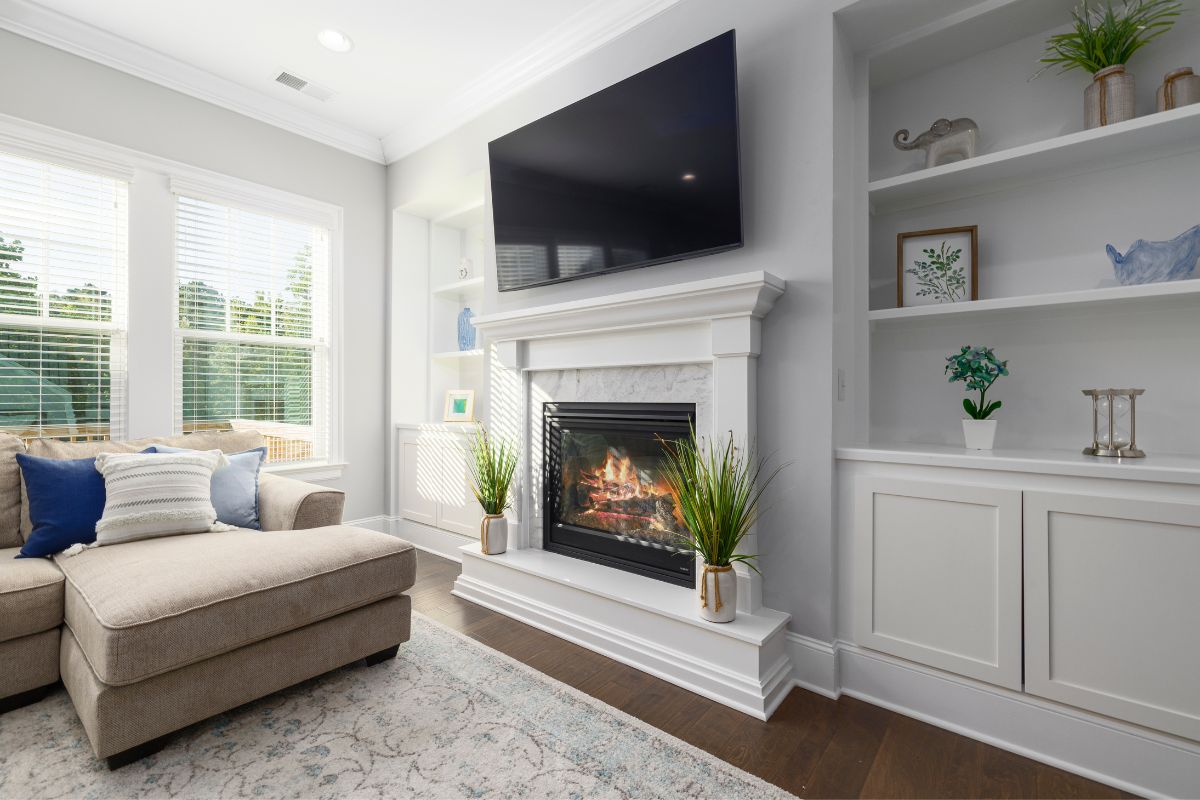 Mount It Above Or Beside Your Bed 
To finish, we have a rather unique idea we think you will love. You can mount an electric fireplace insert above your bed! This will enhance your bedroom, and give it a cozy vibe! And as it will be above your bed it will be easy for you to control while you lie there and relax!
Imagine looking up and seeing the flickering flames while you get cozy under a warm blanket!
You could also mount the fireplace on the opposite wall so you could enjoy the view while you like in bed. The possibilities are endless here!
Final Thoughts
And there you have it, all the fantastic design ideas you could use for your electric fireplace insert. No matter the shape and size of your room, we are sure you can find the best location for your electric fireplace insert (see also 'What Is A Fireplace Insert?')!
Just be sure to measure the space beforehand and you are good to go!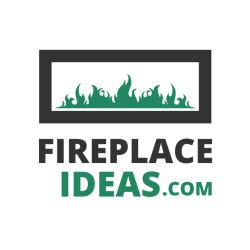 Latest posts by Stevie Morris
(see all)