Have you purchased a new fireplace insert but don't know how to install it? Maybe you are considering upgrading your fireplace insert but aren't sure what the right way to install it is? No matter what your reason might be, we have the answer for you!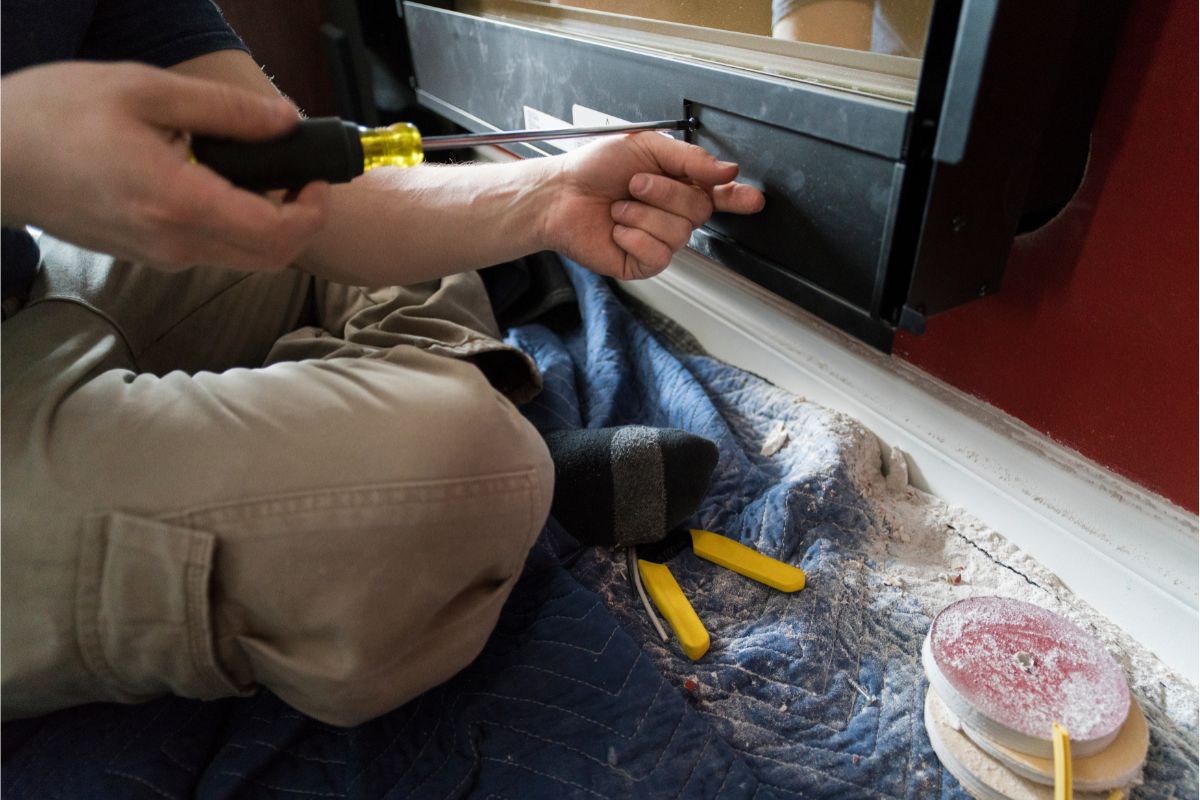 We know how tricky it can be to install your electric fireplace insert. Sometimes the instruction manuals they come with are too vague or unhelpful and you can quickly find yourself in a pickle. You search and search online, but you just can't seem to find the answers you need.
Well, no more! Today we are here to give you the answers that you need. Just keep reading to find out how to install an electric fireplace insert today!
Can I Install An Electric Fireplace Insert Myself?
Now you might be wondering if you can install the fireplace yourself or if it is too tricky a job for one person to take on alone.
Well, for those of you with some basic carpentry skills under your belt, this shouldn't be too difficult!
You will be able to install an electric fireplace insert into your existing fireplace providing there is already an electrical outlet inside your fireplace.
If there isn't and you aren't the best at DIY, it is best to contact an electrician. They will be able to install a power outlet inside your fireplace and install the insert if you are having issues.
We recommend having an electrician install the power outlet no matter your experience to ensure your safety at all times.
But for those that want to try and install the insert yourselves, keep reading as we have a step-by-step guide below for you!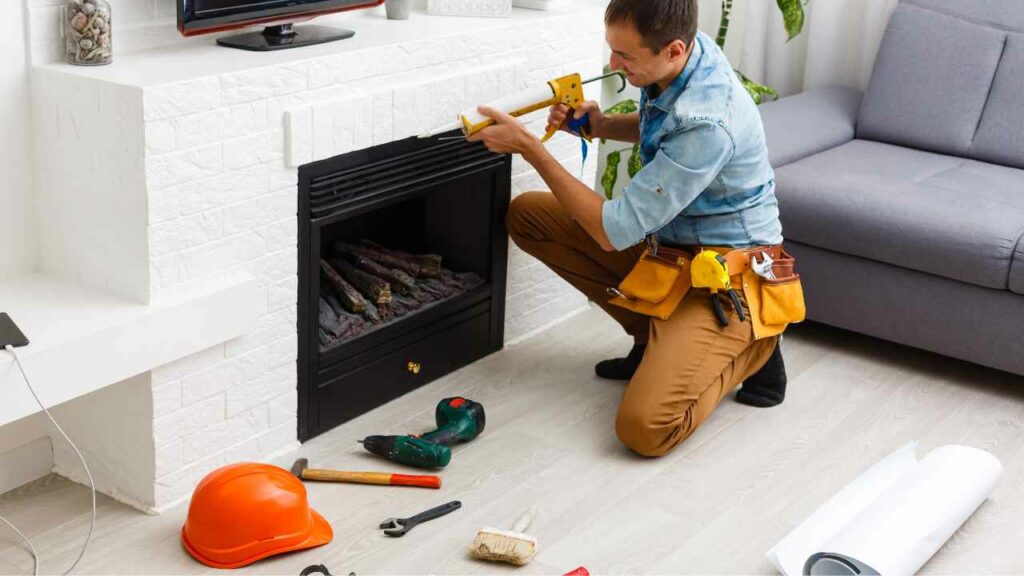 How To Install An Electric Fireplace Insert
Let's get straight into it! You can install an electric fireplace (see also 'Dimplex Electric Fireplace Review') by inserting yourself using our five steps below! We do recommend using any user manual that comes with the insert too, as sometimes these are packed with useful information and helpful tips for you to follow.
They can also have specific instructions for the make and model of your fireplace insert. But to see a general guide, keep reading!
Before You Start
Before you install your fireplace insert, you will want to check the clearance requirements. Below is a list of the minimum requirements, but be sure to check the insert user manual too!
No minimum clearance to the floor
1 inch from the back and sides of the insert to the walls around it
2 inches from the top of the insert frame to the mantel board above it
⅜ inches from the top of the firebox to combustible or non-combustible material
You will also want to plug your insert into a different outlet first and check that it works.
Ensure that it turns on and all the functions work before you install it. This saves you the trouble of having to rip it out later on if you find that it doesn't work!
Once you have done these checks you can start installing your electric fireplace insert!
Cover Your Chimney
To start, we recommend putting a cover plate on your chimney to prevent any water from coming in. You must do this if your chimney doesn't have a rain cap to prevent water from entering and ruining your fireplace!
Close And Seal The Damper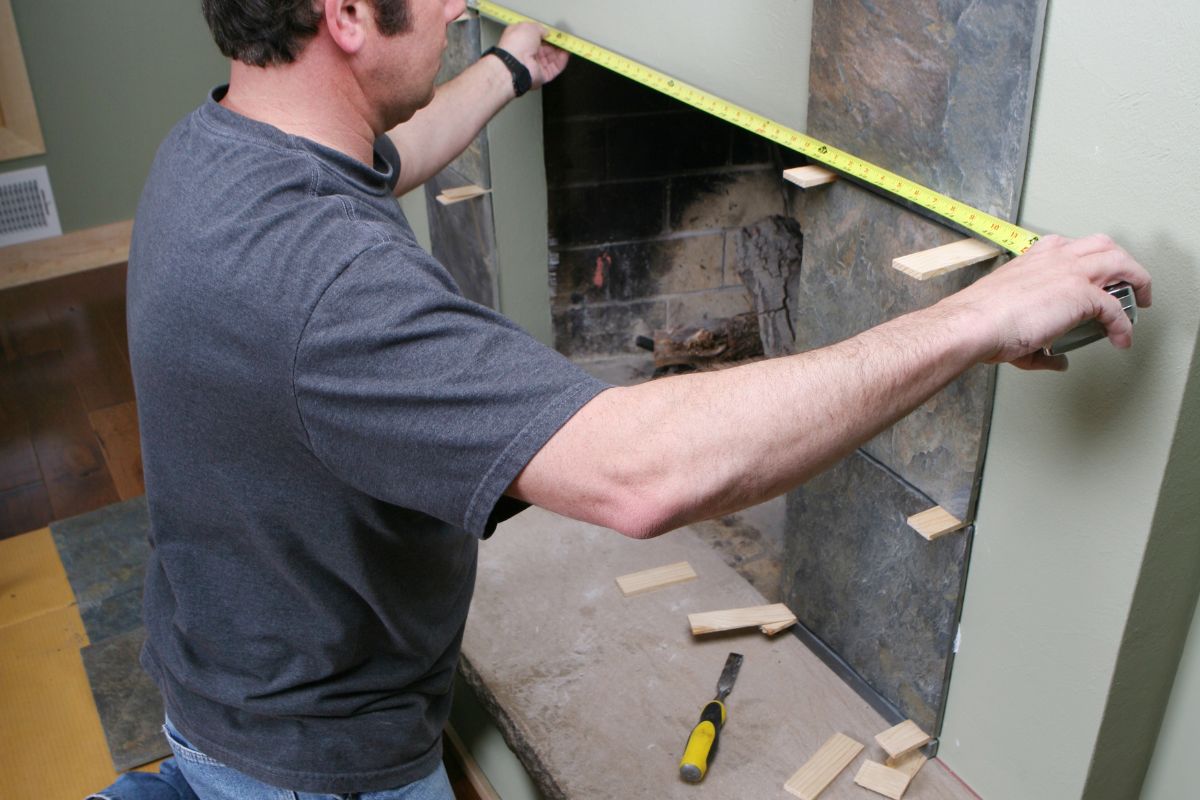 We also recommend that you close and seal the damper of your masonry fireplace. This will help to prevent any heat loss and drafts, you don't want to feel a breeze while you are relaxing in your own home!
Install Power
If you don't already have a power outlet installed in your fireplace, now is the time to put one in! Having an outlet in the fireplace itself means you don't need to worry about hiding any cables or wires, they will all be tucked away neatly in the fireplace.
For this step, it's best to hire an electrician. They can install the outlet for you quickly and safely.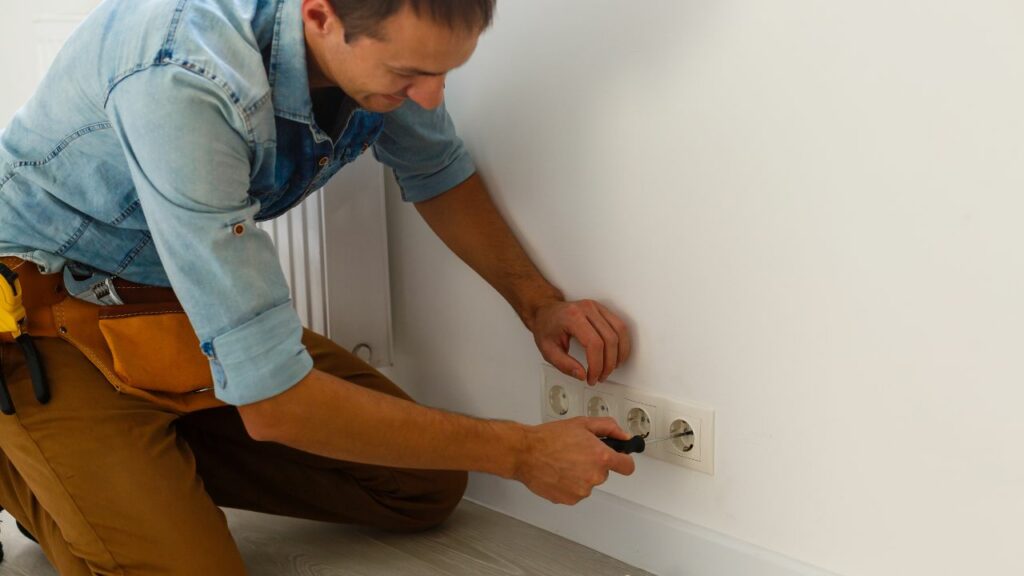 Insert The Firebox
Next, you will take the firebox and slide it inside the opening of the fireplace. Once inside, center the insert before checking that it is level. If it isn't level, you can adjust the leveling screws.
Otherwise, you might have tie-down brackets that need to be attached to the fireplace floor and the back of the insert.
Whether you have leveling screws or brackets will depend on the model you have purchased.
These tie-down brackets or leveling screws will keep the fireplace insert level and prevent it from tipping.
Attach The Frame Or Trim
To finish you will attach the frame or trim that covers any gaps between the insert and the walls of the fireplace opening.
Depending on the insert you choose you might have a metal trim or glass frame. Alternatively, you can make your trim if you prefer.
It's a fantastic option for those with some DIY skills that they want to put to good use, or if you can't find a trim or frame that you like.
Once the frame is in place, you are finished! It doesn't take long at all to install an electric fireplace insert! All that is left to do is turn on your fireplace and enjoy.
Remember when installing the fireplace to follow any instructions that are in its user manual and to check that it is level before you apply the frame or trim. The last thing you want is for your hard work to be undone at the very last step!
Frequently Asked Questions
Can I Install An Electric Insert Fireplace In Any Space?
Most spaces would be appropriate for an electric fireplace insert, but not all! It is important to check those approved by the manufacturers.
For example, may electric fireplaces can not be installed outdoors.
How Long Will It Take To Install An Electric Insert Fireplace?
Not long, between 2-6 hours would be a good estimate. It usually takes much longer in preparing the the site for the installation than the actual instal.
Do I Need To Make any Modifications To The Wall Before Installing An Electric Insert Fireplace?
Possibly. You will need to make sure the wall is structurally sound.
You may need to cut out a hole for the fireplace insert, or increase the size of the current one. Make accurate measurements first.
You will also need to consider a power source. You don't want wires hanging down to a socket. It's best to conceal everything.
Always best to check the manufacturers requirements. These can vary.
Final Thoughts
And there you have it, how to install an electric fireplace insert in five easy steps! It's a lot easier than you thought it would be, isn't it? When it comes to your fireplace insert (see also ' What Is A Fireplace Insert? '), you can do most of the installation work yourself, just be sure to contact an electrician to install any power outlets you need for you.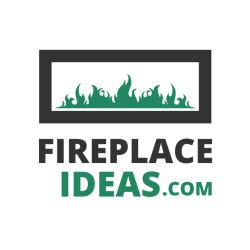 Latest posts by Stevie Morris
(see all)