The fire is a prominent feature in your house and is generally the first thing visitors notice when they enter. The fireplace serves as a focal point, and it can be decorated in a variety of ways.
A corner electric fireplace combines the advantages of an electric fire with the elegance of furniture that can be hidden away in a home's corner.
If you want to integrate an electric fireplace with a storage unit which can also be used as a TV stand, a corner electric fire is a perfect option.
A corner electric fireplace may accommodate televisions on top and serve as an entertainment centre (see also 'Adding An Electric Fireplace In Entertainment Centre') with room for your electrical gadgets.
You'll probably have your TV in the corner of your living room or bedroom, so you'll want to seek a corner electric fire TV stand that will fit perfectly into the corner of your space.
Because not every home has enough space for a huge, open fireplace, the custom corner fire concept comes in handy. They may be nestled into even the tiniest nook and will give off that warm, inviting vibe all year.
There are no two fireplaces similar, thanks to the limitless fireplace design options. You may refresh this corner area with relatively low cost and work, and you can add your unique special touch to this pleasant region of your home.
As a result, we've put together this guide to show you the 10 best corner electric fire ideas as well as outline the factors to consider when purchasing one.
Why Opt For A Corner Electric Fireplace?
Updating your current corner fireplace will give it a more modern look and improve the look of your home. It's all about enhancing the beauty of your home, whether it's traditional country or more contemporary modern.
The sky's the limit when it comes to designing your dream corner fireplace, with options ranging from marble to woods and everything in between. There are no restrictions on the form it can take.
Basics Of Decorating A Corner Fireplace
It's critical to identify the style you want to accomplish before you start building, renovating, or rejuvenating your corner fireplace. Stick with darker hues and add some wood and ornamental moulding to create an old-fashioned fireplace design.
Organic materials such as concrete, slate, glass, or stone will offer your fire a more polished finish for a more modern look. Because it is a corner fireplace, symmetry is also vital in the design.
Pay attention to the doorways, windows, and the room's overall symmetry if you want a coordinated appearance. Furniture may assist creating a sense of balance while also improving the functionality of this section of the house.
Are you ready to have a look at some of the most stylish and exquisite corner fireplace ideas? Here are some of the most inspiring corner fireplace design ideas.
Corner Fireplace Design Ideas
1. Rustic Corner Fire With Wrap-Around Mantel (Do It Yourself)
There are a plethora of creative methods to incorporate a fireplace into every area of the house. A DIY dream project is transforming this once-bare area into a now-cozy fireplace sanctuary.
This one-of-a-kind fireplace is tucked into a corner and seen from 2 sides of the jutting wall, making it visible from all angles. Including the mantel that sweeps around the fireplace from corner to corner, the white brickwork gives it a rustic air.
This custom corner fireplace looks old with a modern twist by leaving the red brick flooring exposed. Wall mounts, lanterns, hanging ornaments, and more may be used to dress up this lovely fireplace.
2. Constructing A Tall Corner Fireplace In The Master Bedroom
Who knew they sold elegant, one-of-a-kind, and cost-effective Custom corner fireplace mantel kits? The design characteristics of this towering DIY corner fireplace are more essential than the literal warmth factor.
The goal of this project is to create an atmosphere in the master bedroom. With so many precautions to take when creating a real wood burning fireplace, a standalone look-alike fireplace may be a better option.
You have a smart and exquisite fireplace imitation with the custom corner fire mantel kit and extra shelving. You can create a gorgeous collage of photos, plants, and seasonal décor all year long by adding open shelving.
3. Vintage Shiplap Built-In Cozy Corner Fireplace (Do It Yourself)
It can be difficult to figure out how to improve the style or even add décor to a corner space of the home with a built-in fireplace. With a little wooden finishing, you can entirely change your once uninteresting and simple corner fire spot into a rustic retreat.
The shiplap backdrop gives texture and warmth to the space, and the addition of a wooden mantle right below the grand curving alcove helps your DIY corner fireplace stand out even more.
For a pleasant, appealing corner space, decorate this with mirrors in the alcove/nook, lanterns, candle lights, frames, or any other personal touches.
4. Corner Wood Burning Stove in Farmhouse Style
All you need is some light to brighten up your dark and antiquated corner fireplace. There are various methods to cheer up a living area, and one of the simplest is to start with white.
By painting the black brickwork around your fireplace white, this corner space is suddenly brightened, and the dullness is virtually eliminated. The white elements contrast with the black of the wood burning stove, making the surrounding area sparkle even more.
A few décor pieces, like white vases, white flowers, and other bright and natural fixtures, would instantly brighten up this corner fireplace design.
5. A Cozy Atmosphere With A Basic Electrical Corner Fireplace
This corner fireplace boasts a programmable thermostat with approximately 1000 square feet of heat coverage, as well as a fluttering flame effect and a screen for added convenience.
The fireplace features a basic yet elegant design that can be installed on either hardwood or carpeted floors and switched on by just plugging it in.
Decorate the top of this handy artificial fireplace with candles, photographs, plants, and more to create a pleasant enclave that can be placed in any room of your home for both design and convenience.
6. Whitewashed Brick Relaxing Corner DIY Fire
In this fireside room reveal, gorgeous is an understatement. The elevated concrete platform provides this custom corner fire the appearance of being front and centre on a stage.
The false brick wall gives the room a rustic, farmhouse vibe, and the old framed portrait gives it an aged, antiqued appearance. The heaped wood beside the woodburning fire is just aesthetic, but it also contributes to the room's comfort.
Because this corner fire is in such a prominent location in the home, you have a lot of design options.
7. Freestanding Corner Fireplace Screen With Two Panels
The primary aim of a fireplace screen is to keep embers from the fire from shooting out into the room. Because these sparks cause the majority of fireplace fires, it's critical to protect your property by installing a fire screen stand.
It also keeps youngsters and dogs from getting too close to the flames. This two-panel freestanding fire screen is made of wrought iron and comes with two feet to keep it in place.
One end can be readily opened to allow firewood to be loaded inside. This screen is created in order to fit your fireplace, so each one is unique.
8. Mantel With Chunky Rustic Pine Beams
This massive rustic mantel, built from pine beams, gives depth and character to your custom corner fireplace. For the mantel finish, choose from chocolate, rustic walnut, smoky wood, aged siding, or barnyard.
The pine beams can be painted and finished with a heat-safe source, making them suitable for use over the fireplace. Mantels are a terrific way to make your fireplace stand out.
A massive pine beam mantle is a great accent to any DIY fireplace, whether your aesthetic is modern, bohemian, rustic, or industrial.
9. Rustic Solid Pine Hand Hewn Fireplace Mantel
This sturdy hand-hewn white pine fireplace is 72 inches in length with an 8-inch depth and is constructed to order. A tinted glossy finish polyurethane that is safe around heat is used to create five different stain possibilities.
For diverse installation purposes, pick from a notched mantel, a normal mantel, or a mantel with 4 straps. The corbels that function as a bracket are not included in this listing but can be bought separately.
Mantels reveal a lot about a room's design style while also displaying the homeowners' interests and personalities. For a creative touch to this pleasant little space, display everything from paintings to flowers to artefacts and memorabilia on your mantel.
10. Barn Wood Fireplace Mantel, Salvaged and Distressed
For the ultimate rustic DIY fireplace, many hand weathered mantel beams feature wonderful wood textures, knots, and rustic effects.
Every beam can be cut and sized by hand, and it will come ready to hang using easy-to-follow instructions.
Choose from a range of lengths to match your corner fireplace perfectly. The beams are additionally painted and stained by hand and have a catalysed water-resistant finish, making them a really one-of-a-kind complement to your fireplace.
Final Thoughts
There are various advantages to installing a corner fire in your home. They're perfect for compact areas, and they come in a range of shapes and materials to suit any decorating taste.
Corner fireplaces provide a focal point for a room and can free up wall space for cabinets, storage, or other fixtures. Corner fireplaces can provide a lot of visual appeal to your room.
The most obvious benefit of any fire is the comfort and warmth it provides to a space. They let you experience the dancing flames and glowing embers irrespective of the size or area of the space they're in.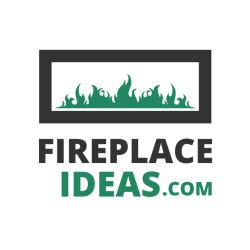 Latest posts by Stevie Morris
(see all)