Putting your TV above the fireplace is a great way to use available wall space and creates a focal point in the room.
But simply mounting your television on the wall sometimes looks boring and doesn't create a dramatic enough effect.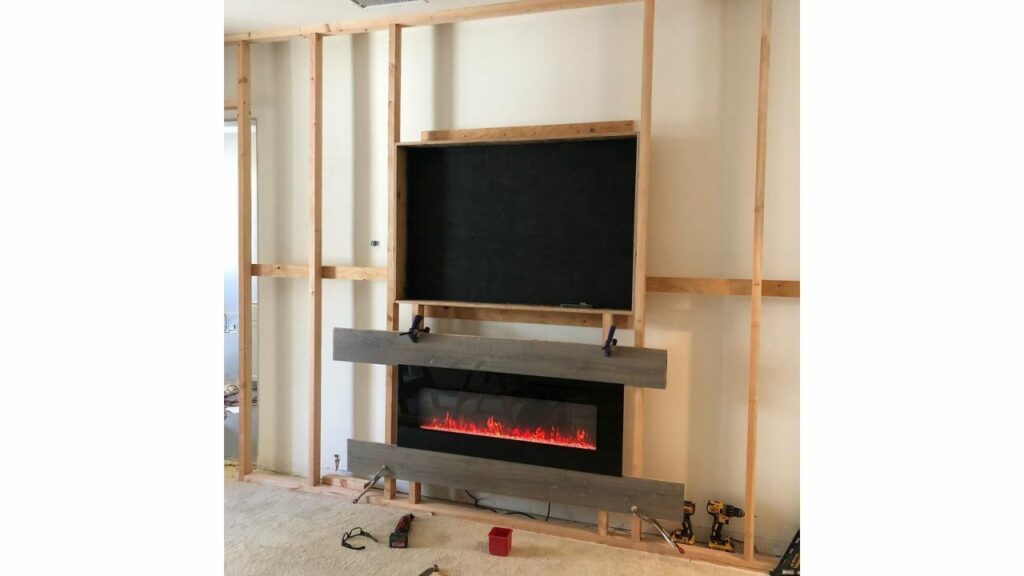 If you want to create a space with more character, you can build a false wall for your fireplace and the TV.
We discover how to build a false wall and what to look for when creating this special living room feature.
Why Build A Fake Wall For Your Television And Fireplace?
Many popular trends in interior design come and go, but creating a media wall in a room seems to be one to stay for longer.
As we continue to add more and more technology to our homes, we must also find ways to blend it with our living space seamlessly.
Often electrical appliances are just black or grey boxes that look very unsightly, so building a false wall for your TV not only gives your television a fixed spot but also covers up any cables and wires.
Another benefit of designing a fake wall for your fireplace and your television is that it makes the space look bigger.
In some houses or flats, you won't be able to mount a heavy TV on the wall because it may cause damage to the structure of your home.
So, creating a fake wall for your television means you do not need to put additional pressure on load-bearing walls.
Many modern homes are built without any decorative features, such as fireplaces, so you will need to create your own space for your new fireplace.
How To Build A False Wall For Your Fireplace And Television
Now that you know why a fake for your electrical appliances in your living room is a good idea, let's look at what you need.
Plan, Measure, And Design
The starting point of any good DIY project is always planning and deciding on your design. This is exactly the same with a built for a media wall.
The majority of stud walls are made of plasterboard and wood. You will need to make sure that you allow for enough recess space for your fireplace and your television.
That's why take your measuring tape and measure all the different parts. It's always worth adding two extra inches on all sides to ensure you do not have to alter the wall later.
Another factor to consider is any wires and cables that must be housed inside the stud wall. After all, you want to hide all the cable mess from your television.
The exact look and design are very much down to your personal preference.
There are so many design options to choose from, so look around online or speak to a professional interior designer.
Another important thing to consider is choosing a fireplace with a heating system in the front, as you want to ensure that the heat is emitted into the room.
It is vital to follow any fire safety advice from your fire department, as some local councils may have different rules on fireplace safety.
Tools And Materials
Once you have taken all the measurements and decided on a design, you can calculate the needed material.
For the covering, you will need plenty of wood for the frame and plasterboard with a minimum thickness of 12.5mm.
Getting some good quality materials is best, as you want your wall to last long. The wood and plasterboard must also hold your televisions and the fireplace's full weight.
In addition to the plasterboard and wood, you must purchase different nails, metal studs, plumb lines, and wood glue.
Don't forget to get insulation material for the wall. The recess for the fireplace needs to be well insulated.
Regarding tools, you will need a hand saw to cut the wood, a spirit level to ensure everything is level, and a nail gun and hammer to secure the boards.
Building The Wall
A fake wall for your fireplace and TV is essentially a wooden frame made with studs (vertical lengths of wood).
Your TV will be hanging on these studs to carry the weight. Several different horizontal lengths of wood brace these studs.
These horizontal lengths give the structure strength and rigidity. You mustn't hang your fireplace or TV on these lengths.
You can create cavities or recesses with the horizontal wood pieces, but make sure you allow plenty of space to embed your television and fireplace into these cavities so that both sit flush with the front of the wall.
Once you've built the main structure, you need to use the plasterboard to cover the stud wall.
Make sure that you note down where the studs for your television and fireplace mounts are.
Installing Your TV And Fireplace
Once you built your wall and added the heat-resistant insulation material, you can install your fireplace and the television.
You can fix the mounting brackets for the appliances to the back of the recess wall. Then you hang the devices in the cavities.
Conclusion
Building a false wall for your television and fireplace may sound like a difficult DIY project, but it isn't as complex as it seems.
You must create a stud wall for the wall structure and then cover it with plasterboard and wallpaper or paint that matches your room's design.
It's important that you take some time designing and measuring before you start building, and also keep fire safety in mind.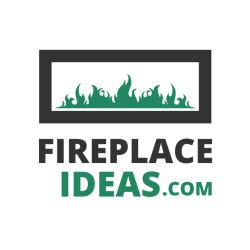 Latest posts by Stevie Morris
(see all)