The fireplace, which is sometimes referred to as the house's heart, is a beautiful ornamental element that, in addition to serving a useful purpose, adds a sense of cosiness to the atmosphere.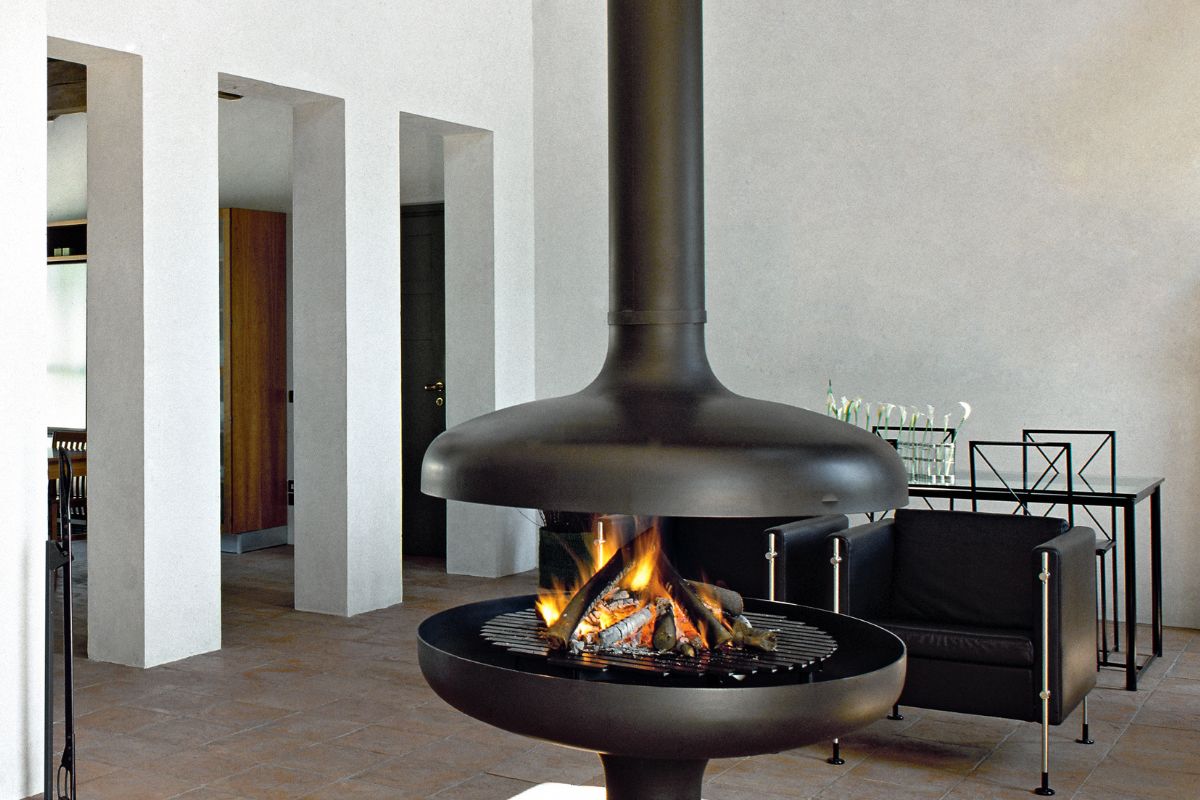 It will undoubtedly keep you warm on chilly winter days, however this does not imply that a fireplace might ruin your view during the summer.
A suitable option in this regard, on the other hand, will compliment your home interiors at every time of year.
It's worth noting that keeping up with the current fireplace designs will undoubtedly bring the room's overall decor up to date.
As a result, we've put together a list of 10 creative concepts for a comfortable retreat that will complement your interior design and provide a relaxing atmosphere.
Marble Fireplaces
For a more attractive appearance, marble can be used.
There really is no wiser choice for mantelpieces than marble – a very popular look in 2022. It can either be limited to the area all around chimneys or extend all the way to the ceiling.
Consider the latter for a fashionable look. Furthermore, the wide range of colours and designs will appeal to every taste.
Try a modern fireplace with marble accents for a more contemporary look, or a traditional fireplace in any style. It should be mentioned that choosing this material will add lustre to your space and create an atmosphere of sophistication.
Stone Fireplaces
For a well-balanced environment, use stone.
The stone is a great choice in this regard, as among the 2022 trends is to use nature-inspired materials. Light colours, in particular, are ideal for a fireplace. For a double impression, we recommend a mantel that reaches the ceiling.
Because of the stone's raw characteristics, it's simple to create a contemporary setting with it. A softer texture, on the other hand, will undoubtedly create a relaxing ambience that will complement any design.
Minimalist Fireplaces
A fireplace is a bold move that will undoubtedly provide a fresh area of focus to your space. As a result, a minimalist design, which is expected to be a popular trend in 2022, needs a straightforward approach.
Consider a fireplace with a neutral colour scheme and minimal embellishments to emphasise the fire's comforting impact. It should be emphasized that such an approach will work with a variety of styles, as one of the primary themes with the 2022 trends is simplicity.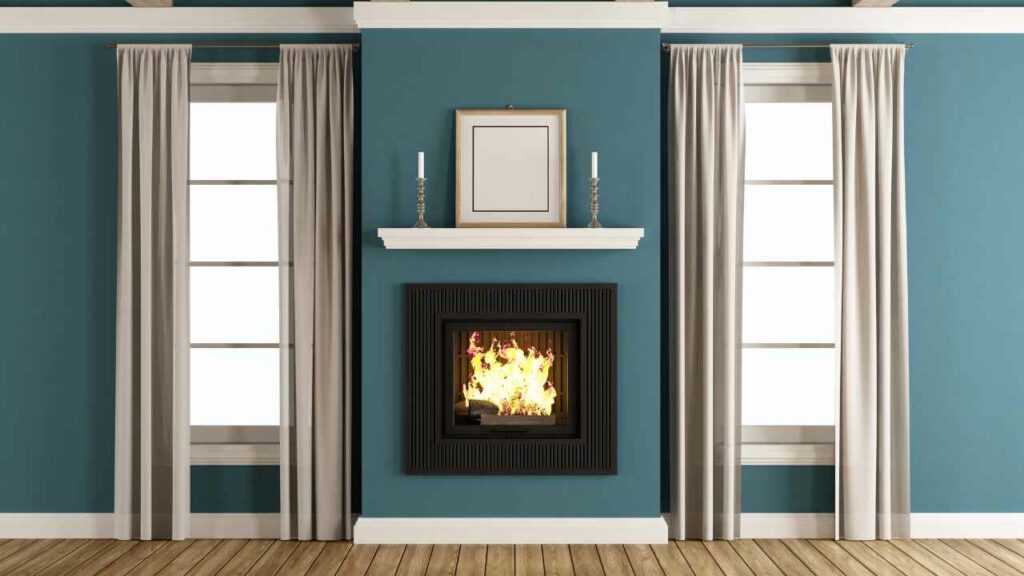 Integrated Fireplaces
To round out the look, try an integrated fireplace.
This trend proposes that you include the fireplace further into the wall's décor and make it a component part that complements rather than contrasts with the existing style. To achieve décor integrity, consider a well-balanced palette of colours and materials.
In this case, we recommend using black or grey for the background to avoid overpowering the other parts. It will also attract attention to the room's focal point – the fireplace.
Contrasting Fireplaces
For a twofold impact, choose a background that contrasts with the foreground.
A contrasting background colour, especially one that is neutral, will draw attention to the fireplace and establish it as a focal point.
To avoid putting too much pressure on a single piece, we recommend sticking to moderate contrasts for a subtle transition. In this case, white is a great choice because it draws attention to any other colour.
However, the fireplace should be painted in a fashionable colour. If you choose natural-inspired colours to update your space, you cannot go wrong.
Vintage Fireplaces
Vintage has reappeared as if it was never absent. Vintage is undoubtedly one of the trends for 2022.
There is no better way to incorporate it into a space than to use a fireplace with a similar design. It will nicely compliment a vintage-decorated space as the final piece of the puzzle.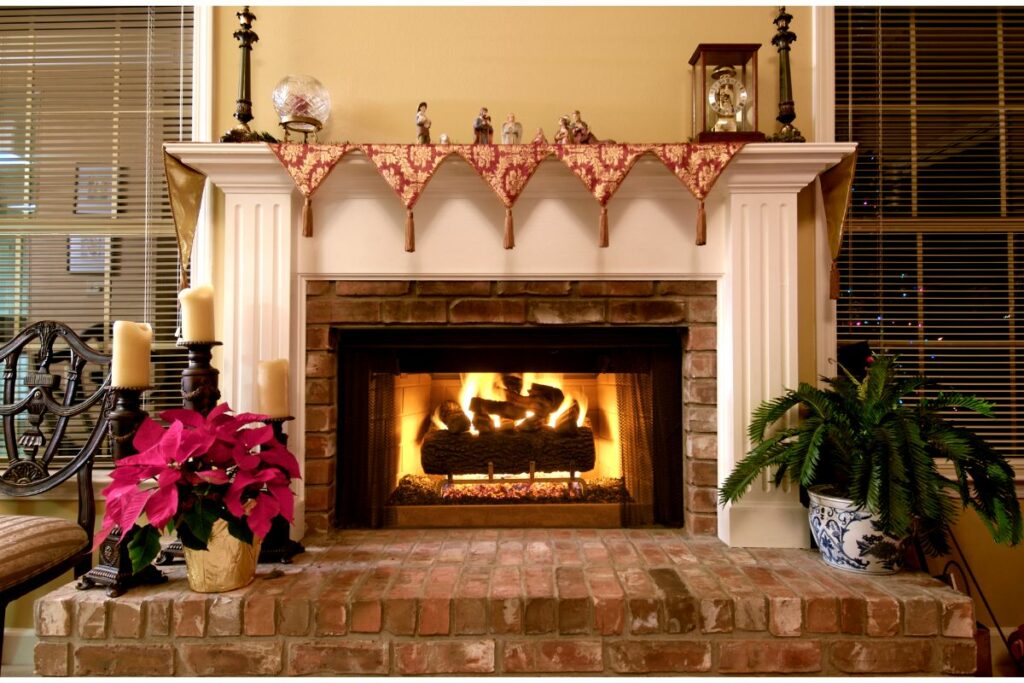 Functional Fireplaces
Within the 2022 trends, functionality is a top emphasis. For the most efficient way to use your space, we recommend sticking to it. Installing a fireplace in a lounge or bedroom would not detract from the overall picture, but rather enhance it.
In this case, we recommend modern-style fireplaces that blend in seamlessly with the wall design and may also be utilised for other purposes. A wise decision in this regard will allow you to conserve room by placing a fireplace and a television on the same wall.
Furthermore, choosing neutral hues to keep the contemporary setting is a great recommendation in this regard. In this case, black is a perfect choice because it blends the contrasts and provides stability, which is important in such a scene.
Modern environments necessitate modern solutions. When it refers to a fireplace, a contemporary aesthetic necessitates a modern approach.
We recommend sticking to natural materials, neutral hues, and straightforward designs. It's worth noting that a conventional fireplace will look out of place in a modern setting.
Simultaneously, try to avoid details and concentrate on the fireplace's major parts, which should be as simple as possible, expressing a delicate movement of colours on a simple background.
For a warm atmosphere, take a reflective approach. In the bedroom, a fireplace just isn't very typical.
Nonetheless, experts advise using this option to create a relaxed environment. Bring the bedroom back to a time when the fireplace served as the primary source of heat and decoration.
It's a win-win scenario. A fireplace will add warmth and a classic sense to your bedroom, while also adding a fresh point of interest to the interior design.
Using your fireplace as a room divider is also a great combination of functionality and character. It will assist you functionally and play an important role in the decor by adding fresh components and providing warmth to the space.
Frameless Fireplaces
Among the most prominent fireplace ideas in the past have been linear, indoor fireplaces. Even now it is among the hottest styles of the year.
It's not difficult to see exactly why the unframed linear wooden fireplaces remain so prevalent once you have discovered how they lighten up a room space with sharp, clean edges.
This specific type of fireplace is usually surrounded with stone, tile, or marble. You can also have it constructed as a more traditional, sole item or as a see-through tunnel instead – whichever suits your space better.
These linear type fireplaces can even be linked up with home entertainment and smart devices – rendering them extremely functional and easy to use in the home.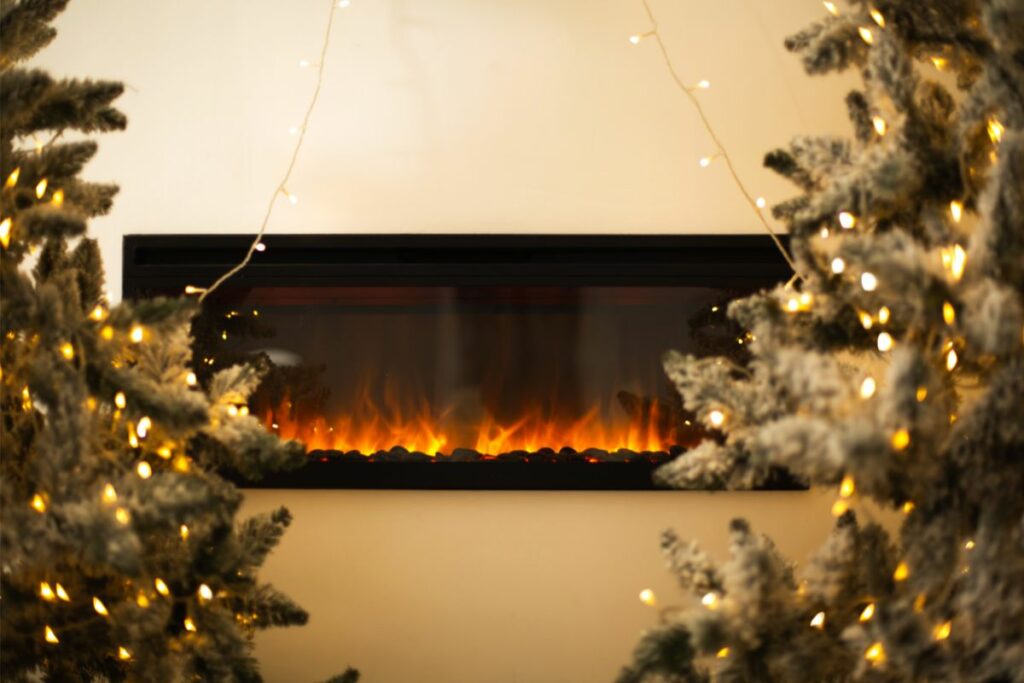 Corner Fireplaces With Three Sides
The 'peninsula fireplace,' a three-sided corner item with beautiful views from each direction, has a sleek, updated style.
A peninsula fireplace is perhaps the most efficient way to use your space of all the stylish fireplace looks for 2022. It's popular among architects and designers because it may create a sense of warmth and cosiness without obstructing open space.
These well-designed corner fireplaces are crafted to be opulent, secure, and durable. They can be stunning focal points. If you would like a gas fireplace in any room in your house, a corner unit is great because of its ease of installation.
Fireplaces That Are Extra Large
Extra large fireplaces which have beautiful views and perfectly designed chimneys are here to remain.
This overt style of fireplace is ideal for those with a penchant for theatre and making a statement. The huge openings on these fireplaces give off a gorgeous atmosphere.
A dark, large hearth combined with light masonry will draw attention to your room. A massive chimney coated with stone provides a delightfully rustic effect for houses with high ceilings.
You can select fresh white paint or metallic chimney hues for a cleaner look.
Glass Fireplaces With Four Sides
Another efficient and classy trend in 2022 fireplace designs is the transparent glass fireplace (also known as a four-sided glass fireplace).
Its sleek, linear patterns will offer light and warmth to a contemporary setting, and it blends nicely with certain other popular fireplace layouts.
You'll be able to watch the fire from whatever position with this design. This is why it's one of the most popular fireplace designs for the home.
For minimalists, the see-through glass fireplace is a great choice.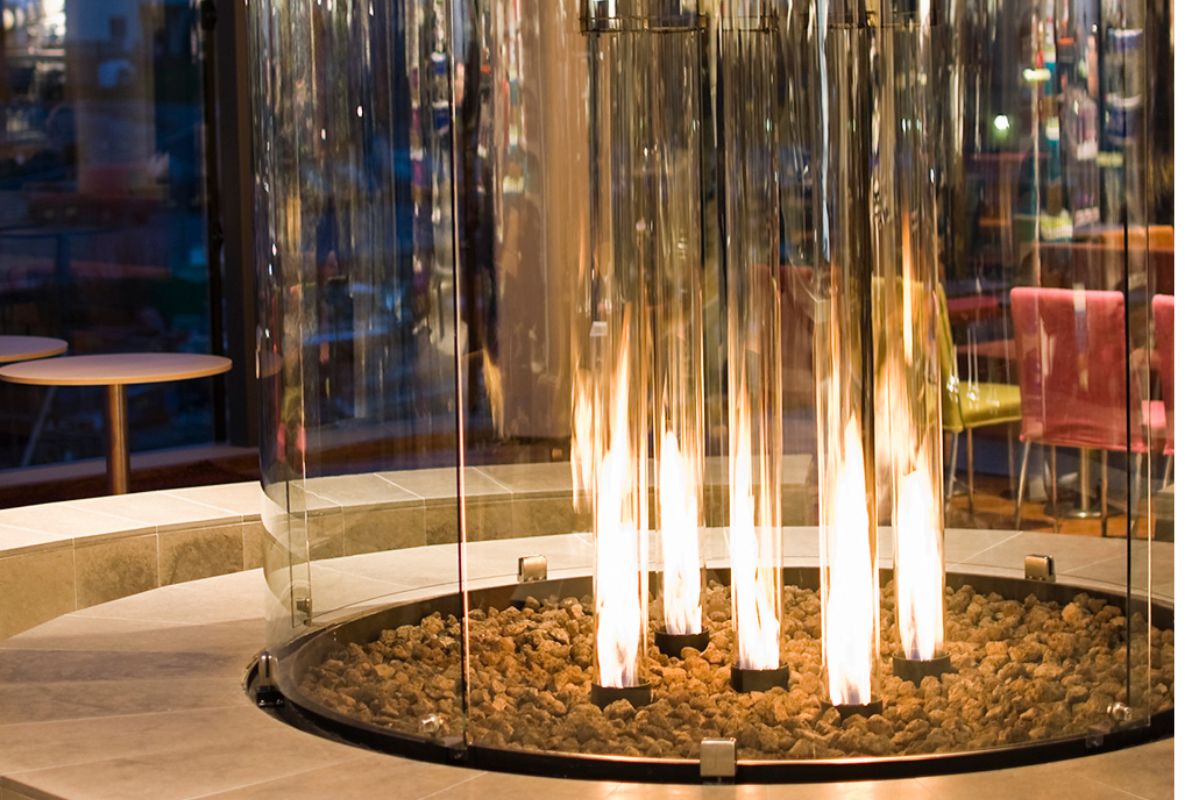 Tall Fireplaces
The newest fireplace designs provide a number of taller, vertical fireplaces that combine the straight and extra-large looks. Tall fireplaces are among the most unique and distinctive of all the beautiful indoor fireplace trends for 2022.
They work best in contemporary environments with exquisite yet dramatic style, including those with high ceilings. A fireplace such as this is sure to be the centre of attention at any gathering.
Final Thoughts
From the dawn of time till now, fire has captivated our minds. We've made great strides in terms of style and purpose, from huddling over cooking fires to throwing exquisite events next to electric fireplaces.
A fireplace within your house is a fantastic thing to have, especially on cold days.
With so many different fireplace styles to choose from to compliment or change the look of your home, speaking with an interior decorator is a fantastic method to figure out which ones are best for you.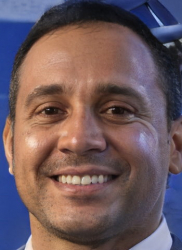 Latest posts by Stevie Morris
(see all)