Are you considering placing a TV over your fireplace but aren't sure what size it should be? Perhaps you are looking to redecorate your room and aren't sure what size TV you should opt for? Whatever your reason might be, we have the answer for you!
It's quite common for us to hang our TVs over a fireplace. Not only does it give us something to center our rooms around, but it fills the dead space above our fireplace. But finding out what size TV is the best one to sit above your fireplace is tricky.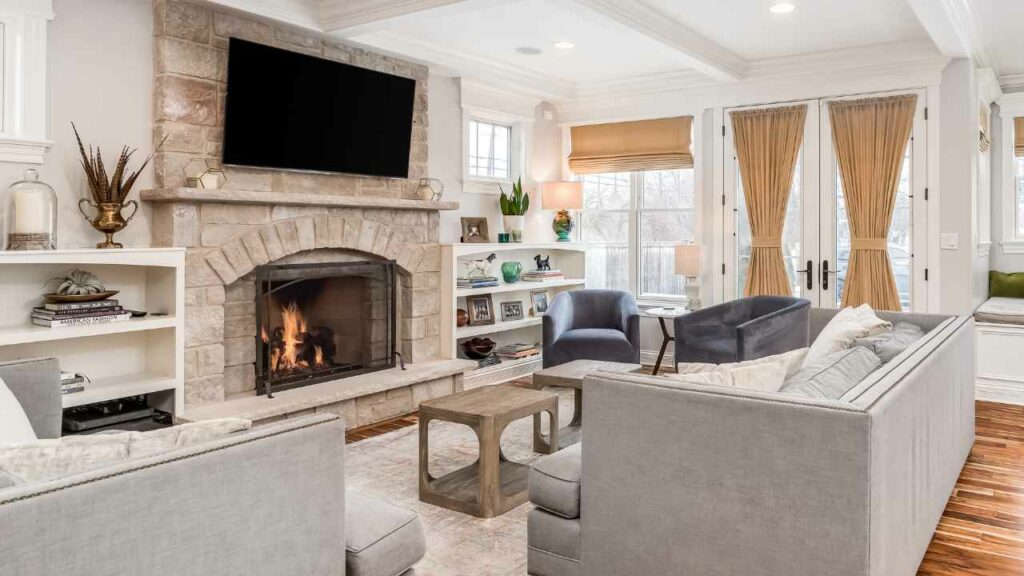 It leaves many of us stressed and overwhelmed, unsure of what size to buy or how to position it correctly.
We worry that we will ruin the decor of our living room and spend our days unhappy with the outcome.
Well, no more! Today, we are here with the answers that you need. Just keep reading to find out what size TV you should place over your fireplace.
What Size TV Over Fireplace?
Let's get straight into it! Ideally, your TV should be 6 to 8 inches smaller than your fireplace.
This is considered the ideal size for your TV and fireplace combo to be visually appealing. So the size of the TV you need will be determined by the size of your fireplace.
If you currently have a fireplace installed, measure its longest part and deduct between six and eight inches to get the TV size you should buy.
If you are purchasing a new TV and fireplace, you will want to check what size fireplace you can fit into the space before you make your purchase and buy your TV.
Similarly, if you already have the TV, add six to eight inches to the size of your TV to find out what size fireplace you should purchase.
Now, if you are in a situation where your TV is larger than your fireplace, you can expand the fireplace trim, or paint the wall behind the TV black.
This will help the TV blend into the wall, making it harder for you to tell that the TV is too big for the space.
Of course, this is just guidance. If you want your TV to be larger than your fireplace, or significantly smaller, then that choice is yours! This guidance is just to help you see what size will look best.
You don't need to take the advice if it doesn't suit your room, that is fine! After all, it is your home so its style should reflect what you enjoy.
What Size TV Should Go Over A Fireplace?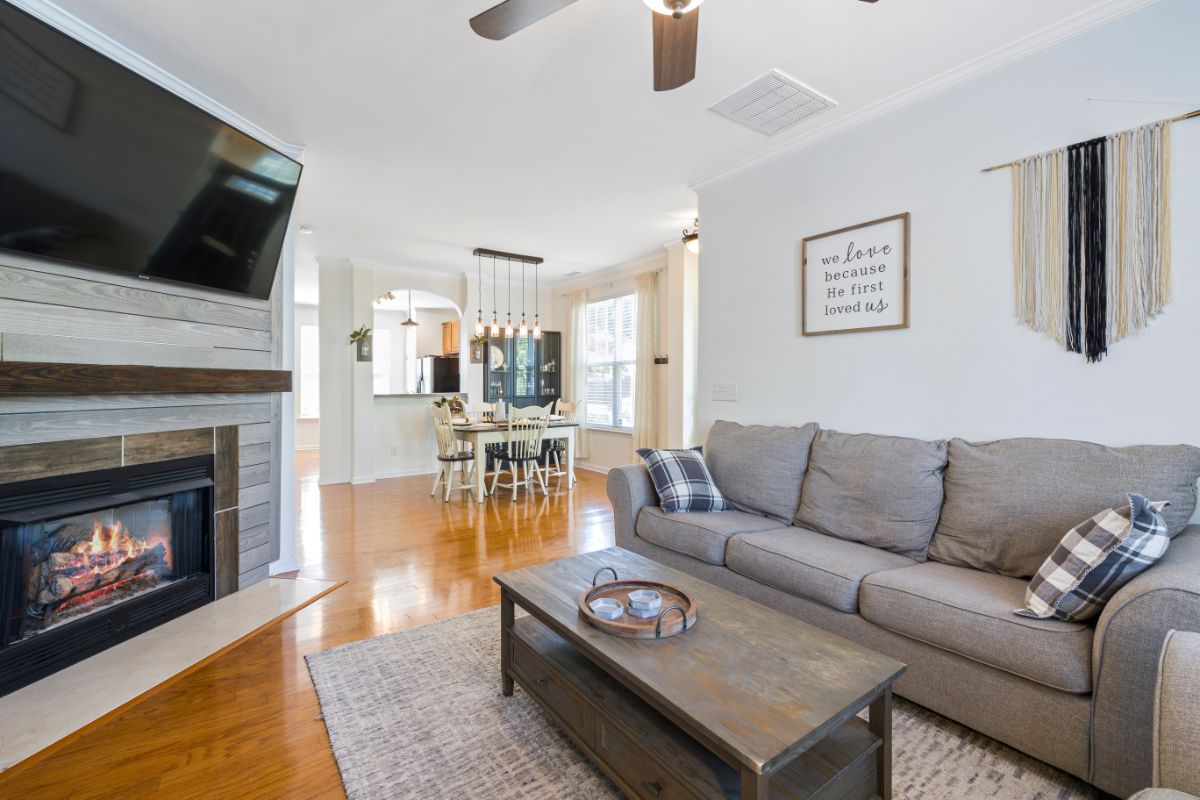 Generally speaking, you want a TV that is 55 inches or smaller above your fireplace. This size usually looks best and still offers a fantastic viewing experience for you when you are watching TV.
Speaking of the viewing experience, you do need to consider the viewing distance of the TV from your couch before placing your TV above the fireplace.
If your couch is more than six foot five inches away from the TV, we strongly recommend you opt for a TV larger than 55 inches.
These larger TVs will ensure that you can still enjoy watching your favorite movies and TV shows without needing to lean forward or strain your eyes.
You might need to expand the trim on your fireplace or paint the wall black to make a larger TV blend into the wall and look right above the fireplace.
These days, TVs are far thinner and larger than they were before. This has made them super easy to mount above your fireplace.
However, your TV can look wonky if it is larger than the fireplace. This is especially true if one side of the TV hangs over the fireplace more than the other.
Of course, how your TV looks above the fireplace also varies depending on the room as a whole.
Is A TV Over A Fireplace A Good Idea?
If you have an electric fireplace, then putting your TV over a fireplace is a great idea. Not only does it save space in your room, but it can look great! However, if you have a wood-burning or gas fire, you will need to be careful when placing a TV over the fireplace.
There can be a lot of heat from direct vent gas fireplaces and their inserts will produce a lot of heat.
This can be dangerous for your TV and render it useless, which is the last thing you want! Avoid putting electronics above wood-burning stoves or gas fireplaces and inserts to avoid damaging your TV with large amounts of heat.
For those of you with electric fireplaces (see also our article on the cost of running electric fireplaces), this is welcome news! But those of you with gas or wood-burning fireplaces should exercise caution here.
Again, it is your decision but we recommend that you don't put your TV above a gas or wood-burning fireplace.
You don't want to spend hundreds of dollars on a TV for it to break due to the rising heat from your fireplace!
If you have any questions or concerns about your fireplace and your TV, you can contact a professional.
They can help you decide where the best place for your TV will be. If you don't use a wood-burning or gas fireplace, your TV is likely to be okay, but any heat that rises can damage your TV.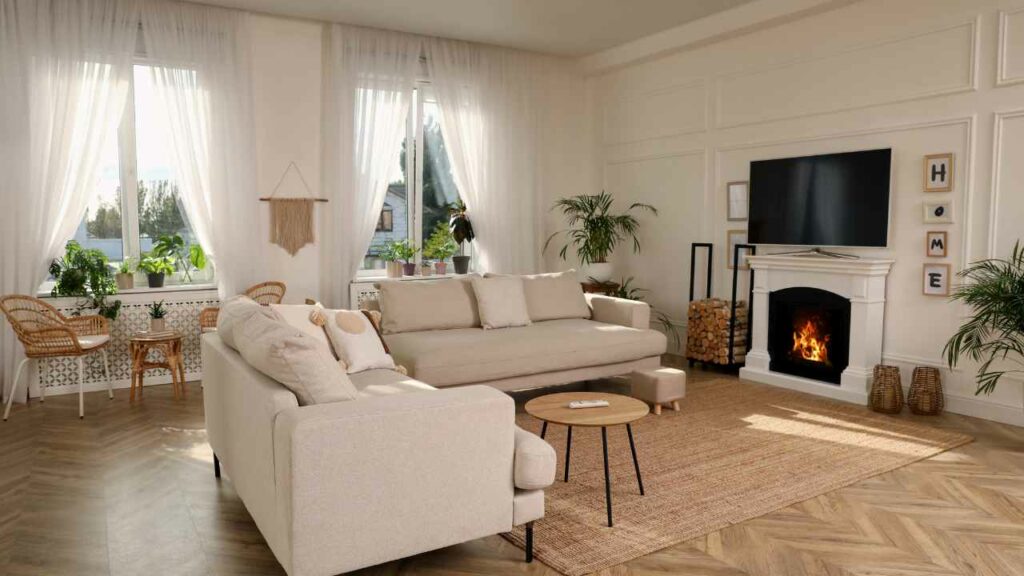 Frequently Asked Questions
What Are The Safety Considerations For Mounting A TV Above A Fireplace?
There are several safety considerations when mounting a TV above a fireplace. The first and most obvious is the ensuring that the TV is far enough from the fireplace to avoid heat damage.
The other considerations are wall stability, wall mount safety, and electrical installation safety.
Can I Install A TV Above A Fireplace By Myself?
Yes, but make sure you follow closely the manufacturer's instructions. We would recommend using a professional, to ensure it is safely and professionally installed.
How Far Away From The Fireplace Should I Mount My TV?
There is no simple answer to this question. It is always important to follow the manufacturer's advice to avoid placing the TV too close to the fireplace.
The distances will vary depending on the type of fireplace and the heat that it can generate. For example the distances for a bio ethanol fireplace will differ from large wood burners.
To cause further confusion different manufacturer's will have a different minimum distance. These recommendations can vary between 8 inches and 24 inches, sometimes even more.
We recommend using a professional to install the TV, they will be able to provide the best advice for your fireplace TV combo.
Final Thoughts
And there you have it! When it comes to putting a TV over your fireplace, you should aim to put one that is 6 to 8 inches smaller than your fireplace.
This will allow the TV to sit above the fireplace nicely without seeming wonky or too large for the room.
The size of the TV and fireplace will differ from home to home, so be sure to measure the space before adding a TV and fireplace to your home.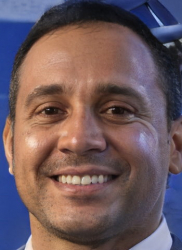 Latest posts by Stevie Morris
(see all)