We know how many different types of fireplaces exist in the world. There are electric and natural fireplaces, along with lots of different shapes and forms to be seen.
When it comes to the different variations of fireplaces, there are almost too many to mention! Recessive fireplaces, corner fireplaces, marble fireplaces – the list goes on and on.
However, one of the most popular and frequently-seen forms of fireplaces seen throughout homes all over the globe is the linear fireplace.
But, what is the linear fireplace? Why does it work so well with a TV above it? What are the different ideas I can consider? Well, there are lots of different ideas floating about that we think you should see!
It can be an uphill struggle trying to find somewhere to start, but we're here to give you a push in the right direction. Linear fireplace ideas with a TV above? We've got you covered!
What Is A Linear Fireplace?
Simply put, linear fireplaces are also referred to as a modern fireplace or a contemporary-style fireplace. Because they have such a modern theme with them, you can expect to see them in a rectangle shape or something similar.
Linear fireplaces are typically installed within a wall of a home, which keeps with their modern aesthetic.
Stone Wall Fireplace
We all picture some sort of stone material when imagining what a fireplace would look like in our homes, right? Well, if you don't, then you definitely should!
Because of how modern these contemporary fireplaces can look, and the sophistication of stone materials, you can expect to see a lot of people using stone to keep in line with your modern home.
On top of this, you can expect to see stone materials coming in a range of different colors, which is great for those people who don't have a definitive style that they are looking for.
As strong as materials get, having a stone area is one of the best and you can expect your TV to be kept in safe hands.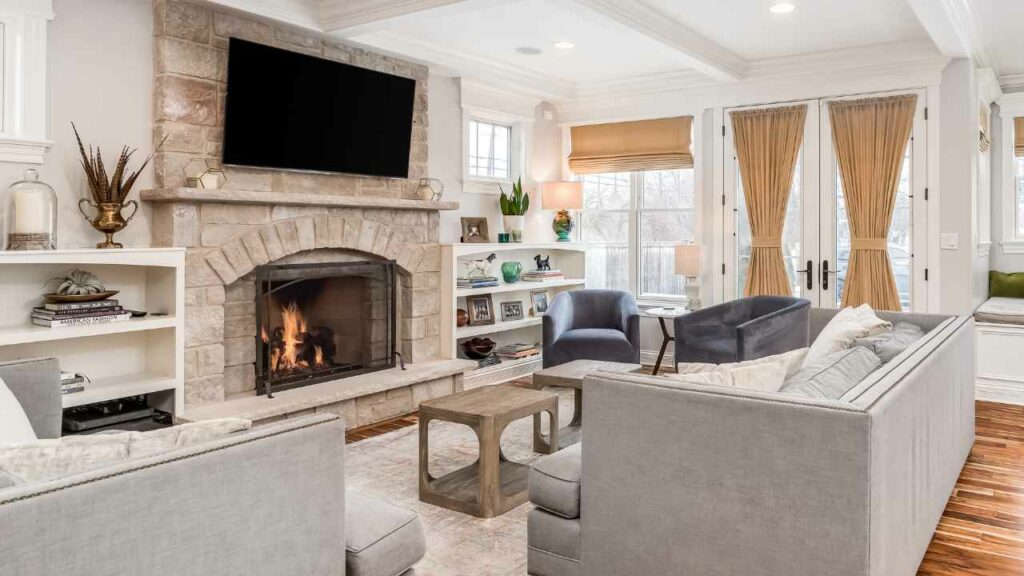 Linear Fireplace With Entertainment Center
Who doesn't love a good entertainment center? They're great for keeping things modern and serve a lot of purposes.
We're all guilty of misplacing our TV remote control from time to time, so it's nice to have somewhere where you can rely to remember where you placed your controller.
These centers can come in lots of different forms and are extremely useful.
Although DVDs and videos are fairly redundant in this day and age, it's always nice to display some of your favorite movies and TV show box sets for everyone to see.
On top of this, you can also expect to see some plants, film memorabilia, and pictures around your TV and fireplace area. This is a great option and we think you should definitely consider it!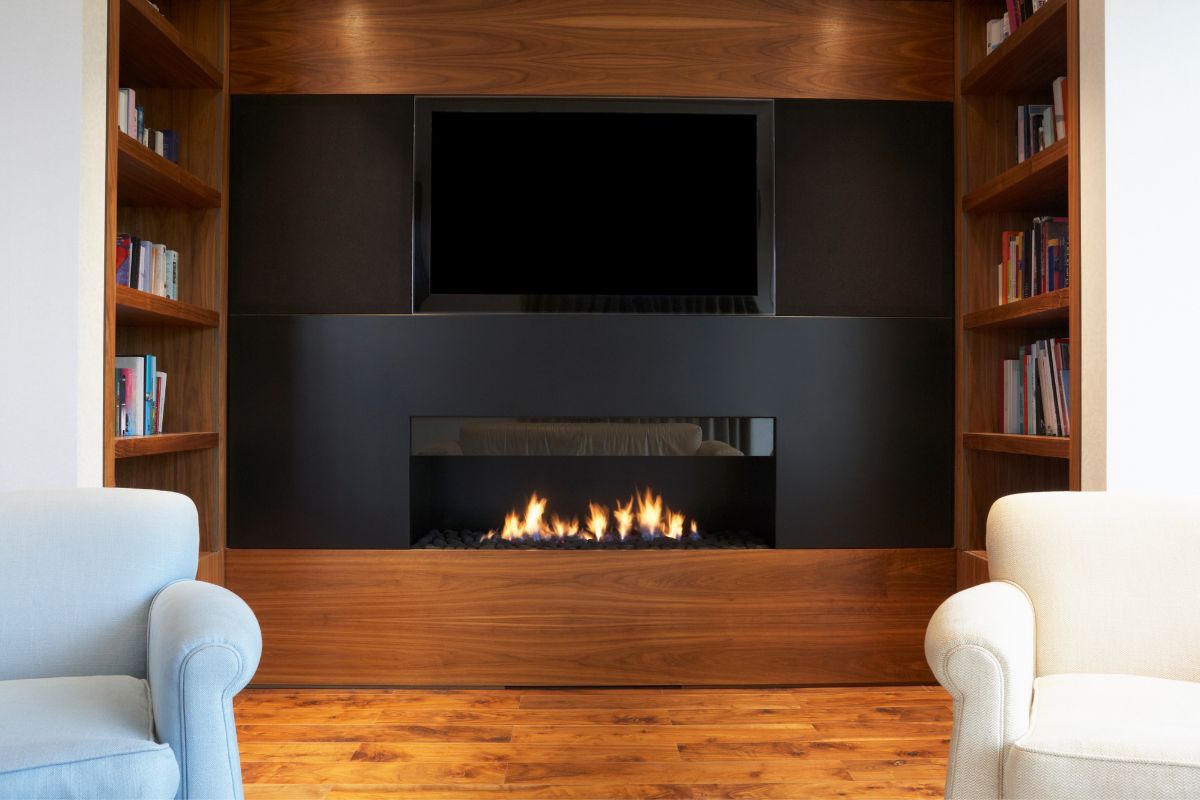 Book Shelves And Cubbies
When it comes to making sure that people know that you love a bit of entertainment, why not consider adding some bookshelves near your fireplace?
We're guessing that your fireplace and TV are probably going to be in the bedroom or the living room. Because of this, we recommend keeping your books and TV close by, in the warmth of the fire.
We all know that once you're settled and relaxing in front of the fire, nobody really wants to move. This is why we think it's important to make sure that all of your entertainment tools are kept close by, ready for use.
On top of this, it's important to note that having bookshelves and a nice TV accompanied by a modern fireplace, looks really great. What's not to love?
Surround Sound System
We all know that when you're immersed in a movie and something distracts you, it can be incredibly frustrating and will be hard to get back into the film.
However, having a proper speaker system can help to keep your mind in the movie, with your body warm in front of the fire. After all, we all want to have the best experience possible when getting in front of the screen.
Marble Materials
Nothing quite mixes modern themes along with the authenticity of the past like marble. Used a lot throughout Roman and Greek culture, this stone material shows the visitors to your home that you're sophisticated and have a touch of class to your living area.
Marble comes in a wide range of different colors and patterns, so you know you'll have something out there that suits your style.
Easy to clean and maintain, marble could be a perfect choice for you if you have a lot of dark or light tones throughout your home.
For example, having black countertops in the kitchen, or dark pieces of furniture like couches can go brilliantly with some white or gray marble. If you have white walls, then choosing a gray marble will be a great idea for contrast.
Symmetrical Fireplace Design
One thing that we recommend is to keep your fireplace area symmetrical and even.
You can do this in many different ways. For example, we think that using some plants and some picture frames can have a real sense of symmetry in your living area.
Ideally, you should be able to include some fairly cheap and affordable features to highlight the symmetry.
On top of this, it's very visually pleasing for people visiting your home to sit and enjoy an even room. If there's one thing that people don't want, that's to be distracted whilst watching TV.
We all understand how off-putting it can be to see something in the room that doesn't quite match up. Keeping your fireplace area symmetrical will help you to relax.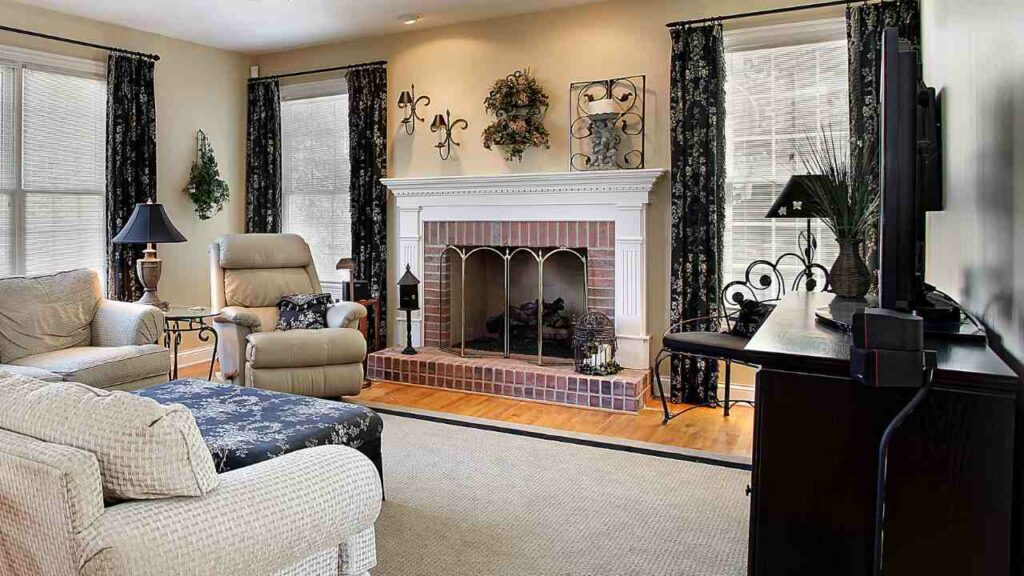 Having Some Remote-Controlled Lights
We all know that sometimes, a fireplace doesn't have enough capacity for it to light a whole living space. It's understandable, they're mainly used for heat, right?
We can understand that you might need to turn the lights on to see, which can be frustrating when you're comfortable and cozy on the couch. Well, we have a solution that might work for you.
Purchasing some LED lights to go along with your fireplace and TV is a great idea for when you need to see without heading over to the light switch. This would work really well with an entertainment center!
By ensuring that your remote control is within reach, you can ensure your efforts and energy are saved. They usually come in different colors, which can match perfectly in dim light with your fire! Orange and red are highly recommended!
Porcelain Tiles
When we think about fireplaces, we imagine them as well-organized, clean, and often, light in color. For this reason, we recommend using a porcelain base to keep things fresh and looking nice on the eye.
Porcelain is a great material and is easy to clean and keep maintained, much like marble. However, it has a different effect from the other stone material.
We understand that this might not suit everyone looking for a way to brighten up their fireplace and living area, however, you could use a porcelain shelf for your TV remote and different features to the TV system.
At the end of the day, it all comes down to personal preference and if the porcelain would fit in well with the rest of your home and the aesthetic you're trying to create.
Candlestick Lights
Nobody wants to feel like the lights in the room are ruining the atmosphere that the fire is doing its best to create. That's where candlesticks come in.
When you want to have a bit of additional light in your room, you should embrace the fire and make sure that the dim lights in the room are enough to keep things smooth and calm at the same time.
Why not place these candlestick holders on each side of the TV and watch the atmosphere become the coziest thing you've ever experienced.
If you have light colors for your walls, then having dark metal for the holders will ensure that your room looks nice and modern, with a splash of traditional lighting thrown into the mix.
You can go with electric or natural fire for these features, however, it all comes down to what you'd prefer.
If you have a natural fire, then the candles are going to need to be replaced every now and then, whereas, electricity will just need the bulbs changed every so often.
Conclusion
Linear fireplaces are perfect and require a bit of modernization from your design skills. We always recommend planning first and having a look to see what you think would make your living space even better.
The worst thing you can do is go into this situation blind, without making sure you'd be happy with your new changes.
Ultimately, it all comes down to what you'd like and whether you're happy. If you want a certain style, then stick with it!
We're sure that after some preparation and research, your new fireplace and TV area will be the talk of the neighborhood!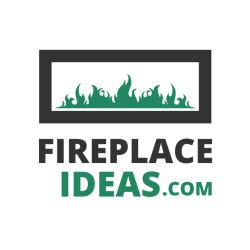 Latest posts by Stevie Morris
(see all)