Deciding on the right fireplace depends on many factors. It depends on the age of your home, how much space you have available, your tastes, and of course, your budget.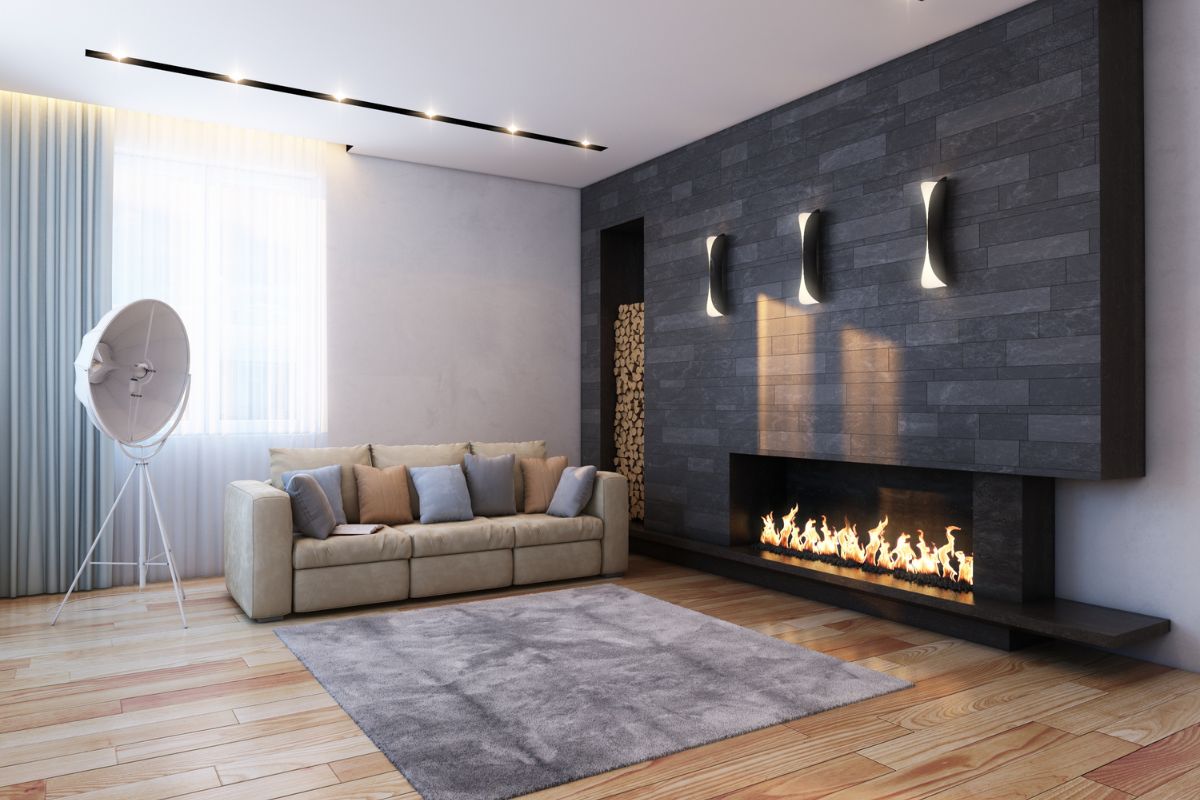 A fireplace is a design and style statement that says a great deal about the space surrounding it, so it needs to fit in with the industrial-style theme of your home, especially if it is a focal point.
Consider materials such as hard metals, wood, brick, or stone.
Whether you choose a fireplace with grating, a rustic wooden fireplace, or a metal-based standing fireplace reminiscent of old industrial factories, it is up to you. Still, there are a lot of choices of materials and design elements.
Importance Of A Fireplace In An Industrial-Style Home
Perhaps you are renovating, and the industrial style is your goal. A fireplace will certainly help you to achieve this look. Fireplaces can set the mood in a room, and the right choice of the fireplace and work as a point of focus for you to design around.
It can be a starting point for developing the industrial style.
Overview Of Key Elements To Consider
Industrial styles are unique and unlike any other style in a home. Here are some things you should consider when designing a fireplace for an industrial-style home.
Embrace minimalism.
Practicality & individuality combined.
Metal features should be favored.
Find inspiration from vintage items.
Embrace imperfections.
Natural touches add personality.
Make the most of upcycling.
Experiment with different colors.
Definition Of Industrial Style Decor
The architectural elements inside a space best define an industrial building interior. Most other interior design styles will hide ductwork, piping, and so on; however, industrial styles embrace this, making them a focus point.
It is a raw style, intended to look 'unfinished,' creating a casual atmosphere and keeping the place uncluttered and practical; the approach of space in this style is laid-back and relaxing.
At the core of the industrial style, building materials are incorporated into the room, using raw materials in an open floor plan. This makes the space similar to the factory floors they are inspired by.
Raw Materials (Metal, Wood, Concrete, Brick)
The industrial style uses raw materials. So, when designing your fireplace, you want to incorporate materials such as:
Iron.
Concrete.
Reclaimed wood.
Brick.
You may also want to include exposed rafters as well.
These materials should accent colors in places and incorporate wood tones, rust, and vivid green, purple, blue, and red splashes.
Focus On Functionality And Simplicity
The industrial style has a functional, simple purpose. The style is derived from old factory floors, so spaces should be minimalistic, with no clutter, with the space open, wide, and fit for its purpose.
Embrace open spaces and negative zones, making the furniture and decor self-explanatory. You could add textured rugs, or vintage coffee tables, using pieces to enhance the space's personality but not overcrowd it.
Mix Of Vintage And Modern Elements
While a majority of people would consider the industrial style to be solely vintage in style, industrial styles tend to incorporate modern styles and vintage styles combined.
Of course, you could stick to just vintage industrial styles, but mixing vintage and modern industrial styles makes for more practicality and overall authenticity.
It also opens up other materials and elements for you to use in your fireplace design.
Materials
The choices of materials matter, as this is a key component of the industrial design style.
As the style is inspired by industrial spaces and old factories, the materials you use should be in keeping with this theme, so there are some things you cannot use.
Plastic, for example, is not traditional.
The materials you should use will be hard and tough.
Use Of Raw Materials (Concrete, Steel, Brick)
The use of raw materials is critical. This means wood, steel, iron, brick, and concrete.
When we think of industrial interior design, we tend to think of rustic brick walls and concrete structures. Exposed rustic walls will be a studio/ factory feeling to your space.
It also works as an ideal backdrop for wooden furniture, enabling you to incorporate wood into the aesthetic with more ease.
On top of a concrete or brick backdrop, you can use wood to create a rustic look, or for something even more industrial, the use of metals such as iron or steel can be added.
You could have an iron grate over the body of the fireplace or even place pipes around it.
This brings us to our next point.
Incorporation Of Exposed Pipes And Ducts
In most homes, air ducts, pipes, and such are all hidden out of view, but when taking on the industrial design style, these building components are aesthetic in their own right.
Exposing ductwork and piping can add scale, complexity, and purpose to a space.
Exposed piping and ducts are one of the elements that are most associated with industrial styles. You might fix them to the walls, from the fielding, whatever you will establish that factory-like feeling.
However, remember not to overdo it, as you still want it to be minimalistic due to this trait of industrial-style designs.
Style
How you style the fireplace based on industrial style design will depend on what you want to see and incorporate into it. Although you use industrial-style designs, you can still make them your own.
Here are some suggestions for designing your fireplace for your industrial-style home (prefer an art deco-style? Read here).
Freestanding Metal Stove Or Metal Fireplace Insert
We spoke about the use of metal in an industrial style. A metal stove is one of the best fireplaces you could choose for this style. You could get a freestanding metal stove or a fireplace insert made of metal.
Inserts are ideal as they maximize the efficiency of fireplaces, should there already be one in place. However, if the room does not naturally have a fireplace, a freestanding stove is the best option.
Brick Or Concrete Surround
When you have your fireplace insert or freestanding stove, you can surround it with brick or concrete for that minimalistic, rustic surround. Most people choose brick for this as it looks more natural, but it is up to you and the aesthetic of your home.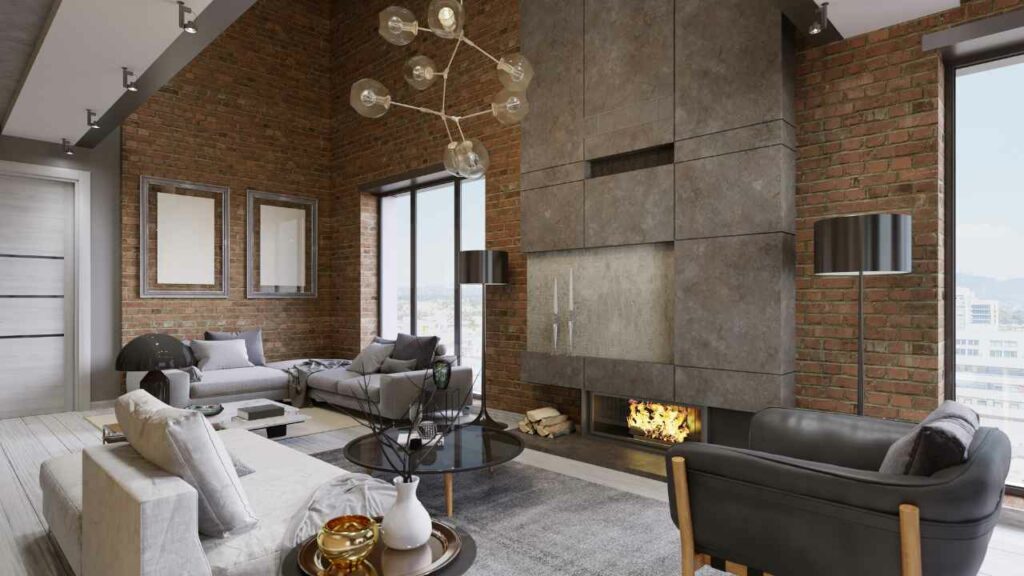 Reclaimed Wood Or Steel Mantel
Wood is a typical choice for a mantel. However, steel can add to the industrial style aesthetic. However, you could combine the two using a reclaimed wooden beam with steel straps or iron hooks attached.
Conclusion
Industrial style is all about having a minimalistic, factory-style aesthetic. Fireplaces can easily adapt to this style. Choose iron, steel, brick, concrete, reclaimed wood, and stone to bring this look to life.
Industrial-style fireplaces scream functionality and minimalism while being a focal point in the room for you to decorate around.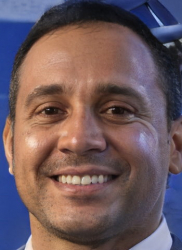 Latest posts by Stevie Morris
(see all)