Particularly in homes that were constructed a few years ago, chimney breasts are typical architectural features. Some of them feature working fireplaces, which is wonderful for creating a cozy and pleasant home setting.
However, the fireplace has often been removed, leaving you with an unusual area to occupy. Not to worry! To start making your chimney breast distinctive, use some of our amazing chimney breast fire ideas and advice.
Typically, a chimney breast extends from a wall. This is so that a fireplace can operate without endangering the home's structural integrity. In other terms, the chimney breast protrudes and can take over a room.
How can you transform this very evident empty area into something more aesthetically beautiful because the fireplace was originally the main source of heat in the room? Consider the suggestions for chimney breasts below.
Ideas For Decorating Your Chimney
1. Fireplace Design Concepts
There are numerous methods to make a functioning fireplace appear gorgeous:
Consider using a bioethanol fire insert to go green. These wood burner substitutes for the environment come in attractive and useful styles.
The advantages of bioethanol fireplaces are numerous: they are safer, easier to maintain, and cleaner than conventional wood-burning fireplaces.
Set up a mantelpiece to showcase artwork and family portraits. As the focal point of your sitting room, the fireplace is a terrific area to display framed photographs and family artifacts.
By using a different color on the walls above the fireplace, you may create depth. For maximum impact, select colors from the same color family or those that contrast.
2. Covering A Chimney Breast In Wallpaper
Because wallpaper doesn't need hiring a construction crew and comes in a variety of prints, colors, and even textures, it's a wonderful choice for decorating chimney breasts. Although the procedure is quite simple, there are a few things to keep in mind.
In case there is damage during installation, carefully measure the area and purchase a few additional feet of wallpaper.
Because of the potential for fire, you can't wallpaper the area close to a burner or stove. This is a choice if a fireplace is no longer usable or if you want to totally cover your chimney breast.
There are many YouTube videos that provide hassle-free instructions for wallpapering your chimney breast. Pick a good wallpaper made up of organic materials and light color hues if you want to achieve a minimalist look.
There is wallpaper that resembles red bricks if you were unable to spot them on your chimney breast. Additionally, some brands even feature surfaces with roughness for a really realistic look.
3. Tiles For Chimney Breasts
Ceramic tiles are excellent for a chimney breast with a distinctive design. There are numerous options available in terms of both quality and price, and some companies even provide patterned tiles for a distinctive appearance.
Would you like to make your own artwork? A chimney breast will undoubtedly be unique, whether it is a complex mosaic or even just a few designs to provide contrast.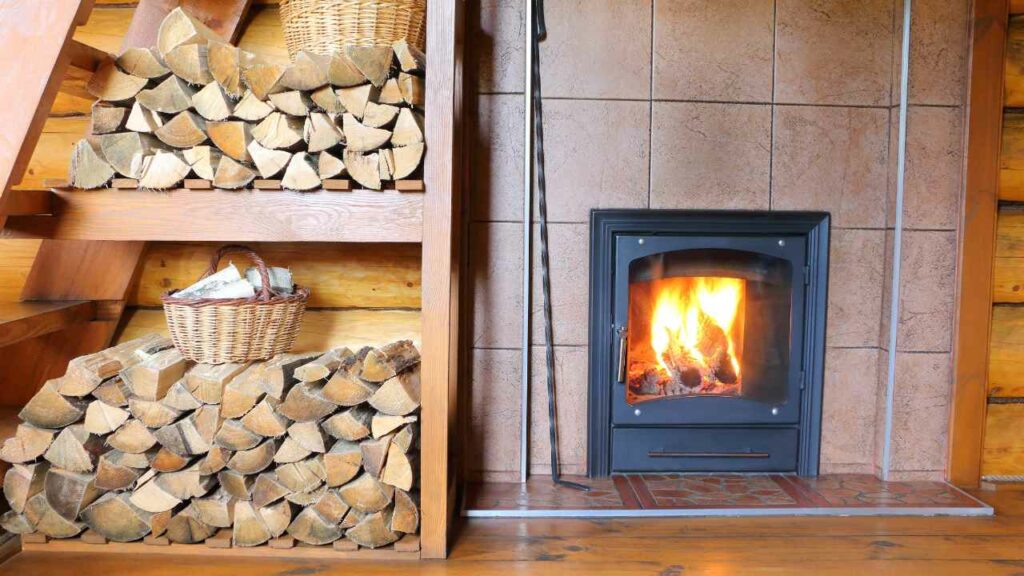 4. Paint May Be Really Effective
Don't panic if you lack the time or money for a significant renovation. Fresh paint may make a significant difference. You can select plain colors or use objects like sponges to create textures. Consider using stencils if you want to add some details.
5. A chimney Breast With Lights
Decorators frequently emphasize the value of good lighting. Lighting has the power to radically alter a space's appearance and, more significantly, its atmosphere. Here are a few pieces of advice:
Maintain a low profile with artificial illumination if your fireplace is in working order. LED strips are ideal for highlighting textures because they are not overly bright.
Instead of white, choose yellow lighting.
With lamps, make numerous illumination sources.
Focus lighting on the parts of the chimney breast you wish to emphasize.
6. Start Making The Chimney Breast Decor Stand Out By Using Technology
Do you enjoy Scandinavian style (see also 'Scandinavian Inspired Fireplace Ideas')? Or do you choose traditional English garb? Or perhaps you like a cleaner, more industrial style? There are numerous methods to draw attention to and emphasize your chimney breast.
Thanks to contemporary technology, you can see potential changes to your chimney breast before making any actual changes.
You can upload images to interior design applications and experiment with decor components to get a better sense of what you truly like.
Several of them even include links to businesses and retailers where you may find all you require to bring your ideas to life.
7. Customary Chimney Breast Decor Components
If you like the shape and color of the chimney breast but wish to add some special details, think about the traditional styles:
Hang a large mirror over your fireplace on the wall.
When celebrating events like Halloween and Christmas, decorate the mantelpiece with festive ornaments.
A gorgeous picture or some vibrant prints should be hung above the chimney breast.
Include a vintage cast-iron grill as well as other vintage fireplace tools and accessories.
Buy bioethanol fireplace insert to convert your existing chimney breast into a useful and environmentally friendly fireplace.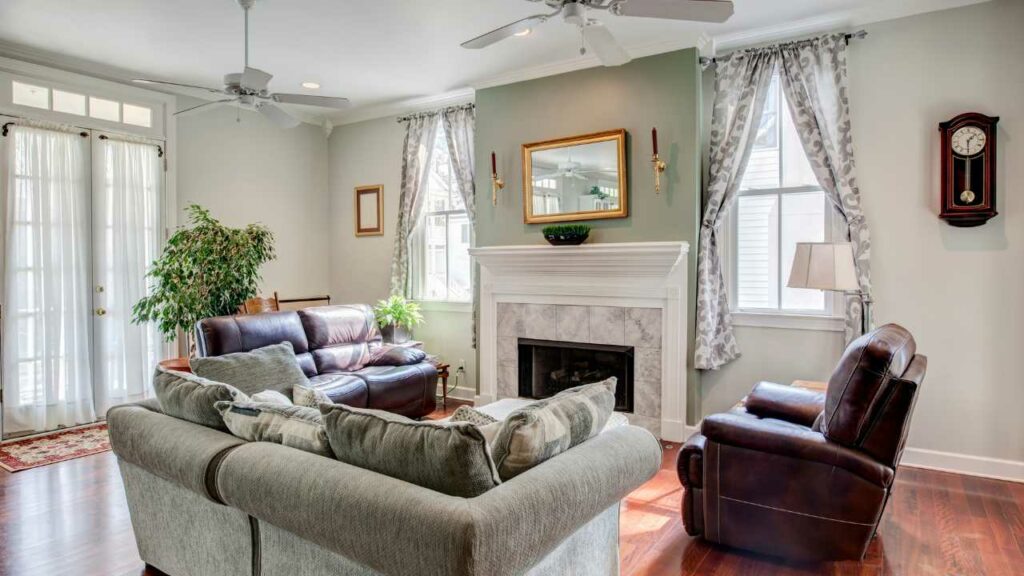 8. Use A Minimalist Design
Although fireplace surrounds and mantelpieces add a finer degree of detail to many living spaces, there are times when a modern room only needs to let an open fire and a chimney breast shine.
The open fire's clean lines draw attention to the immaculate interior design, and the gray-painted chimney gives the minimalist living area a fresh texture.
Many home improvement enthusiasts will find it most useful to weigh open flames vs. log burners when considering chimney breast ideas because it can affect the final building work.
Final Thoughts
Hopefully this article has helped you to think about some of the design concepts that you can incorporate into your living room to make your chimney breast the centerpiece of the room.
Chimneys can be decorated in a variety of different ways, but make sure that your decor ideas complement the rest of the room in style.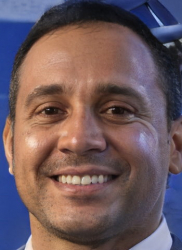 Latest posts by Stevie Morris
(see all)