Mantels are important parts of fireplaces as they create space for decor to be added and they complete the full look of the fireplace.
Having a mantel combines modern and vintage styles that create a stylish feature for your living room that you and your guests can enjoy.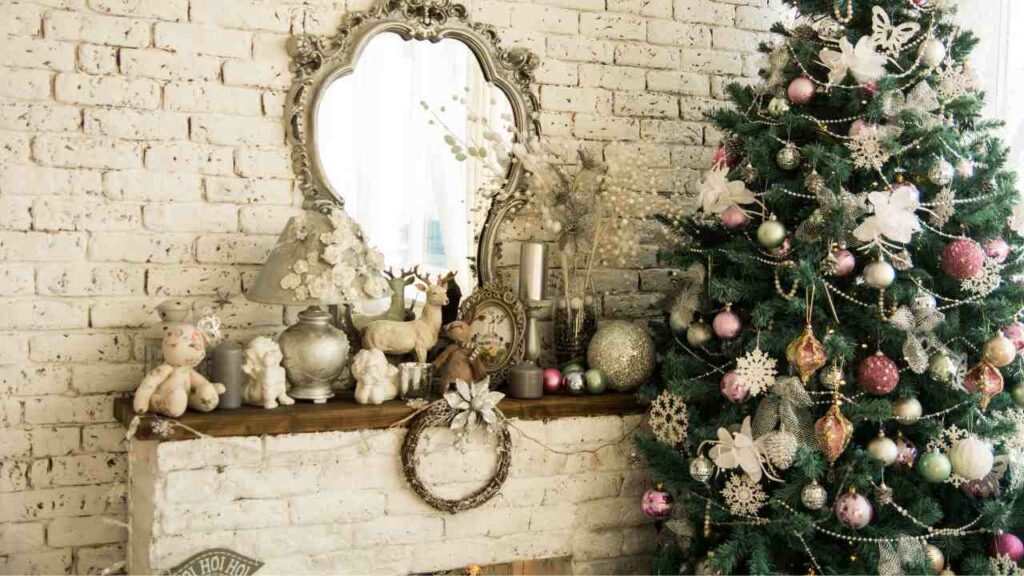 Deciding what style of mantel you want for your fireplace is important as you want to make sure that it fits in with the rest of your room.
Finding a modern mantel that combines both vintage and contemporary can be difficult, but there are several options that you can use for your fireplace.
This article will explain more about modern fireplace mantels and how you can choose the right one for your living room.
Find out more about modern fireplace mantels below and how they can complement your fireplace.
Types Of Mantels
Different types of mantels can be used for fireplaces, which are either mantel shelves or mantel surrounds.
Mantel shelves are installed so they appear to be floating above the fireplace, providing ornaments and phots a place to stand where they are protected from becoming broken.
Mantel surrounds are slightly different from mantel shelves as they extend down the fireplace to frame it.
The mantel surrounds are usually decorated for a stylish and traditional look, and they also have room to store ornaments on top of the mantel.
Modern Fireplace Mantels
Discover some modern fireplace mantels that you can have in your home to create a contemporary style throughout the room.
You decide what styles you prefer to see which one you think will fit well in your room and suit the style that is already present in your home.
Metal Mantel
Using contemporary materials for your mantel is a great way to create a more modern style so that your mantel contrasts with the traditional form.
Gray metal is very contemporary and sleek, which will work extremely well in rooms that have a monochrome color scheme.
If the fireplace is also made from gray metal, the mantel will enhance it.
When you have a gray metal mantel, making it a slightly lighter shade of gray can help the fireplace to stand out.
Make sure that the hearth is the same color as the mantel to make the fireplace pop.
To create a more modern feature, mounting the TV on the wall will create a modern finish that looks like a fresh take on a classic structure.
White Mantel
If you have a statement fireplace that is a copper color, you will not want anything to take away from it.
Installing a white mantel when the accent wall is also white will create an invisible mantel, but it will still provide texture to the room.
The white mantel will contrast the industrial and dark copper to make it look light and fresh.
To complement the fireplace and not make the mantel look completely separate, adding bronze, copper, and gold accents on the mantel will bring them together.
This can be done through photo frames, decorative pieces, plant pots, or even vases. It will bring the mantel and the fireplace together and connect the two.
Match The Mantel To The Ceiling Beams
Having an industrial-style accent wall and fireplace is very modern and contemporary, but adding a modern mantel can show that the fireplace is a classic feature.
Adding a floating mantel that matches the ceiling beams in your room will connect the fireplace to the classic features in the house and bring together vintage and modern industrial looks.
The mantel should be floating to create a modern look, and as it will be made from wood, it will look traditional yet modern.
Having smooth lines in the room will look very contemporary, combined with the ceiling beams and the mantel, creating a very modern twist on a traditional fireplace style.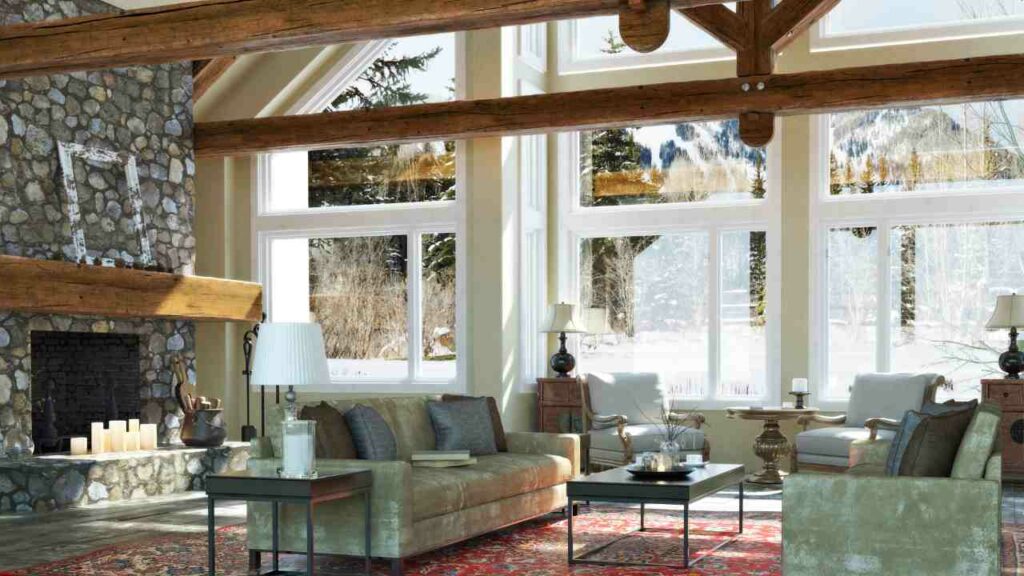 Thin Mantel
If you want to have a modern mantel above your fireplace, situating it further up from the top of the mantel and leaving a gap below will look very contemporary, but making the mantel very thin will draw a lot of attention.
The thin mantel will look sleek above the fireplace and will become the main feature of the room.
You can decorate the mantel with decor that matches the room, but make sure that you do not over-decorate the area.
As the thin mantel will be very unique and eye-catching, you will not need to add a lot of decor to it as this could take away from the design.
Gold Mantel
Having a room full of neutral colors like beige and white is calming, but why not make your fireplace stand out even more with a gold mantel?
The gold does not need to be overly bold, but it should be bold enough to make a statement.
If there are already gold elements in your fireplace, having a gold mantel will further make a statement.
As the gold mantel and fireplace will be very striking and bold, you will not need to add lots of decor in the same area.
Adding accents of green from plants and more neutrals to the mantel like candles will piece the room together, but it isn't advised that you continue to apply more gold decor to the mantel as this could be too much.
Frequently Asked Questions
What Types Of Materials Are Best For Modern Fireplace Mantels?
They can be made from various materials. Wood has always been a traditional favourite and still remains a favourite when incorporating into a modern fireplace setting.
You should also consider concrete, metal, and glass. These will all add a very modern feel to fireplace.
Are There Any Safety Considerations When Installing A Modern Fireplace Mantel?
It is essential that the mantel is secured to the wall and is safely installed. Follow manufacturers guidelines or use a professional.
Do not hand heavy items, this is asking for trouble!
Don't include combustible materials such as paper on a mantel. You don't want a gust of wind blowing items like this into or near the fire.
What Are Some Installation Tips For Modern Fireplace Mantels
• Measure first, make sure the mantel is the correct size
• If made of wood, add a sealant before installation
• Make sure the mantel is securely fastened to the wall
• Make sure it is level
• Test, don't use heavy objects
• Always follow the manufacturers installation guidelines
Final Thoughts
To conclude, there are lots of different modern fireplace mantels that you can have in your home that will create a modern vibe in your living room.
Choosing the right mantel for your fireplace is important as you do not want it to look out of place, but bringing elements of the fireplace in with the decor on top of the mantel will connect them.
Using bold colors and contrasting colors and materials will create a very contemporary look for your fireplace, you just need to make sure that it is done right.
Tying the fireplace and the mantel in with your living room will provide you with a fresh modern feeling that is a twist on the classic fireplace style.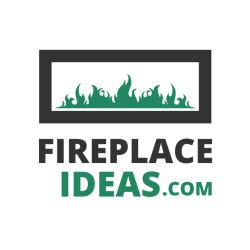 Latest posts by Stevie Morris
(see all)