According to an old saying, hearths have been at the core of houses for thousands of years. Hearths were the original meeting spot for friends and family to convene in an atmosphere that was warm and comfortable.
This is especially true when you consider the fact that the vast majority of designs for fireplace hearths enhance the feeling of comfort to an entirely new level. 
Even though its major job is to serve as a practical component of a fireplace, the hearth is also an attractive means for introducing individuality and flare into a living room.
This is because the hearth may be constructed in a variety of unique and interesting ways.
It is possible that in some arrangements, such as elevated heart designs, it may even function as additional seating space.
Because of this, many of the best designs for fireplaces come complete with a lovely hearth in the package that they are sold in.
If you want a hearth in your home but don't know where to start then we have the very list for you. Here we have made a list of the vest hearth designs so that you can find one that matches your home's interior best.
Here are some excellent hearth ideas.
The Traditional Look
Do you want to create a traditional and cozy atmosphere in your home? Hearths can be a great way to do this.
A good option is to include both a flagstone surround and a concrete hearth, both of which can enhance your property's natural characteristics, especially if you already live in an older home, or you live in the countryside.
This is because the raw and rustic materials link the home to its rural surroundings.
To top it all off, give the room a coat of paint in a color that is neutral yet warm so that it complements the color scheme of the fireplace when it is finished.
Raised Fireplace
Do you want to imitate the cozy and welcoming ambiance of a log cabin? If so, then a raised fireplace is an excellent choice for you.
A raised stone fireplace that has been whitewashed is not only a practical choice of material, but it is also an ideal approach for achieving the look of a rustic hearth without making the room appear as if it is taking up too much space.
In fact, having a raised hearth can actually give you more room, especially if you have a little bench-type seating area right in front of it.
This provides more seating areas for your guests. 
The standard height for a hearth is around 15 to 16 inches; however, if you want to ensure comfort and a proper seating height, you may go up to 18 inches.
When you're working on building a fire, you may also use this to provide your knee a comfortable place to rest.
Consistent Colors
Even though the materials used for the fireplace hearth and surround may be distinct from one another, selecting a consistent color scheme can make a significant impact on the overall feel and proportions of the space.
Having an all-white room is a good example of this. By painting the hearth a beautiful white and installing a tile that matched it for the fireplace, you can breathe new energy into the space and give it a fresh lease of life.
These two components will blend in beautifully with the walls, which give the impression that the area is larger than it actually is and will revive the space. 
To round off the look, accessorize a mantel with pieces that provide a sense of equilibrium, such as vases, a mirror that makes a statement, and other items of a similar nature.
Be Flexible
Whether that's embracing the industrial-style look of exposed flues, the added feature of a log store beneath, or the choice of mounting directly on to a steel bench, being a bit flexible with the design is the best way to get those creative juices flowing.
It is also a great way to discover new styles that you perhaps wouldn't have thought of trying before.
A Flush Hearth
In rooms where space is at a premium, a flush hearth can be an excellent choice. This design keeps the fireplace from protruding out too far into the room, creating a greater feeling of flow overall.
This method is especially effective in locations that are constrained and there is not a great deal of depth in which to navigate around furniture.
If you are working within a specific budget, something to keep in mind is that this particular type of fireplace requires less material, making it a more cost-effective alternative.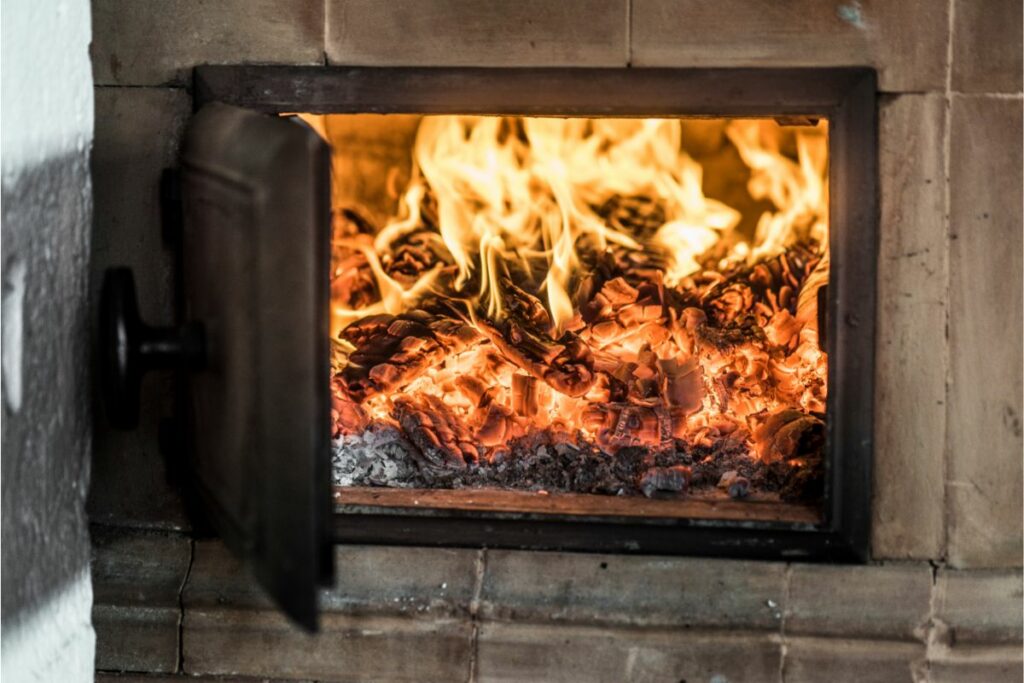 Use Darker Colors
Do you appreciate the brazenness of a dark fireplace? Granite is an option to consider if you want to create a darker atmosphere in your room.
Because it is long-lasting, hard-wearing, and resistant to scratching, it is one of the best materials for making a hearth for fires that burn solid fuel (see also 'Can I Burn Charcoal In A House Fireplace?'). In addition to that, the price is not prohibitively high.
You will, however, need to make sure that the granite you get is "slabbed," which indicates that it was cut into pieces and set in concrete so that it has room to expand as it gets hotter. 
Slate is an additional material that might be used instead. You have the option of keeping it in its natural condition, which is a dark matte grey or polishing it to a glossy jet-black finish. Either way, it will look wonderful in your room.
Patterned Tiles
Patterned tiles are one of our favorite choices for a stylish fireplace hearth because they bring a lot of individuality and enjoyment to the room.
You can either use these tiles to replace the tiles that are already in an older fireplace or you can incorporate them into a new design as part of the fireplace.
To add a sense of flow and a feeling of coherence to the space by choosing the colors in the tile pattern and reflecting them elsewhere in the room.
For example, if your tiles have some blue on them, then match this shade of blue to furniture pieces in the room. 
If you like the overall look but are put off by the amount of work and money necessary to get it, peel-and-stick decorative tiles are an alternative worth exploring.
It is important to keep in mind that the majority of them are not designed to be used on hot surfaces though, so you can only really use them if your fireplace is decorative rather than functional.
This is a significant factor to think about despite the fact that using them is really easy and doesn't cost very much money.
Add Plants
Do you feel like adding some houseplants to your fireplace to make it look more inviting?
The wellness and beauty benefits of having houseplants should be treasured and invited into your home whenever there is a chance to do so. 
Plants are the one thing that can actually convert a house into a home. However, not all of us are green-fingered and you may sometimes struggle to keep your plants alive.
If this is the case, then you should begin your plant journey with the more forgiving types, such as Pothos and Snake plants.
These are able to flourish in conditions with less light and require less consistent watering in order to remain healthy.
Change Up The Look Of Your Bricks
Bricks have not only been a popular choice when it comes to hearth materials for such a long time because they are appealing, but also economical, simple to install, and extremely resistant to heat.
When carried all the way up around the surround as well, panting your brinks a more outlandish color is the best way to make your fireplace the statement piece in your home.
Painting fireplaces is an easy way to give them a more modern appearance. In addition to deciding on the color you want to use, it is essential to give some thought to the finish and final look that you want to achieve.
A coat of paint with a matte finish will generate a more rustic feel, while a coat of paint with a glossy satin finish will add a touch of glam.
Summary
All of these above ideas are an excellent way to spruce up the hearth that is in your home.
The right design choice for you will depend on your own personal style opinions, as well as the overall atmosphere that you wish to create in your home. 
If you are on a budget then you do not need to splurge when re-doing your hearth.
Just adding some simple changes, such as giving the hearth a fresh coat of paint, or adding accessories to the area such as plants, is an excellent way to breathe new life into this area.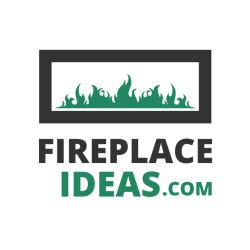 Latest posts by Stevie Morris
(see all)