Are you considering a fireplace transformation or a small fireplace makeover? If you are, one option is the beautiful Alaska Gray Stacked Stone panels from MSI Toronto.
As interior designer Mark Anstis from All Finished Interior Design discovered, sometimes a simple paint job won't cut it. He turned instead to stacked stone to transform his client's fireplace.
We will explore the stunning fireplace makeover using Alaska Gray Stacked Stone panels. Crafted from fine split-face marble, these panels add a natural variance and veining to any design project.
Painting over the red brick is undoubtedly the most economical approach to transforming your fireplace. However, the Alaska Gray is a much more affordable alternative to a complete fireplace renovation, such as stone or marble. This way, you can achieve the look of a brand-new fireplace without extensive construction or the high costs associated with a rebuild.
Read on to see this stunning fireplace transformation.
The Beginning of the Fireplace Makeover Process
The choice to replace the red brick fireplace for this project was to use the exquisite Alaska Gray Stacked Stone panels, expertly crafted from fine split-face marble.
These panels offer soft gray tones that beautifully complement marble's natural variance and veining. They are also grout free.
Whether you're looking to create a standout accent wall or revamp your fireplace wall, Alaska Gray Stacked Stone panels are a perfect choice, with matching corners available.
One of the many benefits of Alaska Gray Stacked Stone panels is that they are designed to be grout-free, which makes them easier to install than other types of stone or tile.
The panels interlock with one another, creating a seamless, natural-looking surface that requires no additional grout or sealant. This simplifies the installation process and reduces the risk of grout stains or discoloration over time.
Additionally, these versatile panels can be used for exterior projects such as cladding structures and architectural elements.
Using Alaska Gray can help you efficiently complete any home fireplace makeover project with less hassle or installation steps.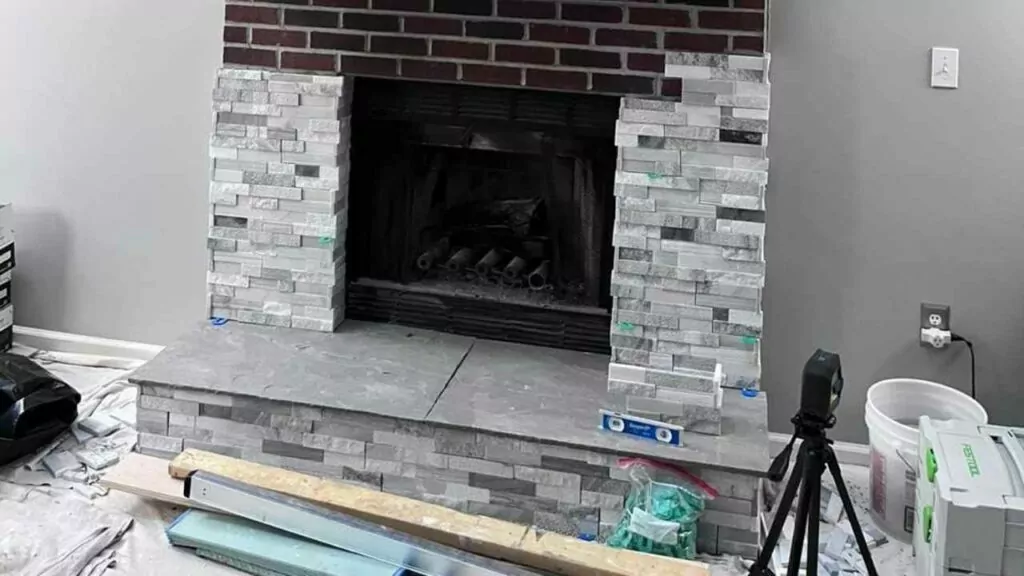 A New Tiled Hearth Is Revealed
The hearth and the space above the hearth have begun a magnificent transformation. The once lackluster red brick has been revitalized with the stunning addition of Alaska Gray Stacked Stone tiles.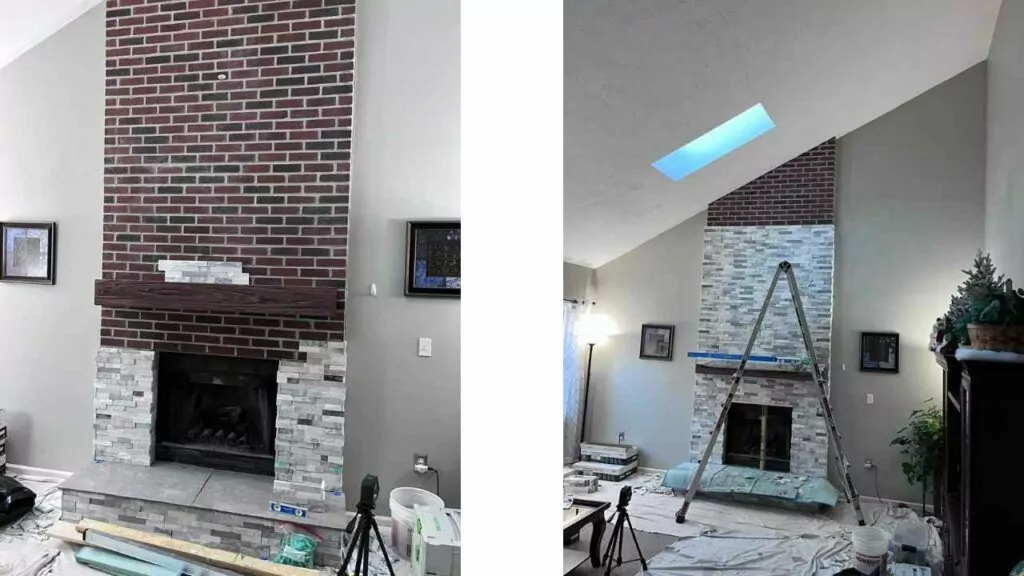 A New Mantel Brings Color and Contrast
The fireplace mantel has been replaced. The original mantel has been replaced with a darker-grained wood mantel that beautifully frames the fireplace below, emphasizing the importance of the fireplace in the overall design scheme.
The deep, rich color of the new mantel provides a striking contrast to the soft gray tones of the Alaska Gray Stacked Stone tiles, creating a cohesive and stylish look that exudes sophistication and elegance.
The Alaska Gray Stacked Stone tiles are nearing completion on the fireplace surround, revealing the fine split-face marble's beautiful white and grey tones.
The installation required a ladder to reach the top of the fireplace surround, showcasing the meticulous attention to detail necessary to achieve a perfect finished product.
The Fireplace Installation Is Complete
The fireplace makeover is complete with the stunning Alaska Gray Stacked Stone tiles installed on the surround and the dark brown mantel framing the fireplace.
A black framed mirror has been added above the mantel, serving as a beautiful and functional addition to the space. The mirror creates a focal point and adds depth to the overall design, reflecting the light in the room and making the area feel more extensive and open.
Its sleek black frame provides a beautiful contrast against the soft gray tones of the tiles and the dark brown mantel, creating a balanced and cohesive look that is both modern and elegant.
To enhance the overall aesthetic of the newly transformed fireplace, a fireguard, fireplace tools, and a small wood store have been added to the hearth. All three items are finished in a sleek black color that complements the black fireplace beautifully.
With its delicate mesh design, the fireguard provides a protective barrier that ensures both safety and peace of mind while enjoying the warmth of the fire.
The elegant black fireplace tools, including a poker, tongs, and shovel, make it easy to adjust the logs and keep the fire burning brightly. And with the small wood store tucked neatly beside the hearth, there's always a convenient supply of firewood ready to add to the room's cozy ambiance.
These functional and decorative additions not only elevate the overall look of the fireplace but also enhance its usability and enjoyment for those who gather around it.
Our Fireplace Makeover Tips
When planning a fireplace makeover, thinking about more than just the final design is crucial.
Interior designers often recommend choosing colors that complement each other for a cohesive and stylish look. When selecting materials for a fireplace makeover, consider the room's existing color scheme and select materials that will complement or contrast with the other elements in the space.
Staying current with design trends can help you create a modern and stylish look for your fireplace. Popular trends in fireplace design include incorporating natural materials like stone or wood, adding texture with tiles or other materials, and using geometric patterns or shapes.
Common mistakes to avoid when making over a fireplace include choosing unsuitable materials, neglecting safety considerations like fireproofing and ventilation, and failing to create a cohesive design that complements the rest of the room. If in doubt, seek help from a professional.
Customizing your fireplace design can give it a unique and personalized look. You could add a mantel, incorporate lighting or art, or use different materials or finishes to reflect your style.
Consider maintenance requirements when selecting materials for your fireplace. Some materials require more frequent cleaning or sealing, while others may be more prone to damage from heat or moisture.
More About The Designer
Mark Anstis, the talented Pennsylvania Interior Designer behind the stunning transformation of a client's fireplace. Mark started his own business, All Finished Interior Design, 23 years ago after realizing that a desk job and MBA weren't enough to fulfill his creative desires.
He began creating faux finishes and doing home interior design on the weekends while earning a Bachelor of Fine Arts in Interior Architecture and Design in the evenings.
With his passion for design and commitment to creating beautiful spaces, it's no wonder that Mark's projects continue to inspire and delight clients.
Latest posts by Neil Thomas
(see all)